Excel Gantt Chart spreadsheet template lets you create your gantt chart with a button click! All in Excel. No installation needed. Works on Windows and Mac.
One Time Payment – Immediate Download
TEMPLATE DETAILS
License: Personal Use
Works on: Windows / Mac
Requirements: Min. Excel 2007
Bonus: Free Lifetime Updates with your purchase.
Gantt charts are one of the most popular project management tools in business life. Even though this methodology is almost older than a century, they are still widely used today. So, for this reason there are lots of gantt chart software on the market nowadays. Why would you prefer Someka Excel Gantt Chart Maker template?
One of the main reasons is, it is all in Excel! All of us are already using Excel in our business life. Then, why would you go to another tool, take your data from spreadsheets, put into it, take back etc. where you could have done all of these in a single Excel template? (if you have ever used MS Project or any other similar gantt chart software, you will know how tedious these tools are) Besides, these tools have steep learning curves and take really long time to get used to the interface and features. We all know these problems, experienced it ourselves and that's why we have built this Excel Gantt Chart Maker.

No new software, no installation, nothing to learn. Everything in Excel. Just open this Excel Gantt Chart Maker and start building your project gantt chart!
Someka Excel Gantt Chart Maker is quite user friendly and easy to use. At the same time, it has powerful features in the background, which lets the user to do lots of things if needed. Let's check what can you do with this Gantt Chart Maker Spreadsheet.
 Check the VIDEO below to see how Excel Gantt Chart Maker works: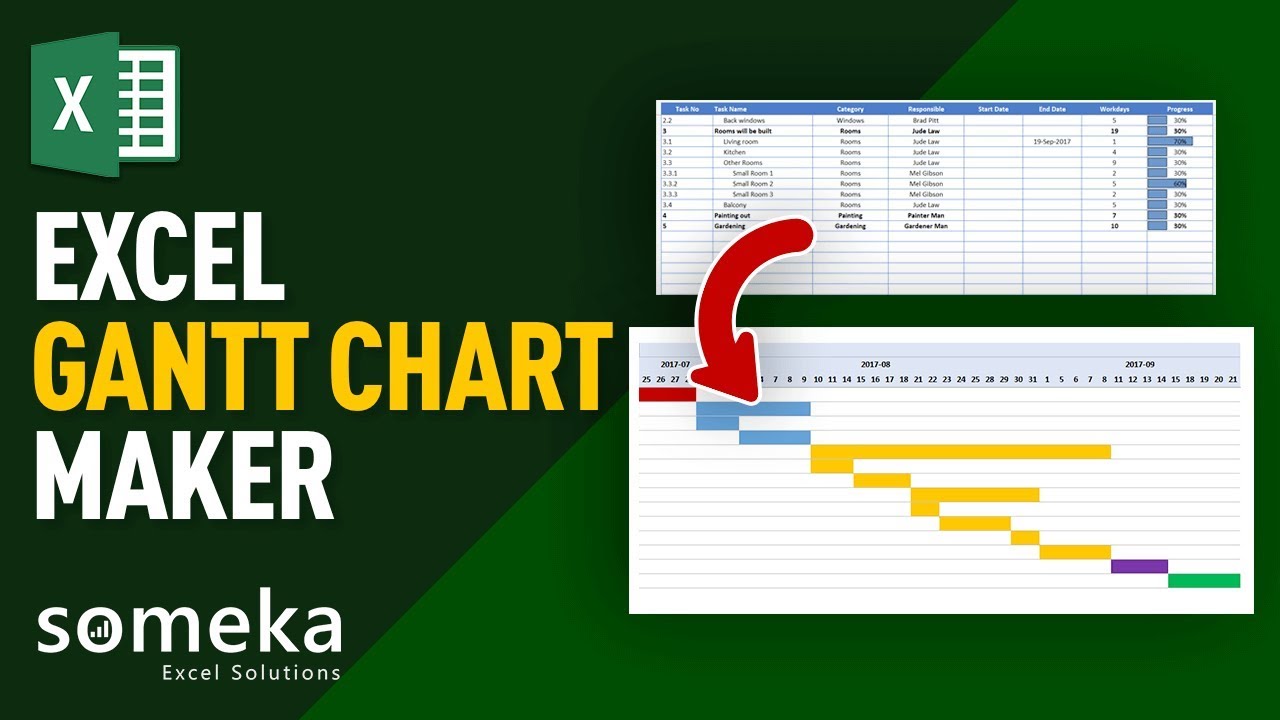 PROJECT TASKS and DATE MANAGEMENT
Easy to input Tasks/Sub-Tasks: This is one of the most challenging issues in project management. In our Gantt Chart template, we are using a well-known method called WBS (Work Breakdown Structure) You can either choose from dropdowns, write them manually or simply copy and paste from an existing spreadsheet.
Easy Sorting: You have created your tasks but later on you noticed that you have to add a subtask to an existing task. You don't need to deal with deleting/inserting rows. You are free to input the tasks in any order you like. Just click the "Sort Table Button" and it will automatically sort your tasks according to the WBS numbers.
Auto Sub-Totals: Sometimes we create many sub tasks and want the duration of main task to be calculated automatically by summing up its subs. This feature handles all the hassle. And this is optional. You can turn it off and create your gantt chart with full freedom.
Categories and Automatic Coloring: You can use categories both grouping your tasks and painting them. If you wish, you can define different colors for each of your category and have them colored automatically in the gantt chart.
Duration Days and Force Start-End Dates: In the simplest way, you can use the tool by inputting days for each task. But if you want some specific tasks to start or end on certain dates, tool also allows the user to input manual start/end dates. If any manual date is inputted, background calculations follow this information.
Bold Tasks and Indent Sub-Tasks: You have lots of main tasks, sub tasks and want to make the main tasks bold for easier reading? You don't need to deal with formatting, this feature does it automatically. It also indents the subtasks according to the WBS numbers.
Progress: This is an optional feature. If you want to see how much percent any task is completed, you can use this column.
GANTT CHART REPORT and VIEW OPTIONS
Daily/Weekly/Monthly View: This selector lets you to choose report view from 3 different options. Besides, you can even choose how you want to show Day Initials (First letter, First 2 letters or hide)
Report Depth Feature: This is quite cool for project managers. You can choose to see the report on main tasks based only. This lets you to see the "big picture" of the project. Or you can select to see the deepest details. This is handy for micro-management fo sub-tasks.

Holidays and Off-Days: Not every project stops at weekends. It all depends on your business nature and Someka Gantt Chart Maker also lets you to customize this. You can choose which days of the week are off-days. Also you can define national holidays or some other specific dates on which project will be on hold. All calculations in the background will be done considering your inputs and selections. Template will skip off holidays while calculating task durations to have you make the most correct project time planning.
Show / Hide Holidays: Above we have mentioned how flexible is the tool for holidays and off-days issue. In addition to that, you can show or hide holidays on your gantt chart report. (If you decide to show, you can even paint holidays and off-days to the color you would select!)
The best part is, all of these are available in Excel, the software you are already using everyday. As mentioned already, no need to install anything. Just open and start building your gantt chart!
EXCEL GANTT CHART MAKER FEATURES:
Unique product for auto generation of gantt charts in Excel
Works both on Mac and Windows
No installation needed. Ready to use.
User friendly and professional design
Export to PDF feature
Full Print Ready
White Label
Automatic Category Coloring
Task progress bars
Daily / Weekly / Monthly Views
Show / Hide Holidays
On Sheet Instructions and Help Section
Compatible with Excel 2007 and later versions