Financial Forecasting Model
Financial Forecasting Model Excel Template. Track your overall financial performance. Financial statements included. Online user manual.
TEMPLATE DESCRIPTION
Creating a set of forecasts for your business is fundamental for any organization which seeks to be successful. A forecasting exercise is a financial assessment that's based on historical records and future projections. By looking at the past to help plan and predict the future with the Financial Forecasting Model Excel Template, you can gain much better control over your company's financial performance.

We have developed this Financial Forecasting and Planning Model with the help of FD4Cast Ltd. from the UK. The firm has over 10 years of experience in the financial modeling and forecasting market. This solution aims to provide the most flexible but robust financial modeling solution for businesses.
Financial Forecasting Model Features
Whether you want to learn profitability, predict future liabilities and funding gaps, or see what the future cash flows and returns on investment are, these are all extremely important measures. Financial Forecasting and Planning Model is a forecasting and budgeting system in Excel. The solution lets you quickly create user-friendly spreadsheet models including P&L, Balance Sheet & Cash Flow.
Basically, the model works with this simple logic:

There are two different versions for the Monthly and Weekly financial forecasts (Demo Model is also included in the package). When you open the model, the tool comes with a pre-built Excel ribbon menu. It is a custom menu at the top menu. This menu is for easily navigating between different sections.

INPUTS:
Balance: You can input opening trial balance info (for existing companies) in this section. Unwind TB and related settings are here, at the beginning of the template in order to make it easier for you.
Income & Expenses: Tracking Income and Expenses is the most important step for a financial forecasting model.
Forecasted income
Revenue distribution
Debtor profiles
Variable or Fixed costs are some of the indicators of this section.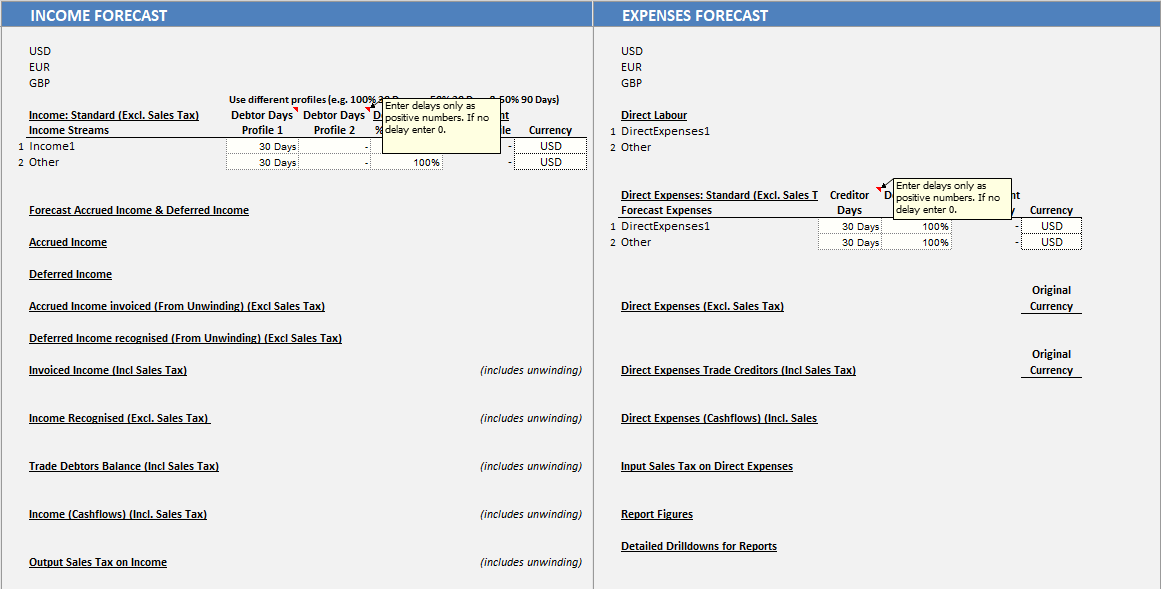 Inside the financial forecasting model, you will also find payroll details, salaries, and so on.
Assets: Assets are the resources owned by a business as a result of past transactions which is capable to generate financial benefit. The third section of this template is for assets. You will be able to manage your stock, inventory, equipment, and all fixed assets here. If the user needs cash deposit information, it can be input here.
Finance & BS: Being a successful company takes time, resources, and good finances. Inventories, new machinery, and equipment, outstanding debts, and expenditure on materials all require careful financing by the business. This section is used to manage how your company is financed. You will input your Loans, Leases, and Factoring details and manage Balance Sheet details like Inter-Co, Equity, and other adjustments.
Taxes: Taxes and the currency ratios are defined in this section. Any foreseen changes will be input until the end of the model year.
Warning!: Note that the Financial Forecasting and Planning Model Start Date will be set with the Configure Model button: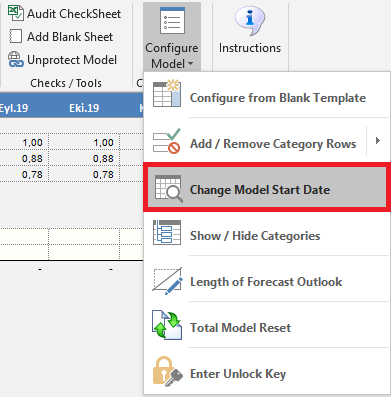 OUTPUTS:
Standard Reports: After you proceed with the input fields, this section is comprised of basic financial reports, which are as follows:
P&L
Cash Flow
Balance Sheet
Also, it is possible to create custom reports according to your requirements.
Model Tools: The seventh section consists of other great features of the template such as:
Scenario planning
Budget creation
Tool adjustment features
The best thing is that it is in Excel, so no need to learn complex software in order to use it. Furthermore, you can add your own sheets and build up assumptions all within one model rather than having to import or link from other data sources.
Note: This template is compatible with Excel 2010 and later versions. Currently, not available on Microsoft Excel for Mac.
Financial Forecasting Model Features Summary:
Financial Forecast Excel Template for Businesses
Includes all required forecasting elements
Reports for Profit and Loss, Balance Sheet, and Cash Flow
Compatible with Excel 2010
Monthly and Weekly Financial Forecasting
No-installation needed, ready to use.
Works on Windows
For a further explanation consult the help guide at http://fd4cast.co.uk/help/
FREQUENTLY ASKED QUESTIONS