Excel League Schedule Maker
League fixture generator for sports fans. Create teams, adjust settings, and start to play. Easy-to-use Excel template. No installation needed.
TEMPLATE DESCRIPTION
This Excel League Schedule Maker will help you to create a fantasy football league between the input teams and rank them according to the scores. Additionally, you may input the venues and edit the rules you may adjust such as ;
Points for win
Points for Lose
The amount of matches teams will play each other.
Points for Draw
Determine the rules to determine the champion.
The template will let you display and analyze the results of the scores of the teams and rank the teams automatically.
Excel League Schedule Maker Features:
Basically, this tool lets you input the name of the teams and optionally the venues of the matches.
SETTINGS:
Firstly, a settings part has been formed to be able to adjust your fantasy league settings. So, you may easily adjust the priority of each rule to rank the teams from the Tie Breaker section.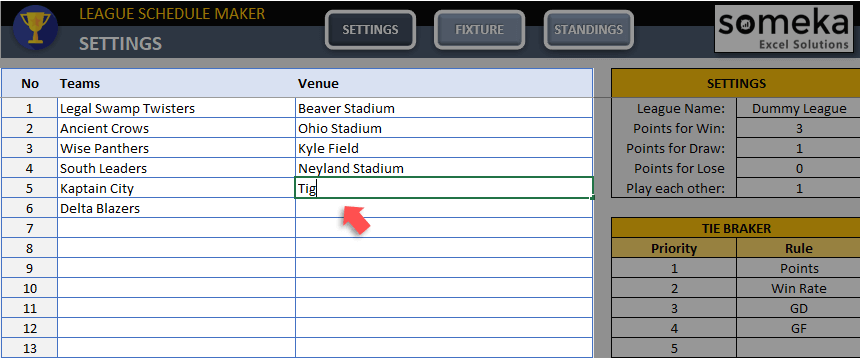 Thus, the template will set the ranking according to the priority.
FIXTURES:
After inputting teams and venues in the settings section of this Excel League Schedule Maker, the team fixture will be formed. So, once the Fixture has been formed all you have to do is input the scores of the teams.

Moreover, if there is an issue with the old scores the column will point you to the row which causes the problem with related colors. For example, if the problem is caused by undeleted scores, the arrow will be PINK and if there are unentered scores the arrows will be ORANGE.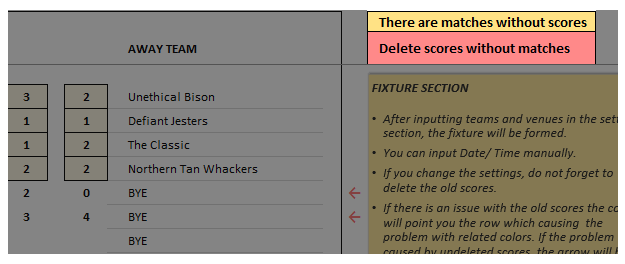 Alos, if there is an indication for "There are matches without scores" this means you have not completed the league's all scores. Lastly, the "Delete matchless scores" warning indicates that there are scores in unrelated cells on the scoreboard. Now you can continute with Standings section of your Excel League Schedule Maker.
STANDINGS:
The scores you will input in the Fixtures section will affect the Standings section so that it could rank the teams according to their scores automatically.
Once you enter the scores display your results in the standings section. You do not need to input any information in the standings section. The formulas will calculate your scores automatically and change the ranks each time you input another score.

If the points of two or more teams are equal, the template will list the ranking according to the tie-breaker options you set.
Go ahead and create your league fixture!
Excel League Schedule Maker Features Summary:
Track scores and standings in Excel
Full Print Ready Schedules for use offline
Informational notes included
No installation needed. Ready to use.
Works both on Mac and Windows
Compatible with Excel 2010 and later versions
Does not include any VBA macros
FREQUENTLY ASKED QUESTIONS