Teacher Lesson Plan Excel Template
Excel lesson planner for teachers. All-in-one digital planner with daily plans, monthly attendance sheets, print ready dashboard, and other features.
TEMPLATE DESCRIPTION
This Lesson Plan Excel Template is designed to help the ultimate helpers: the teachers around the world. Firstly, gone are the days when you had to write everything down in a notebook, or even worse on pieces of paper! In addition, gone are the days when you had to browse through your entire notebook to find data about a specific student!
Above all, Excel Lesson Plan Template will help teachers plan their work, keep records and track each student. Thus, this solution will make it easier to focus on lesson content rather than writing a lot of paperwork or trying to find data.
Excel Lesson Plan Template Features:
Basically, this planner template has 6 main sections:

Dashboard
Attendance
Daily Lesson Plan
Weekly Lesson Plan
Homework
Exam Results
Then, we will dive into each of them:
Excel Lesson Plan Dashboard
Firstly, in the dashboard, you can insert the names of students and a list of subjects/lessons/classes taught.
This is the first step to the successful use of this tool, and you only need to update this info on this page. The other pages will then get student names and lessons from the dashboard. Besides that, exam results or averages are dynamically connected and will update when other pages are updated with information.

Moreover, with a dropdown menu below the lesson list, you will switch between students and see their exam details.

If you want to see detailed information about a student again in the dashboard, you can visit individual student pages with a "dropdown menu" where you can select any student and see his/her summary link appearing next to them.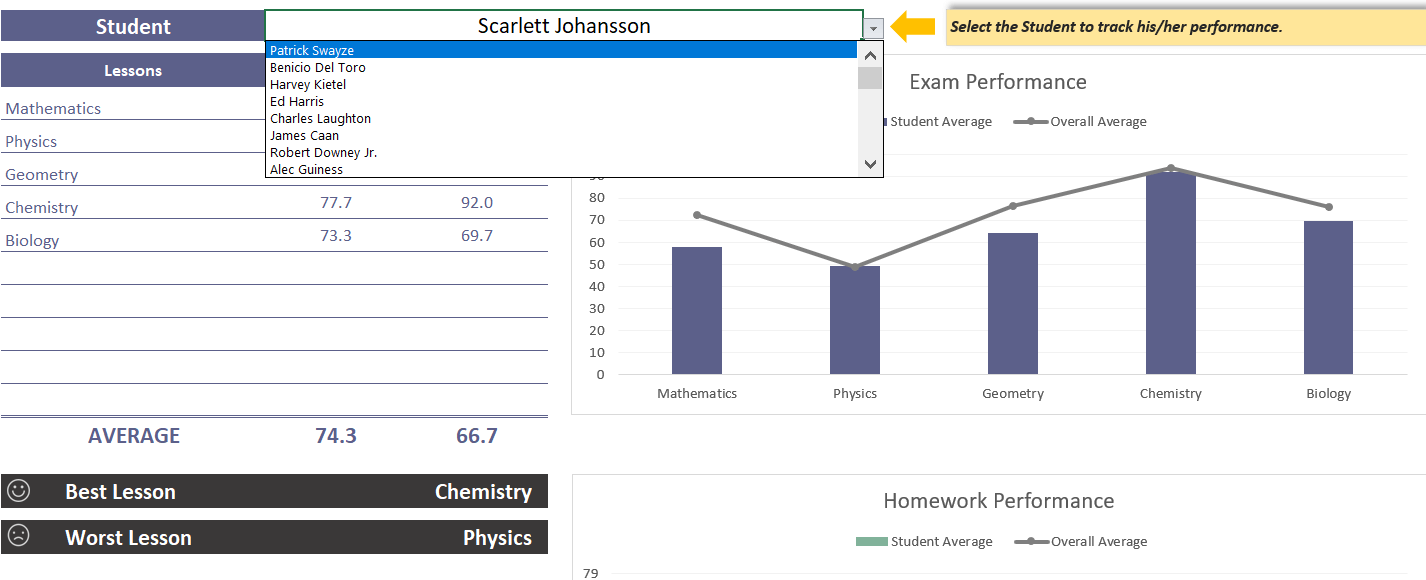 Attendance
In the attendance list, you can choose the current month and update the attendance daily, with four options possible: Present, Trady, Excused and Unexcused. As the attendance is updated, important statistics will show up on the right side as well as on the main menu for each student.

You can also use this template to create daily and weekly teaching plans.
Daily Lesson Plan
In the daily lesson plan, you can choose the subjects, and then insert topics that you have to teach on that specific day. Furthermore, you can later update the status of each topic to see the completion rate for the day and get a visual representation.

Weekly Lesson Plan
Weekly lesson plan template provides 1-5 topics to write for each subject on each of the days of the week.

Homework / Exam Results:
In the exams sheet, you have three columns for each subject/lesson, where you can insert the results of 3 different exams or quizzes. This information will appear in all other related pages.

The homework sheet is similar to the exam one. You can insert 3 different homework results for each subject or lesson.
Excel Lesson Plan Template Features Summary:
Daily and Weekly Lesson Plan Template
Monthly attendance trackers
Daily and Weekly Lesson Plan Template
Homework and Exam Results Template
Visualized student tracking for teachers
Fully customizable and ready to print
Informational notes included
No installation needed, ready-to-use
Works both on Mac and Windows
Compatible with Excel 2010 and later versions
Does not include any VBA code or macros
FREQUENTLY ASKED QUESTIONS