Student Study Plan Excel Template
Well-organized study planner for students. Easily track your homework, exams, and much more. Printable lesson schedule included. All in Excel.
TEMPLATE DESCRIPTION
Lesson schedule, assignments, exams – you always need to know what should be done in a whole week and never miss important tasks. Sometimes planning may become really overwhelming with numerous homework. So you can not complete your lessons' objectives properly. For that purpose, developing a routine and using a Student Study Plan Excel Template will make your learning journey clear with a well-organized study calendar template!
Student Study Excel Plan Template Features
You will find 5 different sections in this template:
Dashboard
Lesson Schedule
Study Plan
Exams
Homework Projects
Now, let's dive into each of them in detail.
Dashboard
Study Plan Dashboard consists of your lessons, calendar, and your general score. This step is essential for the template to work smoothly in other sections.
Firstly you will input lesson names under the Subjects column. You can write up to 20 lesson names.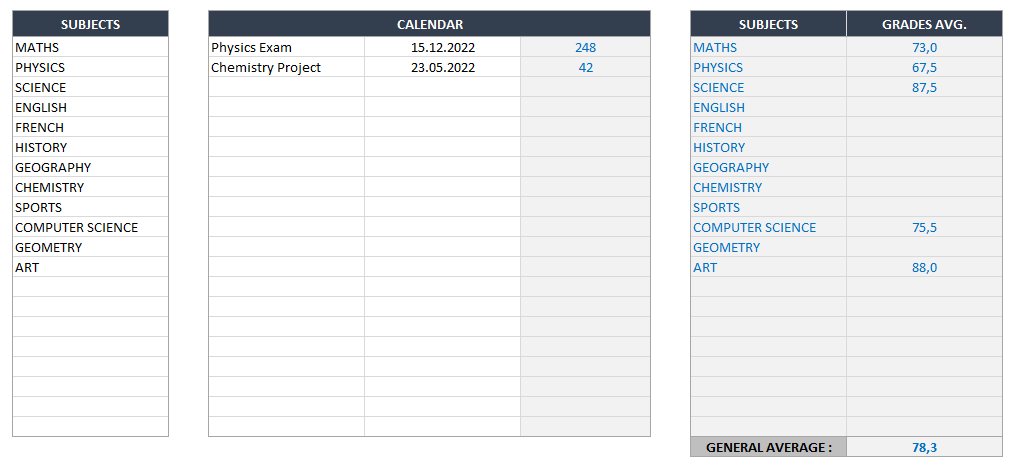 In the Calendar column of study plan, you can input all your exam dates, projects, assignments, or other events. This handy tool reminds you how many days you have left until an exam, project, or any other study-related deadline.
Warning!: White cells on the study plan template are for your input. Gray cells are automatically calculated with formulas, so do not overwrite them!
Lesson Schedule
In this section, you can simply write your weekly class schedule with up to 8 subjects each day. The subjects can be chosen in a drop-down menu because you've already inserted the lessons on the dashboard/main menu.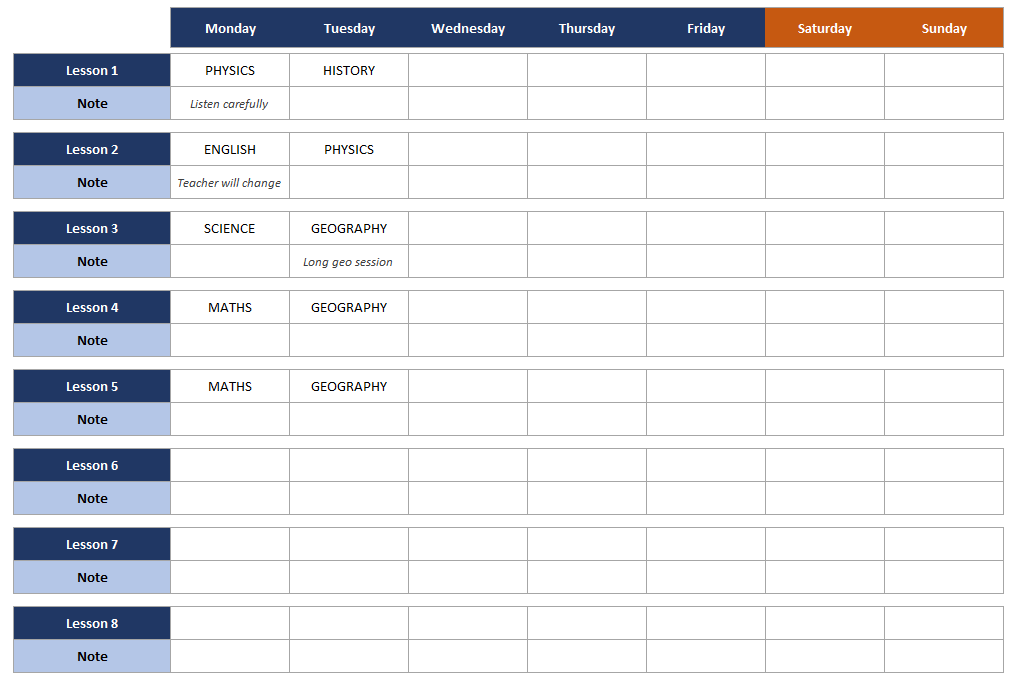 Furthermore, you can write notes about them if you need to.
Study Plan
A study planner will help you to schedule your daily study sessions. You will simply select your lessons, write their study descriptions and then change their status accordingly. So, you can decide on which day you are going to study a certain topic in this study calendar template. (Be sure that there is still time for social or physical activities in your schedule!)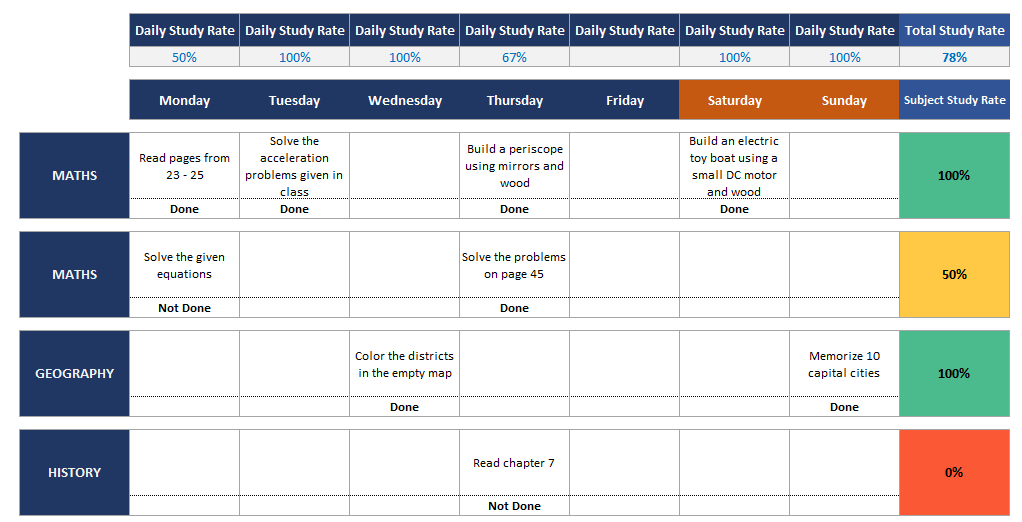 After that, the lesson plan template will automatically calculate the daily study rate and the lesson study rate. For example, if your study rate is 50% or less, you will see the rate marked in red.
Exams
Your exam results are important indicators of your education life that you should never ignore. Here on your study plan template, you can write the scores for your exams and/or projects for each lesson. If the exams and projects have a different weight on the final grade, you should also insert the weight of each. But if all scores are equally important for you, leave the weight column empty.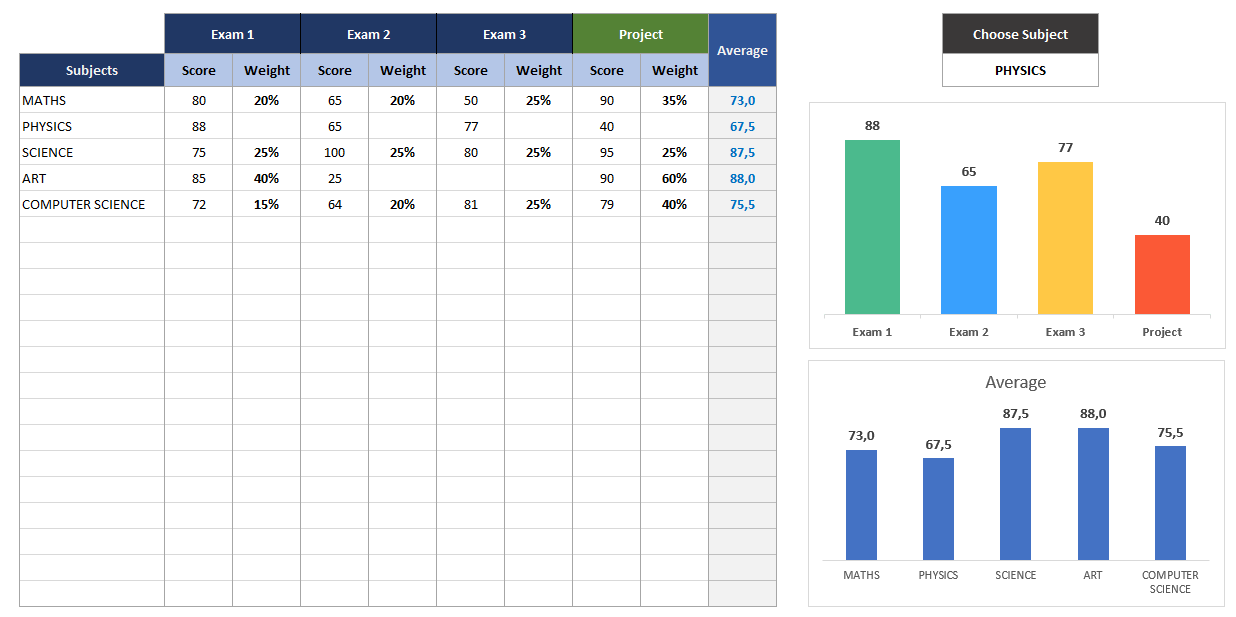 On the right side, there is a visualization of the scores for each lesson so you can select your lessons from the "Choose Subject" drop-down above the chart.
The second chart shows you a comparison of the average score for each subject. It will dynamically update as you add or remove data in the exam table.
Homework & Projects in Study Plan Excel Template
The last section of the Student Study Plan Template is a homework planner. Similar to the previous section, you can choose a lesson, write the homework description, write the deadline and then change its status accordingly. After that, the tool brings you your completion rate for each subject.

You will see the red marked completion rate if you've done only 50% of your homework!
STUDY PLAN EXCEL TEMPLATE FEATURES SUMMARY:
Well-organized study plan for each lesson
Lesson Study Calendar Template
Visualized performance tracking
Clear on-sheet instructions
Easy to use and nice design
Informational notes included
No installation needed, ready-to-use
Works both on Mac and Windows
Compatible with Excel 2010 and later versions
Does not include any VBA code or macros
FREQUENTLY ASKED QUESTIONS