Client Task Management Excel Template
Comprehensive account management template in Excel. Plan and track customer tasks in one place. Works on Mac & Windows. No installation needed.
TEMPLATE DESCRIPTION
It might be very overwhelming to manage all different tasks in one place, especially if you have many clients and deadlines. Designed for small and "one-man-band" accountancy and legal practices, the Client Task Management Excel template allows users to track upcoming task deadlines such as book-keeping, accounts, tax filing & payroll requirements.
Client Task Management Excel Template Features:
In general, the dashboard has been divided into two sections and includes instructions to show you Tool Configuration and Usage.
Step 1. Add Clients:
Firstly, add your clients into the Tool using the user form which appears when clicking 'Add New Client'. You can store your complete client list in this database and create tasks that need to be completed on a weekly, monthly, quarterly or annual basis.
Examples would be Monthly Payroll, Quarterly Sales Tax, Annual Accounts, etc.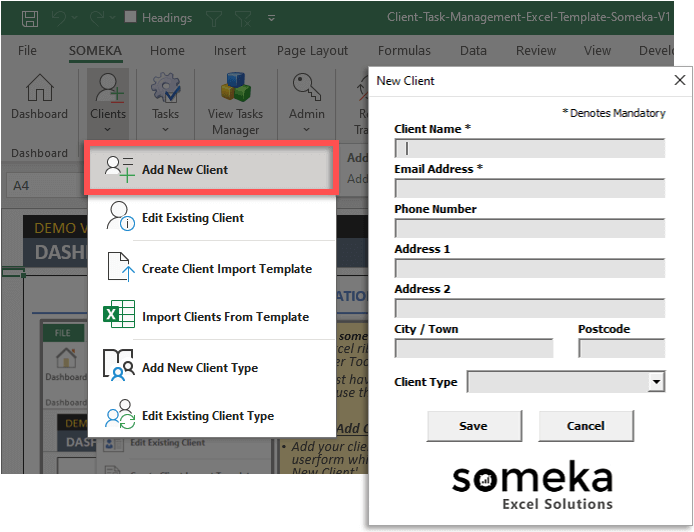 It is also possible to add more client types to adjust it according to your preferences.
Alternatively, just create an 'Import Template', then populate it to import your client list.
Step 2 – Create Client Tasks:
The template allows you to create 'Client Tasks' using the user form which appears when clicking 'Create New Client Task. Just generate new tasks for each client, assign a frequency and appoint a team member to each task.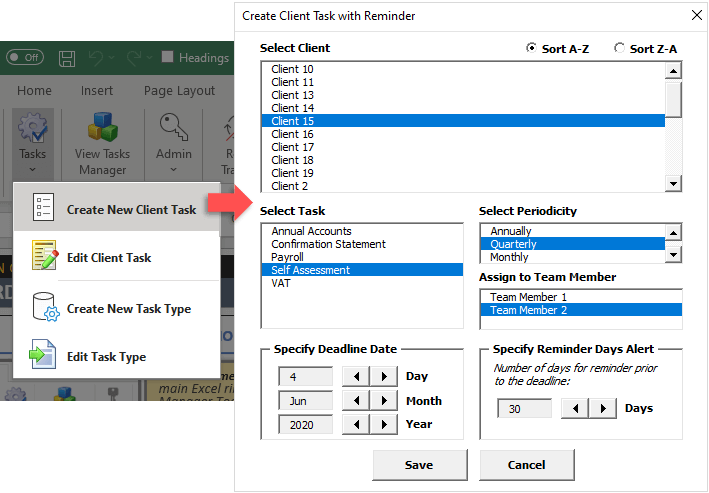 Once the task has been marked as completed, the task automatically gets recreated the following month, quarter or year, ensuring that there is a continuous rolling cycle of tasks.
You can order tasks by the most imminent date (depending on your choice, either the deadline date or the reminder date that you adjusted while entering the task) so that you never miss any deadline.
Step 3 – Edit / Create New Task Types:
Edit the existing 'Task Types' to suit your business requirements, or add new ones.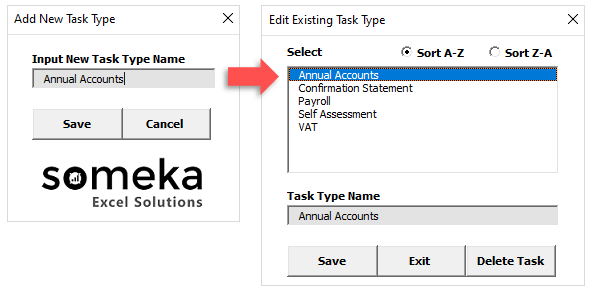 You can filter tasks by Client, by Task Type, or by User assignation. Moreover, you can create notes for clients and securely store confidential information such as login codes and passwords.
Client Task Management Excel Template Features Summary:
Organize and Categorize your work
Tasks Management for your Clients in one place
Informational notes included
No installation needed. Ready to use.
Works both on Mac and Windows
Compatible with Excel 2010 and later versions
FREQUENTLY ASKED QUESTIONS