Salesman Target Tracking Template
Excel spreadsheet template to track and measure the salesman performance, target realization rates, sales metrics and KPIs of sales people.
TEMPLATE DESCRIPTION
A sales target is a goal set for a salesman measured in revenue or units sold for a specific time. Setting up sales targets help keep you and your sales team focused on achieving your goals. Measuring realization of sales targets in a right way is as important as setting them. Hence, we have prepared Someka Salesman Target Tracking Excel Template for this purpose.
All you should do is as following:
Open the database sheet
Set target for each salesman
Put actual sales data for each salesman
Salesman Target Tracking Template Features:
The template is constructed by 2 main sections:

Dashboard:
Dashboard will summarize and visualize performance of both individual sales rep in your team and total realization team closed.  So in the first table, you can select the desired Sales Rep you would like to analyze and once you select all charts below will be updated automatically.

According to the Sales Data you input in Database, Team Summary Dashboard will present Team Monthly Performance, Actual Sales Shares, Sales Realization Rate of each sales rep and Team Year Total Realization along with Target and Actual Sales results.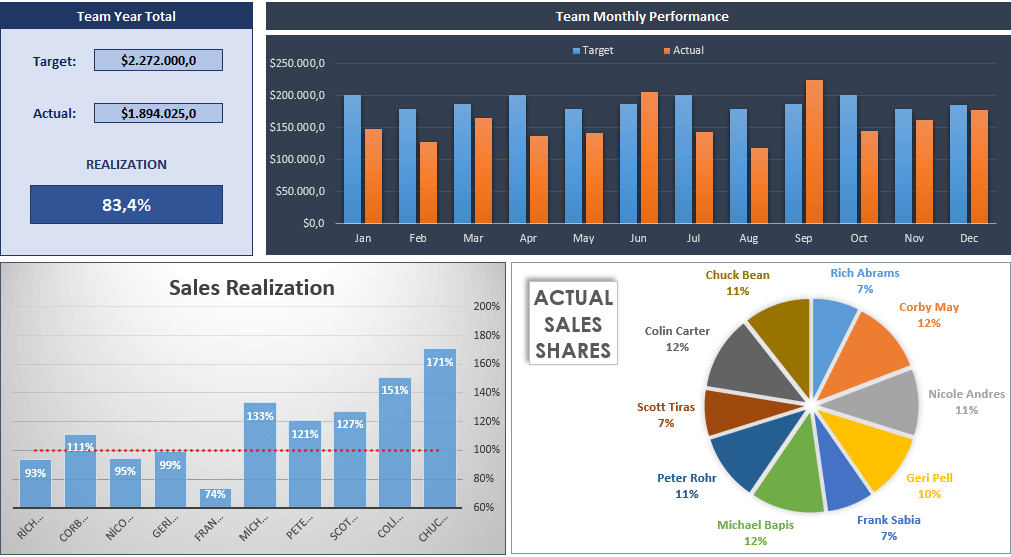 Since Targets and Actuals are being managed at "Database" section in this sales performance tracker Excel template, if you want to input new data, just click on the button on the header.
Database:
Database is a section which you can add your Sales Rep and input their monthly target and actual sales. Names you type in the Actual table are connected with formulas and taken from the Sales Targets table above. If you are going to add more team member you can expand the table to 30 rows by clicking on "+" sign. You can add up to 30 Sales Reps in the table.

Each month, just update the actual sales of team members and send them the new status. This report is really hassle-free!
Features Summary:
Professional Sales Performance Tracker Excel Template
Dashboard with summary charts or individual selection
Ready-to-use for presentations
Separate database section for keeping records
Full Print Ready
Works on both Windows and Mac
Compatible with Excel 2010 and later
No installation needed. Ready to use.
FREQUENTLY ASKED QUESTIONS