Excel Formulas Training Kit – Trial Version
Free Trial of our famous Excel Training Kit. Stop watching videos. Learn VLOOKUP, IF and many more excel formulas by doing.
No hidden costs. Just download and use. Don't forget to share with your friends 😉
TEMPLATE DETAILS
License: Personal Use
Works on: Windows / Mac
Requirements: Min. Excel 2010
You should be using Excel for business and personal purposes, aren't you? Actually, the question should be "Do you benefit from all Excel features?" The major feature that Excel provides us is Excel Formulas & Functions.
We've prepared Excel Formulas Training Kits for the ones who want to equip themselves fully with Excel Formulas and Functions. Considering your Excel Formulas knowledge, you can pick one of these training kits among three: Beginner, Medium and Advanced.
 Check the VIDEO below to see Someka Formulas Training Kit (Full Version) in action: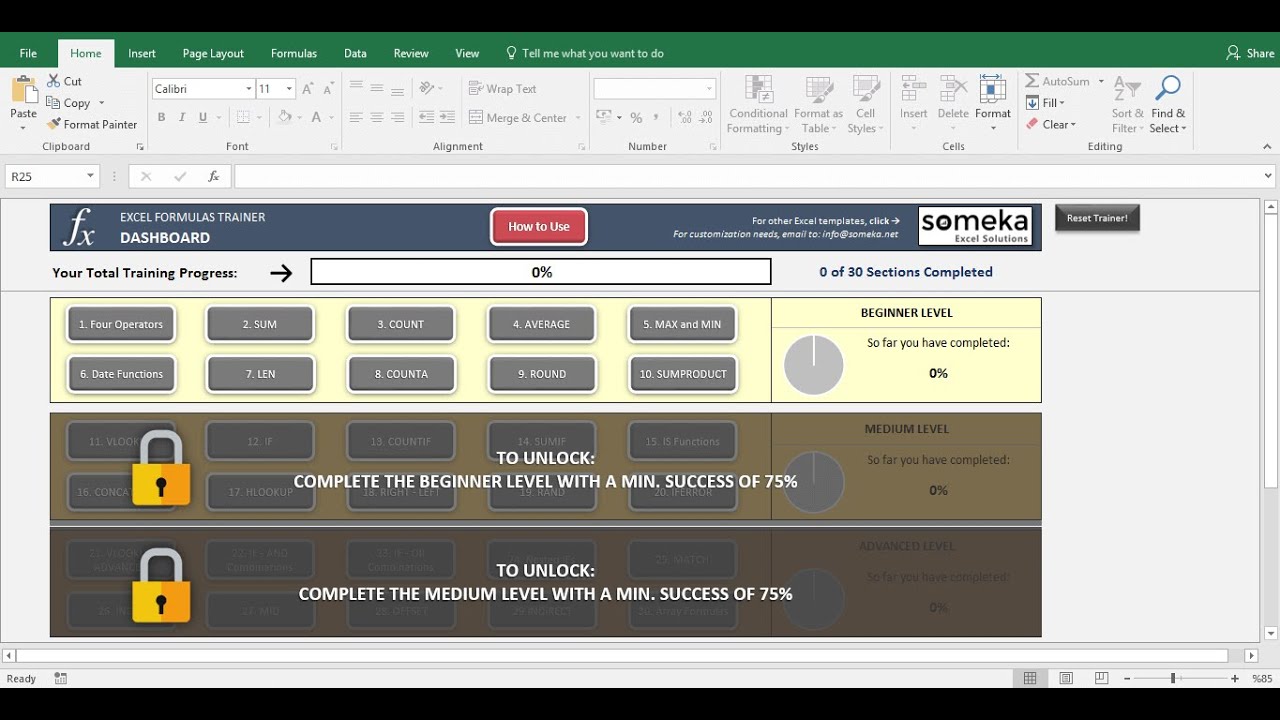 In order to give you an idea about our Excel formulas training kits, we're offering this trial version for FREE!
TRAIN YOURSELF & PRACTICE YOURSELF!
Clear instructions and web links are included so that the user is able to learn the functions by himself/herself which he/she doesn't know already.
Questions are to the point and quite well prepared in terms of functionality. Tested so many times with professional users.
Multi language formulas supported.
** Note that this is the free trial version and contains 4 introduction exercises. For full packages, please refer to:
SOMEKA EXCEL TRAINING KITS
Excel Formulas Training Kit Features:
Unique product for testing and training purposes 30 sections with 100 questions (in full version)
Nice design and easy to use navigation
Nice dashboard with progress meters
Multi language formulas supported
Clear on sheet instructions (with turn on/off function)
Full Print Ready
Includes web links for detailed explanation for all functions
Includes VBA code and macros (Don't forget to enable macros when you start)
Compatible with Excel 2010 and later
---
For individual packages, check:
Excel Formulas Trainer – Beginner Level Module
Excel Formulas Trainer – Medium Level Module