Automatic Org Chart Generator – Premium Version
Turn your Excel employee list into an Org Chart with Photos! This Organizational Chart Maker is a great Excel tool for business people.
One Time Payment – Immediate Download
TEMPLATE DETAILS
License: Personal Use
Works on: Windows / Mac
Requirements: Min. Excel 2007
Bonus: Free Lifetime Updates with your purchase.
Organizational chart is a crucial tool for all types of organizations, since it answers "Who is who?" and "Who does what?" questions. Correspondingly, it clearly illustrates the roles of the employees and relationships between employees. On the other hand, preparing an organizational chart and keeping it updated might bring a redundant workload. Especially if you want to put photos together with lines and boxes, it may become a nightmare! That's why we have created this Organizational Chart Maker tool.
The Most Practical Way of Creating Org Charts with Photos!
Someka Automatic Organizational Chart Generator – Premium Version makes the process very easy with unique "Photo Upload" feature. All you need is to follow 3 basic steps:
Type employee names, roles, reporting lines and select sub layout in Excel. (If needed, you can add extra info in this step)
Select person for whom you want to upload photo and insert his/her photo from your computer
Click "Create Org Chart" button and your Organizational Chart is ready within a few minutes!
 Check below the PRODUCT VIDEO in order to see how the tool works: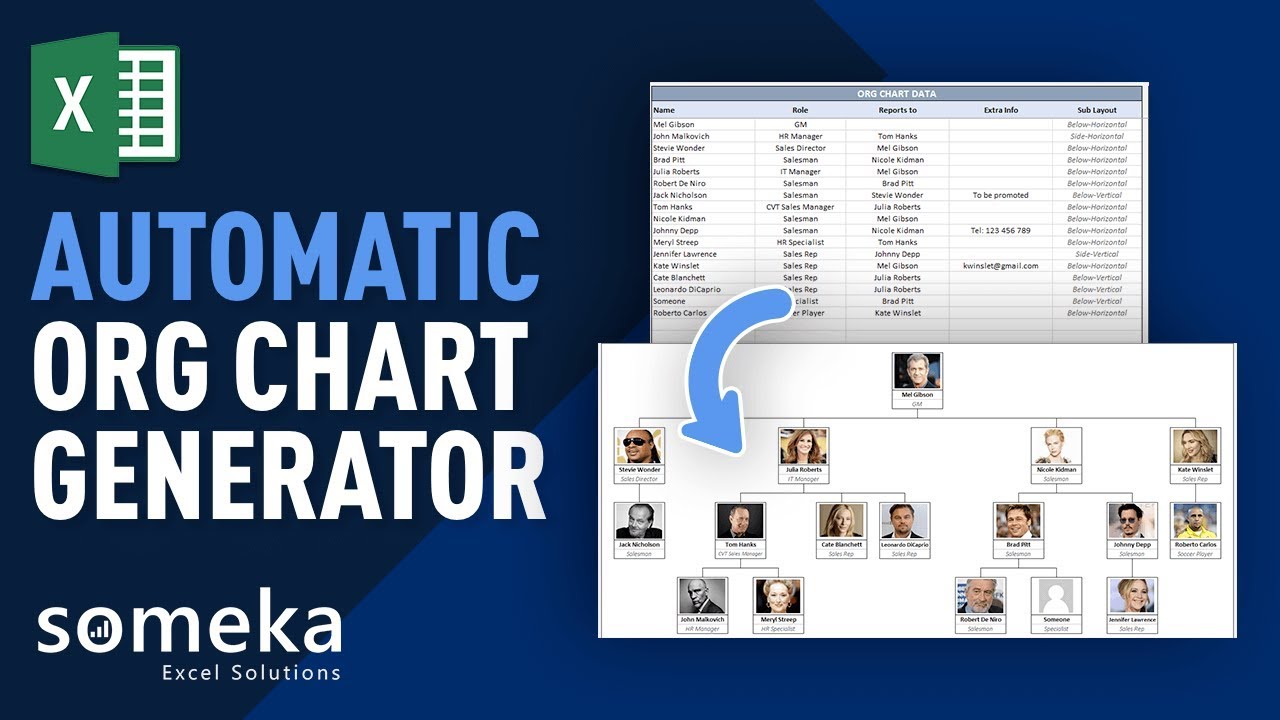 Benefits of Someka Org Chart Generator Tool:
Cheaper compared to other org chart tools on web.
Very practical, since whole operation is done in Excel.
User friendly thanks to New Photo Upload feature and Optional Sub Layout feature.
Automatic Organizational Chart Generator – Premium Version Features:
Works both on Mac and Windows.
No installation needed. Ready to use.
Unique product for auto generation of org charts in Excel
Recommended for all types or organizations
New Photo Upload Feature
4 Sub layout options: Below-Horizontal, Below-Vertical, Side-Horizontal, Side-Vertical
Extra info may be added optionally
Clear on sheet instructions (with turn on/off function)
Compatible with Excel 2007 and later versions.
Easy to use and nice design
Box design can be changed
Export to PDF feature
Print Ready
Someka Organization Chart Generators Comparison:
If you don't need photo feature, you can check our Advanced Version here: