Risk Assessment Excel Template
Risk Assessment (HIRA) spreadsheet template in Excel. Manage and control all the risk items in a visual dashboard. Works in Mac & Windows.
TEMPLATE DESCRIPTION
For a company to maintain its regular situation and business reputation, it should avoid the risks as much as possible. However, to be able to avoid the risk, managers must take the necessary precautions. Therefore, they must ensure control over any activities, situations, processes, etc. that cause harm to people and/or property. One useful way to do so is leveraging a Risk Assessment Excel Template!
By using this Hazard Identification & Risk Assessment (HIRA) Excel tool, you can evaluate the risk your company faces or might potentially face in the foreseeable future.
RISK ASSESSMENT TEMPLATE FEATURES:
Mainly, the template has 3 parts:

Let's take a quick look at the sections:
Risk Report
Firstly, the risk assessment template report will manage and control potential risks in your business. It involves a systematic examination of a workplace to identify hazards and assess injury severity and the likelihood to reduce risks. In addition, it displays an analysis of the amount and distribution of the likelihood and severity of the hazards you listed in the Risk List section.

Risk List
Secondly, this section mainly lets you list the hazards analyze them in terms of their severity and likelihood. Firstly, you will input your data in Hazard, Who is at risk, Person Responsible, and Recommended Action columns. After that, you can choose the option which suits you the best when you click on any cell in the Severity and Likelihood columns. Moreover, you can identify 200 hazards in this list.

Warning!: DO NOT type in or delete anything in the Risk Impact column, it adjusts itself automatically from Risk Assessment Matrix right after you choose your options in the Severity and Likelihood columns.
Risk Matrix
ّFinally, the risk impact is calculated by the risk identification matrix right after putting values for likelihood and severity. It is mainly used to assess the consequence, likelihood, and overall risk rating of a safety hazard.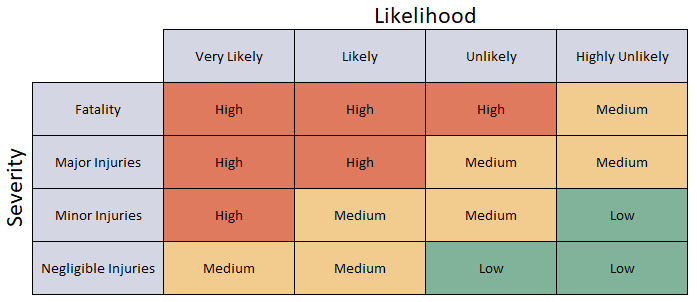 Risk Assessment Template Features Summary:
Easy to use risk management form
HIRA Format in Excel
Professional design for presentations
Full Print Ready
Informational notes included
No installation needed, ready-to-use
Works both on Mac and Windows
Compatible with Excel 2010 and later versions
Does not include any VBA code or macros
FREQUENTLY ASKED QUESTIONS