NFT Wallet Tracker Excel Template
NFT portfolio tracking spreadsheet. Monitor your projects with dynamic wallet analysis. Mint tracker and journal included. Easy to use Excel template.
TEMPLATE DESCRIPTION
NFT, the non-fungible tokens, is a growing trading space with lots of opportunities for serious traders. But if you have even been in the NFT market, you've probably observed how it can all be messy with too many things to track. That's where our NFT Wallet Tracker Excel Template comes to your help with all its useful features to monitor and diversify your projects effectively.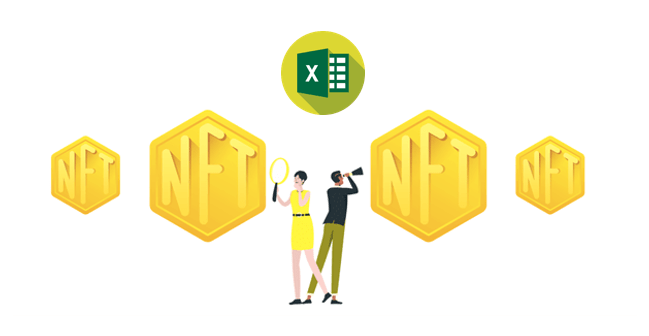 NFT Wallet Tracker Excel Template Main Features
Above all, this template gives you two main functionalities:
Firstly, it will assist you in keeping track of all the minting events, whitelist steps, etc., with an extra calendar feature. You can follow upcoming projects, update your notes, and keep all your key information in one place.
The other main function of this NFT Portfolio Tracker Excel Template is transaction activities. In this case, it is not about remembering the dates but about calculating and estimating your profits and losses.
You may use one or both of these functions. You may just track your profits or perhaps concentrate on completing the NFT tasks that have already started. It's up to you!
The template contains 4 input and 2 output sections: Settings, Watchlist, Minting Tracker, Buy/Sell Journal, Minting Calendar, and Analytics. Let's have a deeper look into the main sections:
1. Settings
You should start by updating settings, most of which are related to the mint tracking. Just input your preferences in the settings sheet of NFT Portfolio Tracker Excel Template.
The time zone converter is a particularly useful tool here. When you track projects from all over the world you can find yourself struggling with understanding what time it is going to be for you.
We have all the possible time zones in our settings so you can be sure you can always get the correct information. Moreover, you will not only find standard notation but also specific abbreviations like CEST, CET, and many more in the dropdown menu.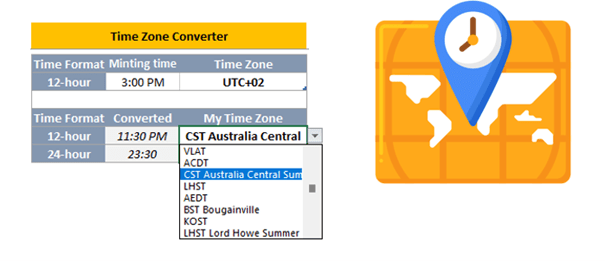 In addition, the "Marketplace" is another special tool in the settings menu, which is needed for the profit calculation in the trading part. The wallet alias is used in the minting part. However, the actual addresses are only kept for you to be able to quickly access them instead of searching, changing your MetaMask profile, etc.
2. Watchlist
The Watchlist sheet is mostly a help section. But we highly recommend using this sheet to keep up-to-date especially for the buy/sell actions later. You can keep here all the notes and information that will let you remember some specific project details.
Most of the table of this NFT Portfolio Tracker Excel Template is just informational. So if you don't want to spend too much time here, at least fill out the current price and creator fee, as well as the project name.
When you set the current price, you can get the estimation of your potential profits from the assets you currently have. Creator fee can be a game-changer when it comes to flipping the project. You can easily understand if it is worth selling some of your NFTs or not.
3. Minting Tracker
Basically, the minting tracker will display your upcoming dates. Also, you can add them to the calendar if you think it's worth remembering.
In addition, we may sometimes get lost in the "white list application steps". Assuming we won the spot, we still need to follow some steps, which is hard to track when you have many of them to remember. This section of your NFT Portfolio template is for you to keep track of all that information.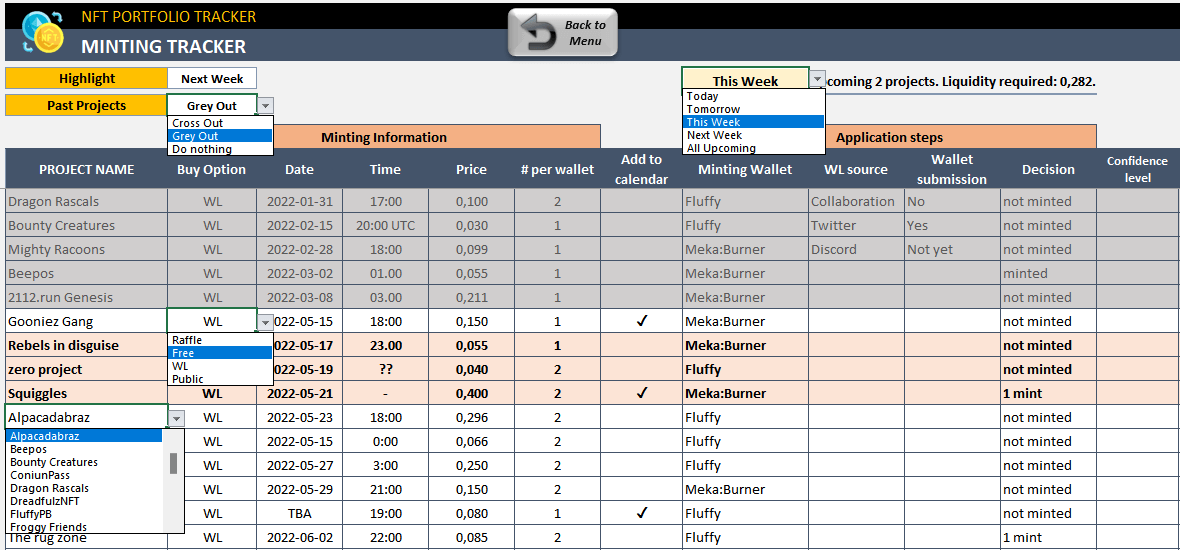 Simply follow the steps you took when you applied for the white list, such as which wallet you used, where you got the spot, etc.
Besides, you can make some small adjustments with cross out (or gray out) features for the past projects or highlighting features for the upcoming ones. This helps you to easily check how many upcoming projects there are and how much liquidity you need.
4. Minting Calendar
The calendar section will show you all the previous projects you select to add here. You can switch the calendar by months or weeks.
5. Buy/Sell Journal
You can follow all your selling/buying actions through the trading sheet.
On the input table, you'll enter all your "buy" activities. Based on previous settings and watchlist information, you can see a Forecast, or a breakeven point estimated here.
In this portfolio tracker, break-even shows what is the minimum price you should sell the NFT not to make a loss. On the other hand, as there are many projects with very high fees, selling our NFT a bit higher does not mean that we will make a profit.
After we have more data, we can make a nice analysis from this trading log. Based on this when you choose a summary for unsold NFTs, you can see potential profits from unsold projects. You can track your sales with updating dates. In other words, this will not damage your main output analytics if you will give up on this information.
Please remember that it is very important to have the current prices updated.
6. Analytics of NFT Portfolio Tracker Excel Template
This section will give you a detailed analysis of your profits and loss. You can test which range of prices works for you the best. To understand which projects you have profited the most and which was a mistake. Also, you can choose filters to narrow down the results.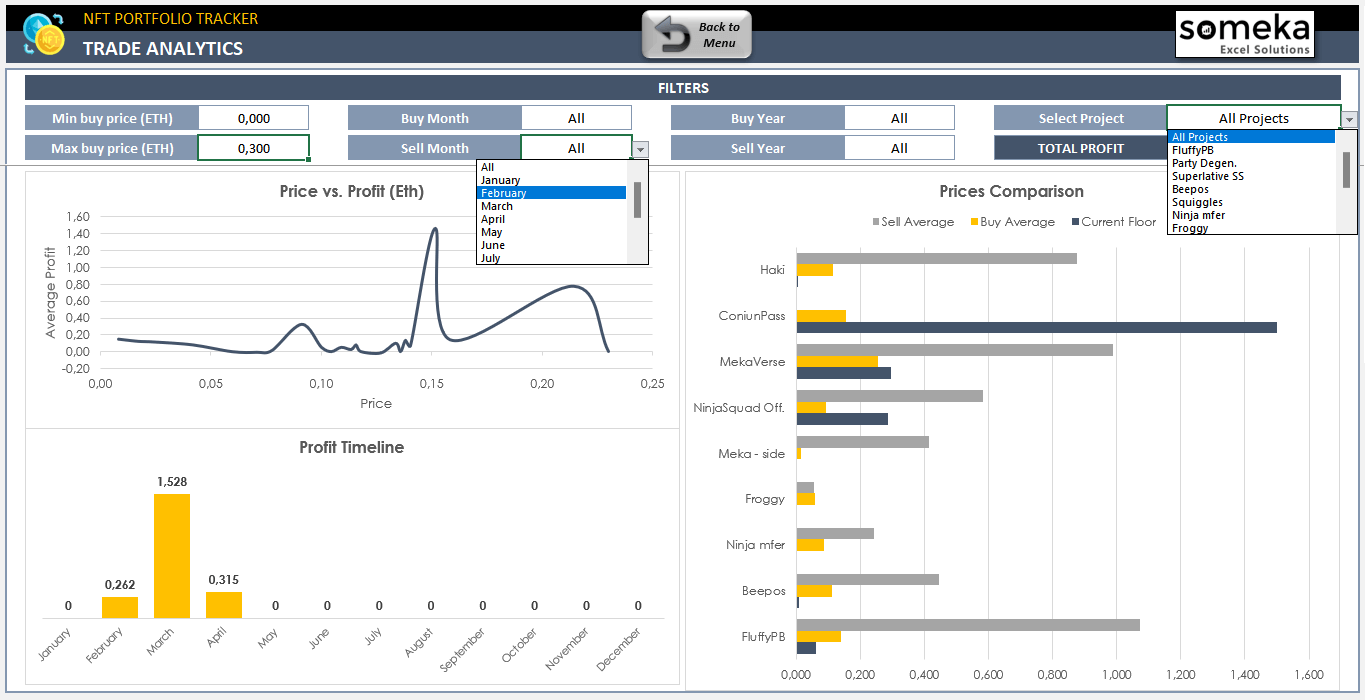 NFT Wallet Tracker Excel Template Features Summary:
Manage your transactions in NFT market
Keep track of your portfolio
Fully customizable and ready to print
Informational notes included
No installation needed, ready-to-use
Works both on Mac and Windows
Compatible with Excel 2010 and later versions
Does not include any VBA code or macros
FREQUENTLY ASKED QUESTIONS