Impact-Effort Matrix Excel Template
Impact Effort Matrix Template in Excel. Keep your tasks organized. Easy-to-fill list & automatic matrix view. Fully printable. No installation needed.
TEMPLATE DESCRIPTION
Do you have lots of work that waiting to prioritize? Not to mention, organizing your tasks is vital for productivity. Not just that it wastes your time but also it may affect the job itself. So, this Impact Effort Matrix Excel Template will help you to categorize your to-do list according to value vs. complexity of the tasks.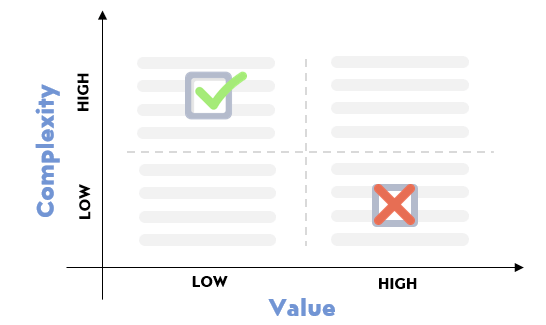 So that you could get the maximum utility from the limited time you have. That is why applying the correct approach always provides a much more comprehensive success.
Impact-Effort Matrix Template Features Summary:
First of all, with a Value Complexity Matrix Template, you will know which work is not worth the effort, you should do this first, maybe later, or easy win. In this way, it will be much easier to eliminate the works which are not worth the value.
Input your tasks to the list and choose the necessary options from the drop-down button for the Complexity and Value columns. After you input your tasks, the matrix will be renewed accordingly.
Besides, if you would like to get additional rows, you may click on the "+" sign.
Features Summary:
Impact Effort Template in Excel
Easy to fill Data Section
Keeps your to-dos organized
Full Print Ready
Informational notes included
No installation needed. Ready to use.
Works both on Mac and Windows
Compatible with Excel 2010 and later versions
Does not include any VBA macros
FREQUENTLY ASKED QUESTIONS