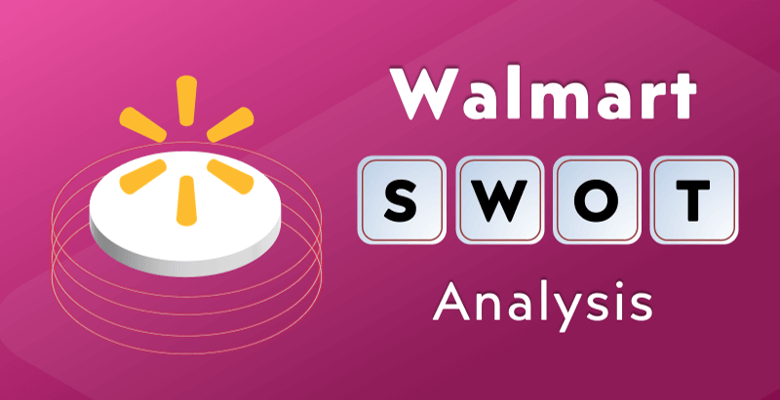 Walmart SWOT Analysis
Updated on August 18, 2022
| | |
| --- | --- |
| Company Name: | Walmart Inc. |
| Industry: | Retail |
| CEO: | Doug McMillon |
| Founded: | July 2, 1962 |
| Founder: | Sam Walton |
| Number of Employees: | 2.300.000 (2021) |
| Headquarters: | Bentonville, Arkansas, U.S. |
| Revenue(USD$): | 559.2 billion USD (2021) |
Company Background:
Sam Walton was a businessman working for J.C. Penney in 1945. At that time, he decided to buy a small branch of stores and sell products for low prices (specifically for a nickel and a dime).
His business strategy was to sell at a higher volume but for lower prices than the other stores, thus generating a lower profit margin.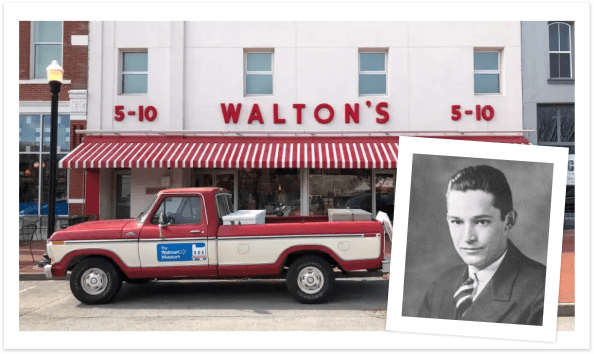 He started generating a few hundred thousand dollars in revenue and in 1962, he opened up the first Walmart Discount City store in Arkansas. He later expanded to surrounding states such as Missouri and Oklahoma.
In 1969 the company took the name Wal-Mart, Inc.
In 1970 the name was changed to Wal-Mart Stores, Inc. and the company went public.
In the next five years, its stores spread to six more states with a total of 125 stores and 340.3 million USD in sales.
The company grew increasingly and rapidly in the 1980s, '90s, and into the 2000s.
Today, Walmart is the largest employer in 22 states in the United States and has more than 11,500 stores worldwide. It is not only the biggest retailer in the entire world, but it is also the 19th largest public company in the world (according to Forbes).
---
Free Download: Forbes Global 2000 List
---
Walmart's Mission
Walmart strives for providing its customers a convenient shopping experience and guaranteed satisfaction. This is achieved mostly by incredibly low and market leading prices for their quality products.
The founder of the company Sam Walton describes the mission statement:
The secret of successful retailing is to give your customers what they want.
Additionally, in 2007, the company introduced the slogan:
Save money. Live better.
The change in slogan was done to highlight the whole shopping experience, as Walton suggests, low retail prices as well as free parking and discounts.
Walmart's Vision
The focus on the vision of the company is on the money-saving aspect of the corporation. It is stated that the company wants to make every day easier for busy families.
Their goal is to make customers save money, no matter what. So whether the customers are shopping in physical stores or ordering online, they want their customers to shop with lower prices.
Strengths
A Legend in Retail
It is impossible to not know Walmart, if you are living, have lived, or even only visited the United States.
There are more than 4,756 stores in 50 states across America.
The company is considered a 'legend' in the retail industry due to the decades-old history and its determination to keep going and grow rapidly.
Scale of Operations
With its 60 million products in their stores, the company displays a huge number of different, unique, and low-cost products to its customers.
The number of the products will keep growing, the number of stores will keep growing and therefore, the sales and revenue will also keep growing as well.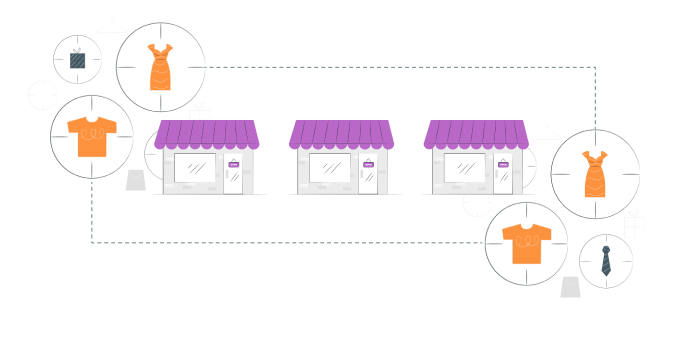 In addition to the national success, Walmart has grown its global operations as its stores can be located in four different continents: North America, South America, Africa, and Europe with more than 600 stores in the United Kingdom.
The Business Strategy
Walmart uses the business model known as economies of scale which provides cost advantages because of the increase in production and the decrease in prices. As Walmart's operations are so expansive throughout the world, the cost of production can be divided between all of the goods.
---
Recommended Reading: 3 Things to Start Doing From Day One for Your Online Business
---
The retail leader has an incredibly high volume output so it can keep the fixed costs on a number of products and operations. That's why Walmart became the Walmart of today.
Efficient Supply Chain
One of the advantages of Walmart has on other retail stores is supply chain of the company. Walmart is doing an exceptional job with business processes with the help of increasingly advancing technologies.
They given the proper care, effort, time, and money for the processes of keeping track of products, recording and updating inventory, and the statistics of customer satisfaction.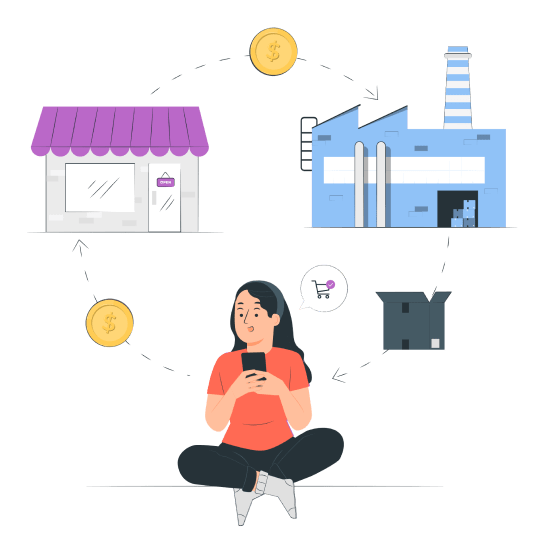 The monitoring of the records is so efficient that Walmart (should) never have empty shelves in its stores. Products in each category should be always stocked.
Walmart has been the leader of this logistics system in regards to physical stores, so much that various other retail stores have copied the organizational structure.
A Wide Range of Products
Walmart has everything. It has known and popular brands of products. It has cheaper options. With a wide array of Walmart products, it has its own private label.
The company ensures the customer can find whatever they want in Walmart. That is a massive strength among its big corporate competitors and local shops.
Weaknesses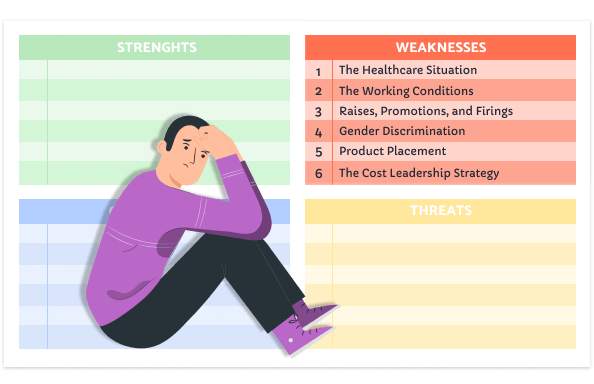 The Healthcare Situation
The healthcare options and the whole healthcare system in the United States are already weak and unfortunately, somewhat nonexistent.
On top of that, the biggest retail store in the world can't provide proper healthcare to its more than 1.5 million employees in America.
You need to pay a weekly or a monthly fee and a certain amount of dollars will be deducted from each of your checks. The benefits are so few that you can personally pay less for your own healthcare and get more benefits.
The Working Conditions
A store that needs to be stocked on every aisle and on every product needs stealthy workers. Employees who are working full time have to work without off days and sick leaves.
You need to work in as many different areas in the store as possible and if someone took a sick leave from work, you need to cover their shift.
Raises, Promotions, and Firings
You need to work every day as your last day, cover every area and operation in the store, get along with your managers to get a raise.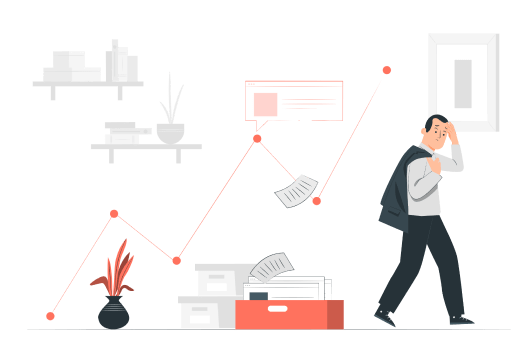 It is still possible that you will not get a raise even if you do everything right and with all of the energy you have. It is so easy to be fired and yet so hard to get a promotion.

Gender Discrimination
In 2001, six female workers for Walmart filed a joint lawsuit against the company, alleging that they were discriminated against in terms of bonuses and promotions. The women were on track for salary raises and additional training opportunities, yet they were not delivered.
The case represents 1.5 million women workers who have worked and are still working for Walmart. It is the biggest workplace discrimination and gender bias case in the United States history and the case is still ongoing.
Product Placement as Customer Pressure
You can see certain products on the corridors, at the entrance, and sometimes in the corner sections of a Walmart store. Even though it looks like a 'suggestion' from the seller, it is a deliberate business move by Walmart. The products Walmart promotes provides discounts, and showcases on its stores are actually product placements.
And these products are chosen specifically based on the statistics and data Walmart gathers from its logistics system and the IT department. They want the customers to buy the products that can give them the most profit. If you have ever wondered why Walmart keeps the essential stuff such as toilet paper, food, and pharmacy section at the back of the store, it is because they do not make the most profit.
The Cost Leadership Strategy
Walmart's whole business model is based on the cost leadership strategy. The strategy consists of setting the lowest cost of operation (thus the lowest price possible) for each of the related products. This leads to minimizing the selling prices, therefore, minimizing the profit margins as well. Walmart is known to have 'thin profit margins'. The cost leadership strategy can be considered a 'winning' model because Walmart has been so successful for so long. However, it has always been operated on low volume profit margins.
Opportunities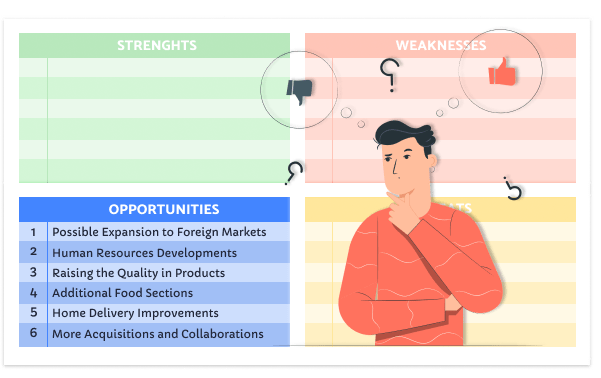 Possible Expansion to Foreign Markets
Walmart is huge across the world, of course, but there are also other countries and foreign markets that it needs to venture into. For example, there is still no Walmart store in most of Europe (especially in Russia and Central Europe), no stores in any of the Middle Eastern countries, some of Asia, most African countries, and the continent of Australia.
Walmart has acquired one of the biggest retailers in the United Kingdom, ASDA, and one of the biggest retailers in India, Flipkart. These expansions are noteworthy; however, there are still many countries and a continent Walmart has not ventured into yet.
Human Resources Developments
Walmart has faced several lawsuits, criticisms, and controversies for the way that it treats its workers in terms of salary and wage. During the COVID pandemic, Walmart raised its hourly rate for its employees and also gave raises to 165,000 of its workers. This is a crucial step for Walmart and also its employees. More people can choose to work in a Walmart store, if the salaries and wages are more favorable to them.
Additionally, if Walmart continues these developments, it can also avoid lawsuits and public controversies as well.
Raising the Quality in Products
Due to the fact that Walmart has an incredible range and number of products, some of them can lack in quality. Especially low-quality clothes can cause some health concerns among the customers. Walmart has the chance to better the quality of its clothing products. It is a great opportunity which Walmart can prove that they can improve upon their certain products and sell high-quality clothes as well.
Additional Food Sections
Walmart does not sell fresh food as in a grocery store. It can! If it does, it can also challenge and be a competitor to supermarkets. It would be a big undertaking as it would have to include a new section to the physical store, but Walmart has proven that it can keep track and monitor a long line of products. It can handle a grocery or a fresh food section as well.
As the culture of healthy eating grows and spreads across the world, Walmart can bring vegan food selections and gluten-free options to this section as well.
Additionally, Walmart can possibly combine its grocery section with its improved home delivery service.
Home Delivery Improvements
Walmart has a home delivery feature but is Walmart the first company that comes to mind when talking about home delivery? Unfortunately, not. Walmart's biggest competitor Amazon has developed this feature so much that Walmart lacks behind it. Pickup and home delivery services have been essential for a few years and are going to be crucial due to the COVID pandemic which forced citizens to spend time at their home. Time and money should be invested into this feature so that it does not stay just as a great opportunity for a huge company such as Walmart.
It can also improve upon its online store and can come up with new ways to reinvent this pickup and home delivery service.
More Acquisitions and Collaborations
Walmart needs to get into most of the developed countries. If it does not want to open up Walmart stores in Europe or Asia, it can invest in some of their retail stores or even acquire some of them. For example, one of the biggest European retailers is Carrefour which is a French retailer. Walmart can license its name and brand to some of the Carrefour stores for possible collaborations and the chance for introducing itself to new countries.
Threats
Political Controversies and Sensitive Issues
Walmart, due to its wide range of different products, can be criticized and become the focus of several controversies. Let's recap some of them:
Political Controversies
In 2018, a boycott campaign against Walmart was started by Donald Trump supporters. Walmart had put different clothes, ranging from baby clothes to t-shirts, that had the words "Impeach Trump" or "Impeach 45", implying the 45th President of the United States has to be impeached. Some Trump supporters displayed their rage and disappointment mostly on Twitter, here are some examples:
Some Republicans even mentioned the company's founder Sam Walton who was a right-leaning businessman.
However, it should be noted that Walmart is not anti-Trump. Walmart has also plenty of pro-Trump t-shirts and products as well. The company is only looking to make money, not take a stance.
On the other side of the political spectrum, Walmart has been also criticized for selling t-shirts that say "Rope. Tree. Journalist. Some Assembly Required". It should be considered that unlike the "Impeach 45" t-shirt, this model specifically urges violence and has a much darker implication. This model was removed from its website and its stores following a review process.
Walmart has been the subject of criticisms and controversies in political, environmental, and social issues. If you want to analyze your own company or business in order to see the big picture and choose where to improve upon, you can use Someka's PESTLE Analysis Template for free!
Bribery Investigations
In 2011, Walmart stated that it began an internal investigation related to allegations against bribery. It did not make big news as enormous corporations such as Walmart often conduct internal investigations to keep everything in control. However, after a few months, The New York Times published an extensive report on the bribery scandal. Apparently, the allegations suggest that lower and top management employees in Mexico gave bribes to officials in order to boost the market share of the company.
These internal investigations expanded to other South American countries such as Brazil and the top two most populated countries in the world, China and India. The company had to pay 144 million USD to the Securities and Exchange Commission, after it was charged with criminal violations.
Copies of its Strategy and Business Model
Most of the world's biggest retailers actually take their business models from Walmart. Retailers such as Target, Costco, TESCO and the previously mentioned Carrefour accepted and adapted these methods into their business models as well. Even though Walmart is still at the top of the list in terms of retailers, that does not mean there is no competition. The comparison between the prices and the quality of the products can hurt Walmart's sales in different states in America and in different countries around the world.
Tax Avoidances and Subsidies Issues
It should not come as a surprise that large corporations (mostly based in the United States) do not pay enough taxes, compared to their revenue. There were reports of state tax avoidance, reduced local property tax payments, and sales tax 'skimming' issues.
In regards to subsidies, even though it is one of the biggest brands in the world, Walmart gets the financial support of the government when it is planning on expansion. And the financial support of the government means taxpayers' money. These benefits include state, local and national tax cuts, financial grants and infrastructure equipment, resource and labor support. These are good financial benefits for the company, of course; however, it can attract criticism for such a large company to be benefiting the taxpayer.
The Modern Nemesis: Amazon
Walmart's physical store might be 'the greatest way' to shop, but now, it is not! The number of people who are shopping online increasingly keeps on rising. That was exactly the case in 2020 which the whole world suffered a pandemic. When people tried to buy the products they wanted from Walmart's website, they were met by a slow, unorganized and inefficient user interface with technical issues. However, Amazon's services have (almost) always been fast, organized, and easy to operate. It is just easier to buy something on Amazon.com than Walmart.com!
Amazon provides an efficient way of shopping to customers and gives them a great experience. It has already taken its place as the best online retail store, Walmart is, without a question, in the second place. Perhaps it can improve upon its online shopping services in order to better their customer experience, while the quarantine and lockdown situations are still going around the world due to the ongoing pandemic. And perhaps, Walmart's online shopping service might catch up to Amazon… and perhaps it might not and cannot.
FINAL WORDS
Every business has threats that are facing them, no matter the size of the company. Also, every business has its opportunities lined up to make them happen, no matter if it is a newly established startup or an enormous brand. And there will always be unique strengths and weaknesses to every company in a market. There are no exceptions, therefore, your business dealings and their detailed features need to be analyzed as well with a SWOT analysis.
It can look like a complicated and time-consuming process just to list these categories and write down each and every one. It can be something you are dreading to do if you are not using Microsoft Excel with a template that can make this process easier for you. SWOT Analysis Template provides you the proper visual guidance in order to start your SWOT analysis now and complete it in a much easier way! The easy to fill template itself has a professional design that is perfect for presentations. And it is completely free for you to start analyzing your business in a matter of seconds!