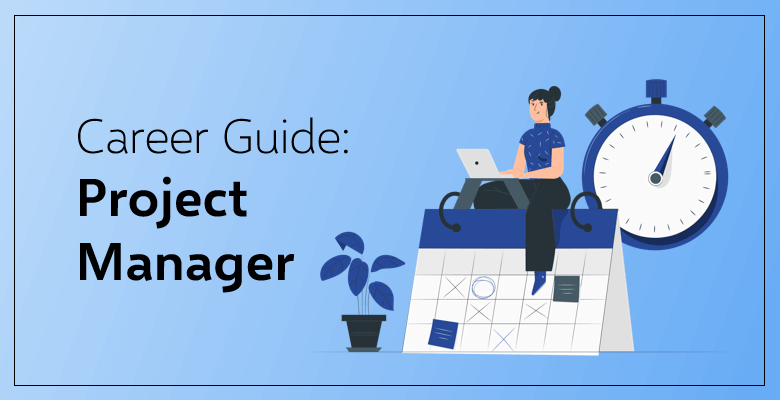 Career Guide: Practical Handbook to Become a Project Manager
What Does Being a Project Manager Actually Mean?
Being a project manager means getting involved in too many different aspects of business activities. A project might refer to anything. The progress is managed by the people who are called project managers. They are expected to be team players and problem solvers. If you plan to choose this career path, you should be communicative, flexible, and adaptive to different work environments. Because every project has different requirements and the person who manages them needs to understand what it takes to run the plan; also needs to adapt to the particular conditions.
Product Manager vs Project Manager
Product manager is the person who is in charge of developing products. The main focus of a product manager is product, while a project manager's main focus is project. These professions can interact with each other and work together in some cases. Releasing a product that the product manager works on could be considered a project and the project manager is involved in the process. The product manager defines customer needs and sets strategies accordingly to deliver a suitable product, and the manager executes those strategies, aiming to complete it under certain limitations as time and budget.

What Does a Project Manager Actually Do?
There are five key responsibilities of a project manager: initiating, planning, executing, control, and closing. Under every element, more specific roles rely on which the project manager is liable. Let's see what each includes.
Initiation: You first define the objectives of the project. What is the aim of the strategy, who are the stakeholders and what outcomes are expected are the questions to be asked at this point. Generally you set the requirements and scope before moving on to the next phase.
Planning: Project plan is started after initiation. Planning includes time management, risk calculation, and budgeting. To reach well-performed outcomes, the planning phase should be taken care of meticulously.
Executing: Here, work is being completed. Executing is the action part of the phases. You should lead your team and ensure that tasks are being delivered on time.
Control: As a manager, you should have the ability to monitor and control the processes and the budget. Changes or errors could suddenly occur and someone has to be aware of them.
Closure: At the end of the process, you can finally review all the work. What you also do at this phase is to release the resources that are no longer necessary, archiving documents, and evaluating the final work.
Project Manager Job Description
Managers plan projects from start to finish; by designating resources, overseeing progress, and leading the entire process in a limited time. They perform their duties while informing their team members regarding the progress and motivating the team. At the end of the process, they are also responsible for reporting and documentation.
Project Manager Job Requirements
Just like many other managing professions, this kind of jobs require a particular background and skills. This refers to training, certificates, or related experiences.
Education and certification: You don't have to have a diploma on project management in particular. You can start your career by having a degree in Business Administration or similar fields. However, education is an endless path. There are more training options you can educate yourself. Find the courses and certification programs if you want to become better in your profession.
Skills: A project manager should have different types of skills; both technical and soft skills. The very combination of those helps professionals to smooth their work.
Experience: Every profession is more effective if the person has experience in the same field, that is for sure. In project management, if you have related experience you can handle every task and problem more quickly.
Terminology Used in Project Management
Here we will talk about some specific words and phrases that you might encounter in project management scenarios. Don't be intimidated by the terminology; you can easily get familiar with them and start using them in sentences.
Sprints: small periods of the project management cycle.
Swimlane: the framework that shows boundaries of responsibilities.
Action item: tasks to get done.
Bandwidth: the capacity to complete a task.
Velocity: the speed required to complete the task.
Get one's ducks in a row: putting to-dos in order.
Project Management Methodology
Waterfall: is a model that shows activities of a project in linear phases. Each phase is dependent on the other and goes down like a waterfall. There are some phases of the waterfall model such as requirement gathering and analysis, system design, implementation, testing, deployment of the system, and maintenance.
Agile: is a practice in software development that supports the constant development of a project. Unlike the waterfall, every activity happens at the same time here. And, examples consist of Scrum, eXtreme Programming (XP), Feature Driven Development (FDD), Dynamic Systems Development Method (DSDM), Adaptive Software Development (ASD), Crystal, and Lean Software Development (LSD). Teams usually choose one or two methods.
Kanban: is a lean method to use for representing work items visually. It provides flexibility, accessibility, and effectiveness for all the team workers. HR, sales, support, UX design, digital marketing, software development, business consultancy, law, architecture, education, time-driven kanban, and personal kanban are some detailed Kanban board examples.
Scrum: is a framework especially being used for product development. It focuses on incremental development. This methodology is mostly used by software developers. It provides productivity and satisfaction for the employees.

Rapid Application: develops different strategies in agile software development. It is a faster method than waterfall and gives users the flexibility to adjust changes quickly and also gathers feedback. The rapid application includes four phases which are requirements planning, user design, rapid construction, and cutover.
Prince: also known as Projects IN Controlled Environments, is a process-based method that focuses on key elements and how to apply them.
Critical Chain is a method that considers resources and plans projects accordingly. When the resources are limited, this methodology helps you to prepare the project schedule.
Classic technique: is the common method of project management. It includes the basic phases of planning, getting feedback, monitoring, etc. Especially while working with small teams, the traditional method is simple and effective to use.
Work Breakdown Structure (WBS): is a method that basically divides a project into smaller components and provides a visualization. This way helps managers to handle the progress way more easily. Work Breakdown Structure has some specific characteristics such as outcome-focused, 100 % rule, mutually exclusive, and hierarchy.
Gantt Chart: is a well-known model being used in many fields. It is the visual form of scheduled tasks within a particular project. It is very helpful while planning a project. With this methodology, you can track the relationship between the activities and schedule status.
Process-Based Project Management is a strategic method that especially examines the project on a process basis. Using this method, you do not miss the significance of a single task. When you look at the process map example of the management process, you can see some sub-headings such as phases, identification, initiation, planning, execution & control, and closeout.
Extreme Project Management (XPM): is a special method for managing complicated job period. It is suitable for fast-speed and unpredictable projects with some complexities. XPM is also flexible and short. On the contrary, traditional project management is not.
Critical Path Method (CPM): is a method that aims not to miss deadlines. If you are conscious about delivering your project on time; CPM is what you need. CPM was developed by Mr. Morgan R. Walker and James E. Kelly in the late 1950s. It is a modeling technique enabling managers to deliver their projects on time. CPM is a complicated concept, but if you follow its steps carefully and also understand the previous ones, you won't have any issues solving the problems thanks to this method.
Program Evaluation and Review Technique PERT Project Management: is used for calculating the approximate time needed to finish the process. This statistical tool helps tasks to be completed on time.
Rational Unified Process (RUP): is a framework in software development. This methodology is multi-dimensional and covers analysis, business model, design, etc.
Salary
Approximate yearly salaries project managers and other similar professions make in a year are listed below.
Assistant Project Manager: $55,000
Project Manager: $70,000
Senior Project Manager: $90,000
Digital Project Manager: $65,000
Program Manager: $90,000
Project Manager Titles 
Project Coordinator is in charge of tracking information, communicating with employers and clients, coordinating the project process and they assist project managers.
Assistant Project Manager is the right-hand of a project manager. They help them to optimize the project; tracking documents, handling budgets, and implementing the project goals.
Project Manager is responsible for planning projects, designating project resources, tracking the progress, and reporting.
Senior Project Manager is the head of a project. The role of a senior project manager is to lead the entire project management team and perform the related controls throughout the project while guiding other team members.
Project Scheduler takes care of the project schedule. By working together with team members in a project, they create and organize schedules.
Skills Needed to be Project Manager 
Almost in any profession, technical skills and soft skills go together. A project manager needs to know how to use relevant tools, apply methodologies, and perform analysis; however, he or she also needs to be suitable as a team working for project work. Let's see what skills are necessary for this type of job.
Technical Skills: Project management consists of several technical phases, which means it requires some planning and organizational capabilities. Imagine you have too much data to handle and lots of documents to track. First, you need to reduce your workload, only then you can focus on developing your progress. Developing the progress or optimizing the whole process needs technical skills as well. If we sum up what those skills are, they'd be listed as below.
Process management
Project planning
Risk management
Scheduling
Control
Soft Skills: For any manager soft skills are must. They are strong supporters of technical skills. Technical knowledge is nothing unless you have the ability to express it. Especially for a comprehensive concept like project management, soft skills are even more critical. A project manager should have the following skills to perform a good job.
Communication
Leadership
Organization
Adaptability
Flexibility
Excel Skills: From the wide range of functions in Excel, every project manager surely finds at least one to use. Basic Excel skills are required for using this Microsoft tool for project management. One should know how to write formulas, create charts, and use fundamental functions. Gantt charts can be created, SWOT analysis can be performed and tasks of a project can be tracked inside an Excel sheet. Project management also requires some other excel skills such as understanding the ribbon, using a quick access toolbar, workbook, and worksheet basics, exploring different views using freeze panes and split panes, using list filters, using styles and text formatting.
Using Excel For Project Management
Using the right formulas in Excel for a project is not difficult at all, but it is always easier if you have something that does it for you. Yes, we are talking about templates. Someka created useful Excel templates including KPI Dashboard, Gantt Chart Maker, Kanban Board, and a SWOT Analysis template. You can make your project management processes easier and faster by taking advantage of those templates. Check each template by clicking on their link and see how they work.
There are also Google Sheets templates available for project management. You can try Kanban Board Google Sheets Template, Responsibility Assignment Matrix Google Sheets Template, Action Plan Google Sheets Template, or Employee Task List Google Sheets Template.
Common Reasons for Project Failure
Quite several reasons might occur for project failure. Even though the circumstances may vary; the most common causes of such failure are poor preparation, uncalculated risks, and lack of control. Projects which are not being managed properly have the potential to fail, unfortunately.
Coca-Cola's "New Coke" failure is a very right example of that. Coca-Cola once launched a new product into the market being expected to be successful which it hasn't. Coca-Cola executives couldn't perform the market research well enough, so they misunderstood the customer demand; and eventually, the project failed. The market demands were calculated in the wrong way, which brought them to poor preparation. When things do not go as you expect them to; failure is inevitable. If we learn a lesson out of Coca Cola's case, it is that we should make the preparation well and calculate the possible outcomes.
Books
The best way to learn something is to read about it. Books are the shortest way to get an insight into a topic we barely recognize. Especially if what you read about is a profession you intend to take a path on. Here are some of the best book examples of project management.
Making Things Happen, Scott Berkun: Perfect book for beginners. Scott Berkun provides an enlightening guide for those who are new to project management. The book has an easy and lean language, you can easily gain fundamental knowledge about project management processes.
Project Management for Humans: Helping People Get Things Done, Brett Harned: This book covers how people play significant roles in project management and how their work affects the whole process. You will also find useful tips and information in the book in terms of taking risks and how to approach problems.
Alpha Project Managers, Andy Crowe: If you want to sharpen your project management skills, this book is a perfect fit for you. It is a relatively advanced book for project managers who want to build a career in this field.
Accidental Project Manager, Ray Frohnhoefer: A real story of a project manager tells the readers how to be a hero from zero in 7 days. You will find this book inspiring and mind-opening.
Project Management Case Studies, Harold Kerzner: With more than 100 case studies inside, this book helps you to understand project management more comprehensively by examining real cases.
Course & Training
If you want to sharpen your project management skills, there are great training programs that you can benefit from. Here are 5 educational courses in project management.
Beginning Project Management: Project Management Level One by Udemy: This is a beginner level course that everyone can take. You will learn the concept of the project, how to manage it, and how to work with teams for a project.
Project Management Principles and Practices Specialization by Coursera: This course is also a beginner level but teaches the fundamental management principles. You will learn how to plan a project, how to create a budget, and manage risks.
PMP Exam Prep Training Course by Project Management Academy: PMP is a preparation course for the PMP certification program. This training course gives participants a deep knowledge of project management and its objectives.
Online PMP Certification Exam Prep by BrainSensei: Another preparation course for PMP certification. You will learn how to manage phases of a project while preparing yourself for the certification exam.
Best Practices for Project Management Success by edX: Edx offers this course at Rochester Institute of Technology to help project manager candidates. You will learn the ways to deal with possible challenges in projects and how to be successful when managing a project.
Certifications
CAPM: Certified Associate in Project Management: is a beginner-level certification program for people who want to master their skills in project management. It gives essential knowledge about project management and its processes.
PMP: Project Management Professional Certification: is a certification program given by the Project Management Institute (PMI). Participants are expected to have prior knowledge.
Certified ScrumMaster (CSM): is a beginner certification program to give participants a general understanding of the project management methodology.
KPIs for Project Management
Key performance indicators in project management are either time, cost, quality, or effectiveness driven. Some examples of KPIs contain project schedule, estimate to project completion, current development backlog, labor costs spent per month, and current resource allocation. KPIs within project management are classified as timeliness KPIs, budget KPIs, quality KPIs and effectiveness KPIs.
The most crucial KPI's in project management are listed as follows.
Cycle Time: is needed for tracking the necessary time for a task to be completed.
Resource Capacity: highlights the available resources to set a project timeline.
Cost Performance Index: calculates the expense efficiency by comparing earned value and spent amounts.
Net Promoter Score: is an indicator that measures customer satisfaction and loyalty.
Number Of Returns: gives an idea about how well you planned your project.
Number Of Cancels: tracks how many parts of the project have been canceled or paused in the progress.
Planned value: also known as the budgeted cost of work scheduled (BCWS), is the estimated cost for the planned activities.
Number of Errors: measures the parts of the project that needs to be redone or revised during the process.
Planned hours of work vs actual situation: indicates if the planned hours for the project meet the hours that actually were spent during the process.
Return On Investment (ROI): calculates the financial worth of a project compared to its cost.
Tools
Projects are managed better with the usage of the right tools. In today's world, online platforms and technological tools provide us easy collaboration and access from everywhere.
Here are the most essential task management tools for your project.
Google Suites: You can always keep and protect your data in Google tools besides working remotely and access the same files as a team from everywhere.
Slack: You can connect your team to this tool and perform all your tasks together. Face-to-face or video chat options are available.
Paymo: Besides beginner tools, there are also more advanced ones such as the Paymo app. This app helps you to track all important documents, keep your team engaged and manage tasks.
Teamwork Projects: This project management software provides smooth workflows and strong collaboration to its users.
Monday.com: It gives you an opportunity to see your important projects and helps you to work in every type of methodology that is suitable for your project and team.
ClickUp: It is a project management software tool that gives you a chance to manage and complete all your team's projects in one platform. It also contains many features for its users such as editing, sharing, and creating Wikis and documents.
Smartsheet: It has won some awards on short notice for becoming a favorite business application. If you are bored with the long and complicated formulas and want to have a break, you can use Smartsheet to make your calculations across multiple sheets. It's quite a good project management software for users who are good at working in Excel. Smartsheet integrations contain some Google apps and Microsoft.
Celoxis: It is an extensive platform for work collaboration and portfolio management. Celoxis is also extremely manageable with different industries and organizations. Thanks to its incomparable custom applications, it allows its users to develop projects and business processes within the framework of the project management system.
Forecast.app: Forecast is a comprehensible platform for project management and resource used in more than 40 countries all over the world by some consulting and software companies.
Kintone: Project managers can keep track and prioritize their team tasks no matter how complicated it is. So, users can design essential workflows and re-evaluate all their related tasks in a quite easy way.
Hive: Hive is a project management tool that streamlines the works of companies such as Starbucks, IBM, Uber, and WeWork in one common platform. It is an amazing alternative for various ranges of companies and work forms and is used by teams including from 10 to 1000 people.
Wrike: Besides being an award-winning project management software, it is convenient for at least five teams since it allows for limitless users. The tool is quite configurable and allows its users to design their dashboards and workflows.
Teamwork: This project management software helps teams and agencies to improve visibility, collaboration, liability, and finally results. Overall, it is a highly customizable tool that includes many features.
Ravetree: Teams are empowered by this work management software platform to gain information in a short while by spending less time searching for. And, most of the project-driven organizations use this platform to manage their resources and projects. In the long run, companies gain many benefits from using an extensive platform which gives them a great opportunity to optimize their operations.
FINAL WORDS
In a world that almost everything is considered as a project, being a project manager brings along many things. There is no doubt that there are too many factors one should focus on when it comes to building a career in project management. You can take inspiration from this guide; take a look at suggested books and courses and have a few minutes to think about what type of project manager you want to be. You should also consider other job titles in project management and how they differentiate from each other. At the end of the day, everything will be more clear in your mind about project management.