Automatic Schedule Generator Excel Template
Excel Automatic Schedule Generator lets you enter your to-dos in a list format and have them automatically converted to the calendar view.
TEMPLATE DESCRIPTION
It is essential to plan and schedule carefully in order to achieve your goals. We offer you an automatic schedule generator Excel Template for self-organization! Instead of making a calendar from scratch and manually, this tool will automatically populate Excel calendar from spreadsheet data.
This Excel template will provide flexibility to schedule your time, set your plans, and all in Excel! It covers the years up to 2032.
Automatic Schedule Generator Features:
The template is constructed by two main parts: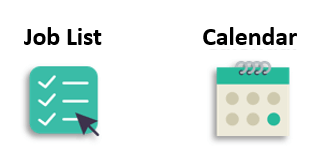 It's very simple and practical to prepare, IN JUST 2 STEPS:
Step 1: Select dates
Step 2: Enter your jobs/to-dos in Jobs View
Job List:
In Job List, firstly enter the plans you have. After that, select Day, Month, and Year from the drop-down. Once you do that it will show up on the Calendar View accordingly.
You will see the relevant weekday under the day of the week column based on your date selection. Besides that, if the date falls on the weekend, you can see the day highlighted in the day of the week column.

Furthermore, you can change the date format from the header dropdowns such as Day-Month-Year, Month-Day-Year, Year-Month-Day, etc.
Calendar:
At the very top of the page, after you select the months and the year you would like to see, just select from the drop-down. So all the jobs you input the related months, will show up in this section of Automatic Schedule Generator.
Note: Due to automatic calculations set up for each cell, please do not manually enter data.

If you enter more than 40 characters in the "Job List" section, the remaining characters will not be seen in the "Calendar" section.
WHAT DOES THIS EXCEL SCHEDULE GENERATOR OFFER?
1. Save Money: It's really cheap compared to the other schedule planner tools.
2. Save Time: Enter the jobs in a list view and these jobs are automatically transferred to the calendar view. All in Excel!
3. Practical and User-Friendly: This is a fully Printable Calendar Template and supports years until (including) 2025. Another very handy feature is: Calendar View adjusts itself according to the days' distribution. So, Monday, Tuesday, or Sunday always stays in the same place.
Excel Automatic Schedule Generator Features Summary:
Unique Dynamic Calendar generation in Excel
Automatic creation of calendar view from list view
Auto-adjusting of days distribution
Supports from 2021 to 2032
Informational notes included, print-ready
No installation needed, ready-to-use
Works both on Mac and Windows
Compatible with Excel 2010 and later versions
Does not include any VBA code or macros
FREQUENTLY ASKED QUESTIONS