Excel Automatic Org Chart Generator
Turn your Excel employee list into an org chart with photos automatically! This easy-to-use spreadsheet is a huge time saver for business people.
TEMPLATE DESCRIPTION
An org chart (aka organigram) is a crucial tool for all types of organizations as it clearly illustrates the roles of the employees and relationship between them. However, preparing an organization chart and keeping it updated might bring a redundant workload. Especially if you want to put photos together with lines and boxes, it may become a nightmare! Then, that's why we have created this Automatic Org Chart Generator in Excel!
Basically, this Excel template makes the process very easy with unique "Photo Upload" feature. All you need to do is to follow 3 basic steps:

Type employee names, roles, reporting lines, and select sub-layout in Excel. (If needed, you can add extra info in this step)
Select who you want to upload a photo of and insert his/her photo from your computer
Click the "Create Org Chart" button and your organizational chart will be ready within a few minutes!
Automatic org chart generator basically works like this:
Org Chart Generator Dashboard
Start filling your employee Names and Roles to the table on the Dashboard (Org Chart Data). Reports To column has a dynamic dropdown and more people will appear as you add more employee names. By the way, this tool is designed according to one-to-many organizational relationship so there should be only one empty cell at "Reports to" column (who will be the head of organization.)

Extra Info column is optional. You can select whether to show it or not from the Control Panel at the side of Dashboard. (Show Extra Info)
Sub Layout is a special feature of this org chart generator. Sub layout column defines how will the sub employees will be placed in the chart. If you have a large chart, play with this option to fit employees better to the area. (You can click on "Default Layout" button below for quick default setup.)
If you have any problems with your data structure, you will see the Error Messages in the Control Panel. For example if there are more than one person with the same name you will get an error message. Here, you can also change the box formatting, chart type and insert/delete photos for employees.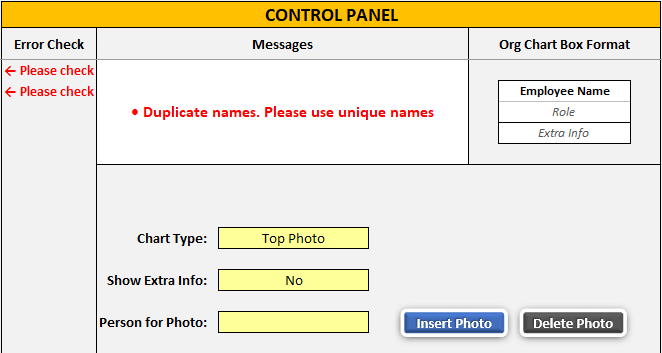 The last section of Dashboard is the Org Box Format. You can change the format (colors, lines) according to your liking and whatever you apply here will be transferred to the organizational chart automatically.

To clarify, after you make any changes, don't forget to click the create button again. Moreover, excel org chart generator update automatically. Lastly, you can clear all info with button at the bottom of the panel.
Org Chart
Finally, your Organization Chart is ready!
Another great advantage of using Excel Template is ability to modify the output as you wish. After you unprotect your sheet (How can I unlock the sheets? What is the password?) and make the headings visible (I can't see column headings. How to display them?) you can change the box, photo sizes or adjust the column and row structure to see them bigger.
Benefits:
Cheaper compared to other org chart tools on web.
Very practical, also whole operation is done in Excel.
User-friendly thanks to the unique "Photo Upload" and optional "Sub-Layout" features.
Excel Automatic Org Chart Generator Features:
Works both on Mac and Windows. No installation needed.
Use already existing employee database in Excel
Recommended for all types of organizations
Unique "Photo Upload" feature
4 sub-layout options: Below-Horizontal, Below-Vertical, Side-Horizontal, Side-Vertical
Extra info may be added optionally
Clear on sheet instructions (with turn on/off function)
Compatible with Excel 2007 and later versions.
Box design can be modified
Export to PDF feature
Print ready
FREQUENTLY ASKED QUESTIONS
Organizational Chart Maker Product FAQ
Can I add multiple managers? Is it possible to create "many to one" connections/arrows in this template?
Nope.
Org Chart Generator supports one to many organizations so your employees can not report to more than one person at the same time.
But if you have to show multiple people, here is a quick workaround for you!
Just create an imaginary boss as a first input and create your chart. Then, make manual modifications in the charts section and delete the person on the top. (Turn line colors to white or delete rows. )
What about the dotted-lines?
You can create dotted lines manually to show the connection between employees.
How do I add Assistant role?
For now, this is not available.
But for the users who would like to change it manually, we may recommend you to play around by changing the lines. Here is a quick tip on how to do that:
This is also one of the long-awaited features so our team has already planned this for the next update. When we update the template, we also send the new version free of charge to our customers who have previously purchased the template.
How can I use the sub-layout option? Should I use it or is it optional?
It is optional.
If you won't select an option, the template will create an organization chart with a default option. Let's say, you changed the layout of the manager. Once you do that, the layout of the person who reports to that manager will be affected automatically.
Please do not forget to select the same layout option for all related people.
What if I delete one person from the organization? Should I re-enter my all data again?
For now, we do not have the add/remove rows feature in the existing Organizational Chart Maker template.
It is not possible to do because of the logic behind the template. But we noted this feature for future updates. Moreover, when we update the template, we send the new version immediately to our customers who have bought it before.
Is it possible to show all the departments of the organization on the same chart?
Yes!
It is quite possible but we recommend adding up to 1000 people at the same time to display it properly. Otherwise, it would be impractical to create it.
Can I show the person role at the top and then the name?
Job titles are the core of the organization.
That's why we've tried to create a box format according to the best practices which are used for years by many companies.
Since this is the most essential part of the chart you won't be able to change the order of the person role and name. But you can change the chart box format such as color and font size from the settings part.
Is it possible to add any arrows?
Yes!
Once you create a chart, you can also make some manual modifications on it. Such as drawing new arrows, changing border colors, and re-shaping the box sizes.
I don't need to show photos for all employees. Can I show a photo of just specific people instead of showing for all of them?
Not actually.
There is an option to show or hide photos. So once you select to show them, it will be applied to everyone. But you can leave the ones you do not want to add any pictures blank.