Freelance Invoice Excel Template
Freelance Invoice Template makes it easy to create hourly or project based invoices in Excel. Includes client database. Print & Export to PDF.
TEMPLATE DESCRIPTION
To be able to maintain accounting sustainability every institution, company, and even for freelance jobs individuals must issue an invoice for the products and services they deliver, in an Excel template or any other format they prefer.
However, creating a new invoice for each job you perform could be an unpleasant errand every day. Especially if you have loyal customers and working for a small amount of money. Typing their information, day by day, all the time could be an annoying, boring, and regular errand.

One of the methods which could help to achieve effectiveness and time-efficiency is to create a ready-to-use template. Freelance Invoice Template is a tool used to create different kinds of job invoices for different customers in a handy way. It will save your customer's details and create an invoice according to their payment method to be able to add the transaction fees to the total cost.
Freelancer Invoice Template
Freelance Invoice Template gathers the data of customers' addresses and contact information with their payment method. With your bank information and the payment method you choose make this template really handy because with a few clicks on the dashboard you can calculate and set the invoice easily without sparing a lot of time on it.
Basically, the tool is constructed in 4 parts:
Two sections to create the main invoice – Hourly Invoice, Project Invoice
Database section for "Customers" and "My Details".
Once you input the necessary details of the job, the template automatically brings you a well-designed Invoice format from which you could benefit in terms of work-based and time-based.
My Details:
The personal details you input here will be used in the Invoice sheets. Therefore, once you write your details here, it is going to appear on the invoice automatically. Moreover, you may add different payment methods to the list below and expand it if you would like to get additional rows.
Also, you'll be able to choose different payment methods for different customers. Then the payment description will display and the payment fee will be calculated automatically on the Payment Fee part of the invoice sheets according to the customer you choose.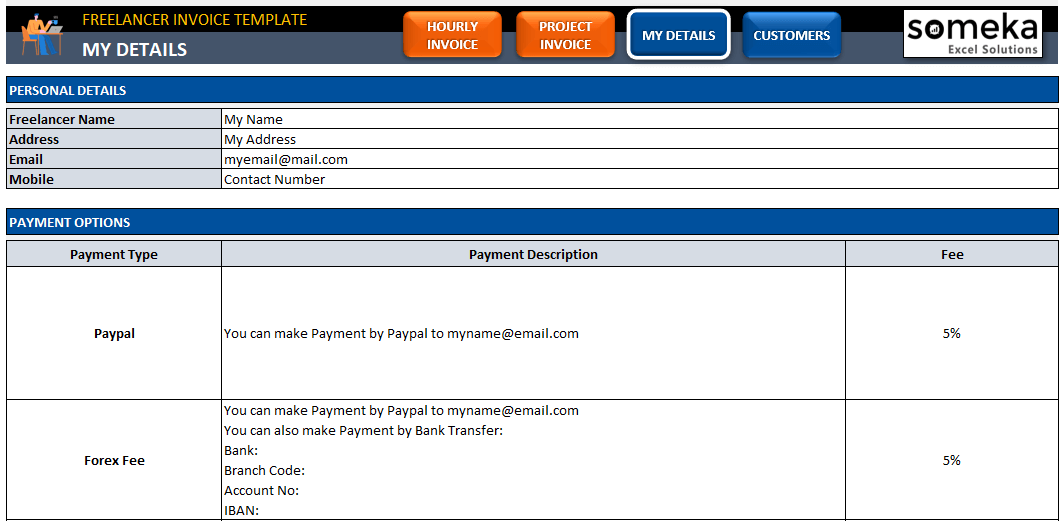 Freelance Invoice Template – Customer Details:
Add the details of your customers to the table in order to import their addresses on the invoices. Here you can select the payment method that they are willing to pay which is fed by My Details. So you can adjust payment methods in this section as well.

After setting the fees in "My Details" section, select the payment method for each customer from "Payment Method".
Project Invoice:
Billed to Part is already ready to choose your customers and besides that, you will be able to select the Payment Details that you have already typed in the Payment Description part of My Details.

Below, type in the period of time taken for the job, the date of invoice issued, and the due date. The other table contains the project details that you are proceeding with or have already completed. Just input your project name, and milestones your customers created(if any).

Finally, as soon as you write your charge, the freelance invoice template will calculate Total Due along with the Payment Type Fee you put into the My Details section before.
Please note that the date format that you should apply is DD/MM/YYYY.
Hourly Invoice:
The hourly Invoice is nearly the same as the Project Invoice part. The only you have to do is type in your Project Name, your hourly rate, the hours you worked for customers, and the charge again.
Freelance Invoice Template Features Summary:
Ready-to-use Invoice Template for Freelance Work
Two billing options: Hourly and Project Based
Customer Database, Payment Details, Payment Fees
Full Print Ready
Informational notes included
No installation needed
Ready to use
Works both on Mac and Windows
Compatible with Excel 2010 and later versions
Does not include any VBA macros
FREQUENTLY ASKED QUESTIONS