Airbnb Calculator Excel Template
Revenue calculator in Excel for Airbnb hosts. Easily track your income and expenses of daily bookings. Dynamic dashboard and calendar included.
TEMPLATE DESCRIPTION
Starting your own Airbnb business, Booking.com, or even Agoda? This Airbnb Calculator Excel Template can help you track your revenues, expenses, profits, and margins.
The Airbnb Expense Log & Income Statement Spreadsheet Template allows you to track Balances by year and month as well as Average Nightly Rate and Occupancy Rate.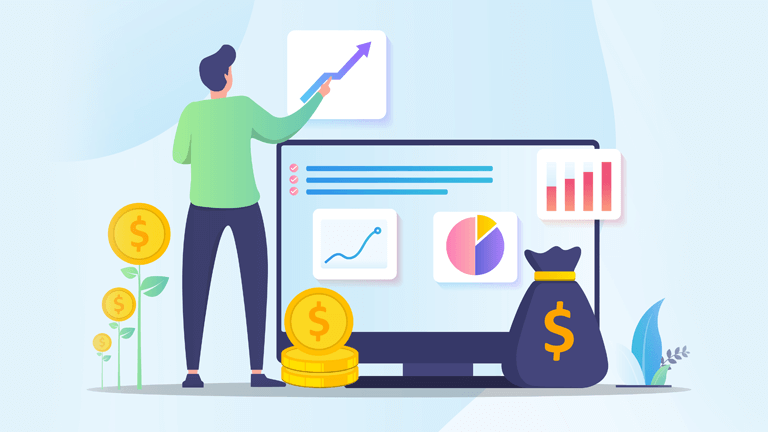 Airbnb Calculator Excel Template Features:
Basically, the template has these major parts:
Menu
Property Database
Records
Expenses
Summary Dashboard
Calendar
Let's go over them one by one.
1. Menu:
Firstly, you can easily switch between sheets by using the "Navigation Buttons." In addition, you can adjust the "Expense Item" in 17 rows, as well as additional channels of your rental income, such as Airbnb, Booking.com, etc. By clicking on each button, you will be transferred to that sheet. 

Furthermore, you can change the Starting Month from this part, which will also change the Starting Month in other sheets. Also, add the Calendar View and the Currency View.

Note
: You will use the data in dropdown options in other sheets, so please complete the tables.
2. Property Database of Airbnb Calculator Excel Template:
Secondly, use the dropdown menus to select the suitable option in each column. You can enter the following information in this section: Property Name, City, State, Address, Type of Property, Max Guest, Room, etc. Also, you can record up to 30 properties here.
3. Records:
Thirdly, you just add your rental records to the table using the drop-down options.
Note
: You must include "Property," "Channel," and "Check-in and Check-Out Date". Otherwise, the calculations will not work. 
Additionally, this section of the Airbnb Calculator Excel Template includes 300 rows.
4. Expenses:
Firstly, choose the year, and then enter your value into the related month. Don't forget to add expense records as well to the related tables. There are 1000 rows to do so.
5. Summary Dashboard:
This part of the Airbnb Calculator Excel Template lets you easily track down properties and channels by using drop-downs. There are 3 filters available in this part: "Property", "Year" and "Month and Monthly Balance". Monthly Balances are about income and expenses, as is obvious.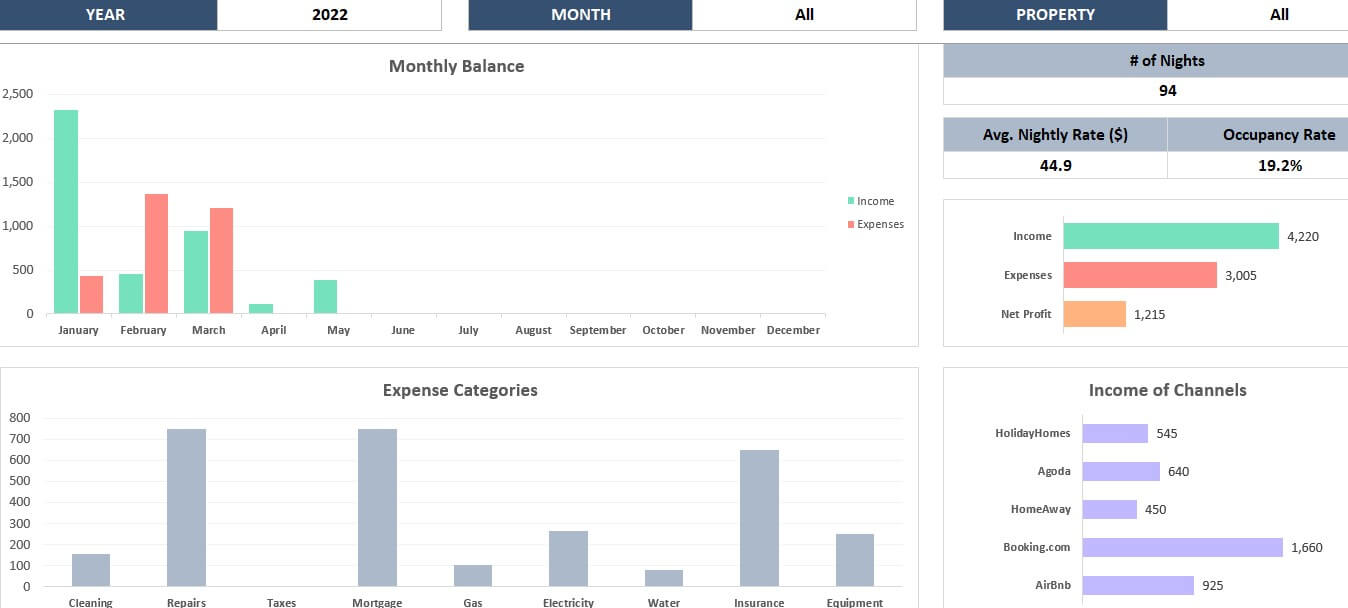 Likewise, the "Expense Categories" show the expenses with charts. Meanwhile, the "Income of Channels" chart shows how your income is split among the different channels.
6. Calendar
Finally, this calendar lets you see the actual data for each day of a month by choosing the year, month, and year dropdowns.
Airbnb Calculator Excel Template Features Summary:
Revenue tracker for Airbnb in Excel 

Dynamic calendar and summary dashboard

Fully customizable and ready to print

Informational notes included

No installation is needed, ready-to-use

Works both on Mac and Windows

Compatible with Excel 2007 and later versions

Does not include any VBA code or macros
FREQUENTLY ASKED QUESTIONS