Historical Stock Prices Scraper
With Historical Stock Price Scraper you will get historical stock data straight into this Excel Template included list of company symbols!
TEMPLATE DESCRIPTION
Are you new to stock market? Or a professional trader? It doesn't matter your experience. Everyone must see the data from the past and discover patterns to be a successful trader and not rely on luck. Traditionally, historical quotes on stocks were harder to learn and fetch, but this is no longer the case with this scraper tool.
Historical Stock Prices Excel Template brings key historic data of NASDAQ and NYSE from Yahoo Finance for analysis with just a click of a button!
The analysis of previous data can give you an insight on the following aspects:
Can provide you with an idea of which characteristics are normal and which are extraordinary and that might help you take important decisions on when to buy or sell.
Looking on how a stock performed over time, there is less likely that you will get unexpected results
Historical Stock Prices Scraper Excel Template Features
This template provides row data with several options for time selection that is ready for you to build graphics and perform analysis.
Let's see details of the Dashboard:
Dashboard
Dashboard is a kind of scraper page to get historical data for NYSE and NASDAQ stocks. All you have to do is putting your company symbols in the "Symbol" cell on the left, enter the "Start Date" and "End Date" from which you want to receive the data. And click the "Fetch New Data" button. All other information in the table will fill out automatically.

On the top right section, you can change the time frame according to your needs.
Navigation
There are 2 navigational buttons that you can use to move throughout the template. Indicator Explanation will give details of each indicator here. You will find the following data categories for each stock symbol for a period up to 5 years.

Note: Please note that this template only provides raw data and does not include any further analysis.
Company Symbols List is a comprehensive list of all stock symbols you can use in this template. Use this section if you are not sure about your symbol of a company.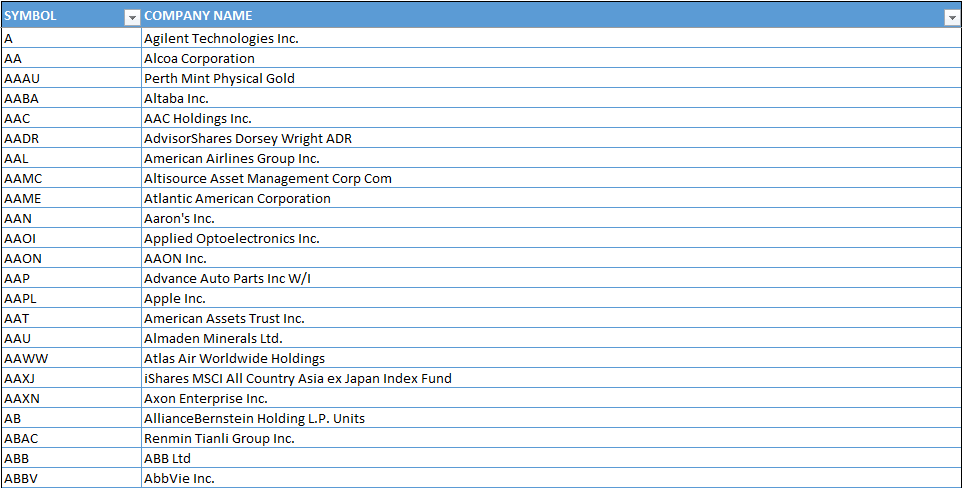 Note: Currency Converter Template is compatible with Excel 2010 and later versions. Currently, not available on Microsoft Excel for Mac.
Historical Stock Prices Scraper Features Summary:
Easy-to-use Stock Price Scraper
No installation needed, ready-to-use
Suitable for both beginner and experienced traders
One-click access to data
Informational notes included
Compatible with Excel 2010 and later version
Includes VBA code and macros
Works on Windows
FREQUENTLY ASKED QUESTIONS