Feasibility Study Kit for Trade Startups
Financial plan Excel template for feasibility study of trade startups. Including sales projections, costs, financial calculations, charts, dashboard and many more.
One Time Payment – Immediate Download
TEMPLATE DETAILS
License: Personal Use
Works on: Windows / Mac
Requirements: Min. Excel 2010
Bonus: Free Lifetime Updates with your purchase.
Do you have a perfect trade business (foreign or domestic) startup idea but you are quite unsure about the feasibility of your business model?
Maybe you have done some rough calculations but you want to make sure that this is exactly the right idea to invest!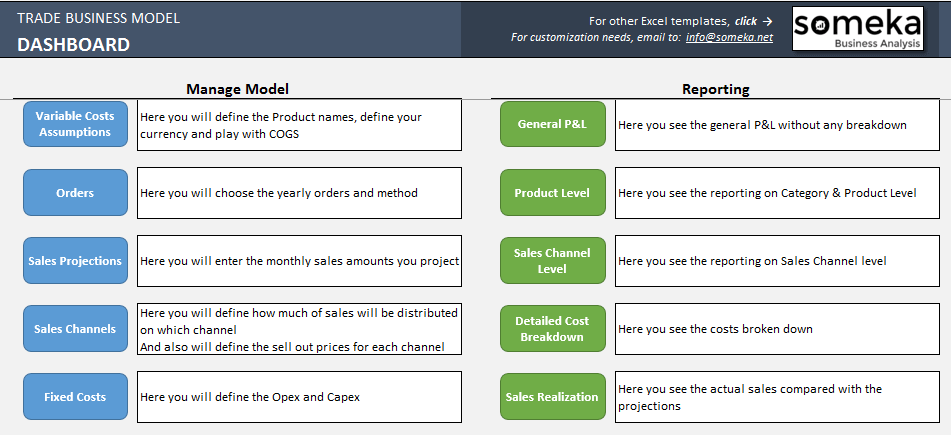 In any case, before investing Time, Effort and Money on a start up idea, you should study deeply its feasibility model. However, this is not as easy as it sounds, especially if there are so much parameters to consider as following:
Considering those parameters, we have prepared a feasibility study kit for trade startups which includes all parameters above in ready to use Excel templates.
STEPS TO FOLLOW:
1. Finding a Feasible Point:
You will play with your values, change inputs and modify your assumptions until you find a feasible point in your business model. This part is very important, because your estimations may result in negative profits or late break-even.
2. Adapting Your Business Plan with Feasibility Study:
You will have to adapt your business plan to match with your feasibility study. We have also included a dashboard for easy navigation. So, feel free to wonder around and play with the model
3. Checking the Graphics & Charts:
After you find your proper settings, make sure you check the trends, distribution and changes with built-in charts in the template. Sometimes, charts tell much more than plain numbers. You can also use these nice looking reports in your presentations.
 Check the VIDEO below to see how Someka Feasibility Study Kit works:
Feasibility Study Kit – Excel Template Features:
Professional and Appealing Design
Works on both Windows and Mac.
No installation needed. Ready to use.
Covers wide range of topics like sales projections, costs, logistics, inventory, profitability and much more!
Built on Pivot Tables and Pivot Charts
Financial Reports
Almost everything is flexible/changeable
Full Print Ready
Compatible with Excel 2010 and later
You have followed all the steps and study says that your start up idea is feasible? Then, it is worth to try 🙂 Good luck with your project!