Mobile App Financial Model
Comprehensive Excel Mobile App Financial Model Template. Easy to use feasibility study for app startups. Professional design, intuitive reporting. All in Excel!
One Time Payment – Immediate Download
TEMPLATE DETAILS
License: Personal Use
Works on: Windows / Mac
Requirements: Min. Excel 2007
Bonus: Free Lifetime Updates with your purchase.
Do you have a startup and planning to launch a new mobile application but you are not sure whether your business model is feasible or not? Maybe you want to make some simulations in order to find out the necessary investment amount, number of developers to hire or minimum necessary downloads to achieve the target breakeven point. Whatever your needs, you will need to crunch some numbers and make a financial feasibility study to be able to foresee your business. This Excel Mobile App Financial Model Template has been built to make your life easier!
We have built this Excel Template following the latest industry practices such as different revenue streams, expense types, commissions, retention rate calculations, breakeven analysis and much more.

No new software, no installation. Everything in Excel. Just open this Mobile App Financial Model and start building your feasibility study!
 Check the VIDEO below to see how this Mobile App Financial Model Template works: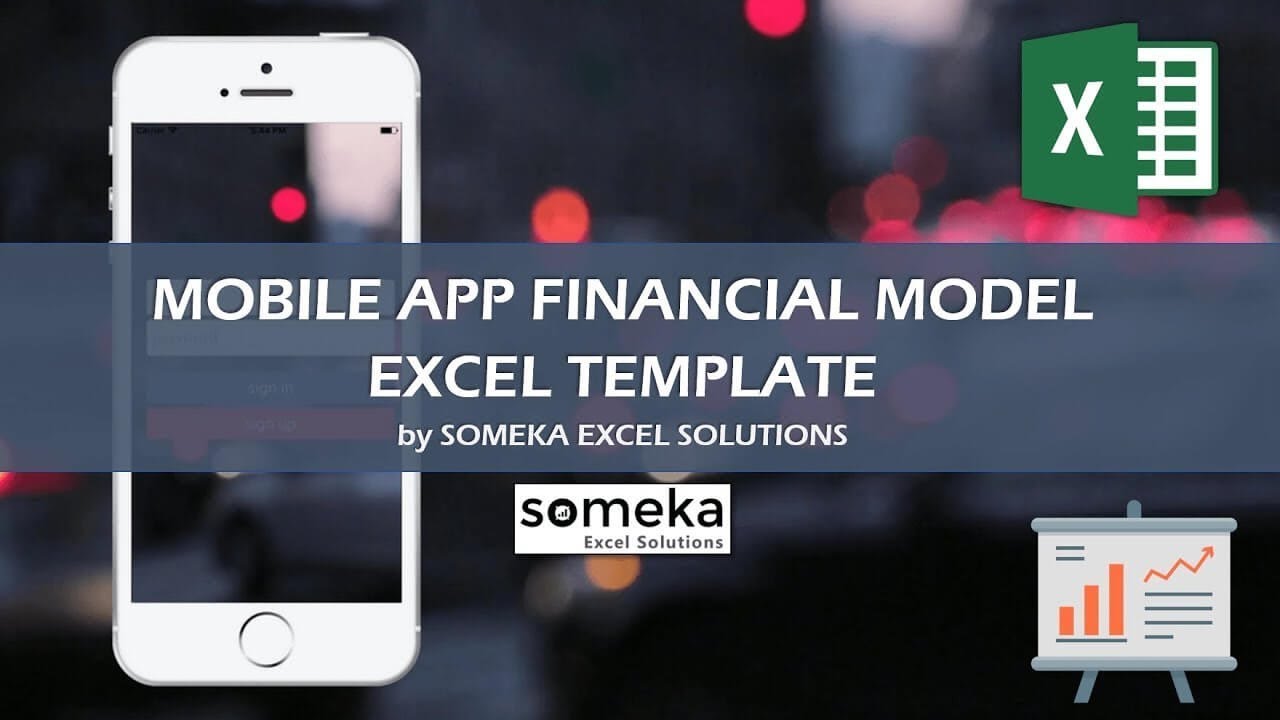 MOBILE APP FINANCIAL MODEL TEMPLATE FEATURES
Basically our template consists of 3 main sections:
Revenue Model Inputs
Cost Inputs
Report Outputs
The flow is: Make inputs for your download projections and different revenue streams > Input your variable and fixed expenses > Analyze results at report outputs. This is a three step cycle and according to the results, get back to input sections and play with your projections until you find a reasonable point for your project.
DASHBOARD

This is the Navigation Panel. You make your revenue related inputs to blue sections and cost related inputs to red regions.
After completing the inputs, you will see the outcomes in green reports sections.

This is the main Settings section under Dashboard.
From Model Config box (on the right side) you can configure model:
Projection Years: You can choose to make your projections from 1 to 5 years. All reports will be updated according to your selection.
Start Date: Input the month-year for operations to start actively. All reports and input tables will be updated accordingly.
Currency: This setting does not effect the formatting of values but several notes will be updated according to this selection.
Instructions: Here you can show/Hide all instructions boxes in the model.
Left side is the Model Variables section. Here you input the values you will use all throughout the model:
There are 4 different variable tables: Apps, Platforms, In-App Items and Subscriptions. You input your names here and they will appear in the dropdown selections at Input Sections.
This is important to ensure same texts are used everywhere in the model to prevent data discrepancies
Attention: If you decide to change values here later on, make sure you update your existing selections.
1. REVENUE MODEL INPUTS
DOWNLOAD PROJECTIONS & PAY PER DOWNLOAD PRICES

Under this section you will input the estimated download units for your apps per platform based:
You select your Product and Platform from the left side dropdown selectors and input monthly estimations. (If you want to add new items in these dropdowns, you can update the Settings tables at Dashboard)
Then you input monthly download estimations and prices in the first 2 tables. If you are not planning to charge users for downloads, you can leave the prices table empty. (Pay-Per-Download Revenue will be zero)
Attention: White areas are where you make your inputs or selections. Gray cells are calculations and should not be manually changed.
Downloads Revenue will be calculated with a simple multiplication of units and prices per month.
RETENTION & ACTIVE USERS CALCULATION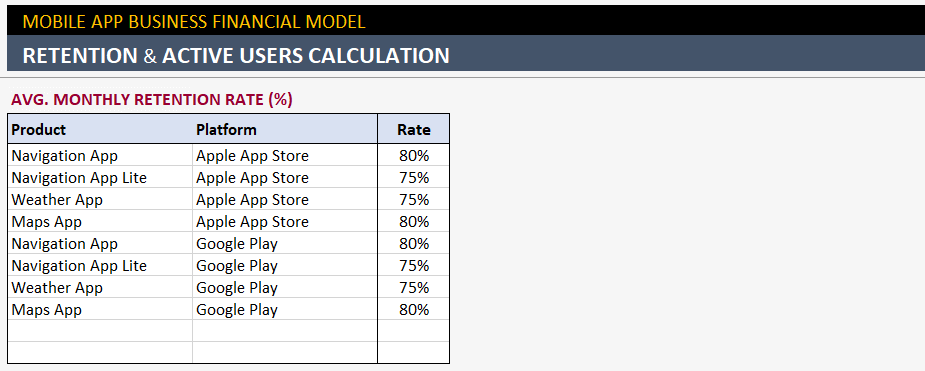 This is where we calculate the active users according to the download units we inpuıtted in the previous section:
Retention Rate is the metric which shows the percentage of your users who still use your app 1 month after download. For example, 80% means if 100 people downloaded your app, 80 will be using your app in the next month.
According to your inputs on the left table, your Cumulative Active Users will be calculated below.

If you want to make micro-management on this Retention Rate and Active Users section, you can also change the calculated monthly Engaging User percentages. (You will need to overwrite the formulas)
ADS REVENUE
This is where we calculate our Ads revenue. If you don't plan to place Ads in your apps, you can skip this section. Like the previous sections, you select your Product and Platform from the left side dropdown selectors and fill Ad Parameters.
How Ads Revenue is Calculated?
According to your inputs for Parameters table on the left, monthly add revenue per user is found.

Sessions per Month for a Typical User: How many times an active user is opening your app?
Average Minutes per Session: When a user opens your app, for how long they use the it?
Ad Impressions Per Minute: How often you plan to show ads in your app?
Average CPM (Cost per 1000 Impressions): This is how much you are going to earn per thousand impressions. You can use data from platform statistics or your past info.

Then, monthly Ad Revenue per User will be multiplied with Monthly Active Users which is calculated in the Userbase section.
This will give us the Ads Revenue in the currency you input at Dashboard.
IN-APP PURCHASES

Similar to the Pay-Per-Download inputs, here we sell in-app items. If you are not planning to offer any in-app purchases, you can skip this section:
You input monthly selling estimations and prices in the first 2 tables.
In-App Items Revenue will be calculated via simple multiplication of units and prices per month.
SUBSCRIPTIONS

If you plan to offer subscriptions, here you can input projected paying subscribers and related revenue stream. If you are not planning to have a subscription revenue, you can skip this section.
You select your Product, Platform and Subscription Name and input monthly paying subscribers and subscription prices in the first 2 tables.
Subscriptions Revenue will be calculated via simple multiplication of subscribers and prices per month.
2. COST INPUTS
COMMISSION RATES & VARIABLE COSTS

Here you define the commission rates for each platform. This is where you lose a certain ratio of all your sales:
Some platforms do not charge commissons for Ad Revenue, so we separated that field. All other revenue models (Pay-per-download, In-app purchases, Subscriptions and Other Revenue) will be subject to All Sales Commission rate on the left.
Commission amounts will be calculated automatically via a simple multiplication of revenue amount and commission percentages.
Variable Costs are type of costs which change with the amount of activity of your app(s). Besides commissions, we have included 3 different Variable Cost Tables:
Costs Per Download: These amounts will be directly multiplied with download units.
Costs Per Active User: These amounts will be directly multiplied with Cumulative Active User of that month.
Costs Per Paying Subscriber: These amounts will be directly muıltiplied with the Number of Paying Subscribers (which is inputted in the Subscriptions section)
SALARIES & FIXED COSTS

Fixed Costs are type of costs which do NOT change with amount of app activities. These are paid regardless of any revenue, downloads, subscribers etc.
We have separated Fixed Costs in two different tables:
Salaries: Input employees and monthly projected salaries. You can start some of them not from the beginning but later instead.
Other Fixed Costs: All OPEX goes here. Rent, utility bills, travel expenses, hosting etc.

STARTUP COSTS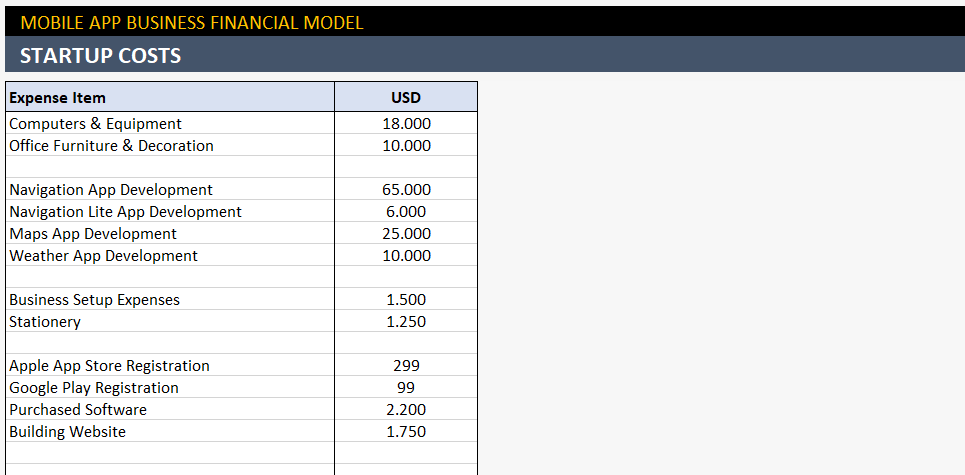 Startup Costs are the expenses which are made prior to going live date of your model.
These costs will be recorded at 1 month prior to the Start Date in Output Report.
Startup Costs are especially used for Breakeven Analysis in order to find out when will you be able to pay-out the initial expenses and start making real-profits.
For the sake of simplicity, we ignored amortization and depreciation in the Breakeven Analysis. So, if you have a significant amount of fixed assets and want to include depreciation, just put them as a revenue in Other Revenue section (or you can deduct from monthly expenses)
3. REPORT OUTPUTS
FINANCIAL STATEMENTS
At this section three financial statement is set-up:
Income Statement (P&L)
Balance Sheet
Cash Flow Statement
Especially at the Income Statement, most of the fields are calculated according to your entries from Input Sections. You will just need to input depreciation, amortization, taxes and interest in order to reach Net Income.
For Balance Sheet and Cash Flow Statements, all formulas are set up and ready to be used. (You will need to fill-out white areas)



BREAK-EVEN ANALYSIS

Break-even analysis is one of the most critical reports in our model:
This analysis shows us when we pay back (cover) all startup costs and start making profits.
Most startups, start with a negative balance. What it matters is how quickly you pay it back.
If this break-even point is too far than you expected, then you should increase revenues or decrease variable costs. (salaries for example)
This is a pivot report, so that you can change between Monthly / Quarterly / Yearly analysis by changing pivot fields.
OTHER REPORTS
There are several output reports in the model which makes it easy to see the situation from different aspects:
PROFITS (EBITDA) – TREND REPORT
APP DOWNLOADS BREAKDOWN
REVENUE DETAILS REPORT
PLATFORM COMMISSIONS REPORT
SALARIES REPORT
DATA SOURCE SECTION

We tried so hard to develop this template with an innovative approach. Managing all data and output from one place would be perfect so we have created a Data Source section:
At this section, we consolidate all tables from input sections of the model.
Then, this is used for output reporting.
Even though manual modification to this table is not recommended, you can make changes if you want.
All these reports are fed from this data source and you can change the parameters of those pivot reports easily.
EXCEL MOBILE APP FINANCIAL MODEL TEMPLATE – FEATURES SUMMARY
Unique Excel Template to make financial feasibility stuıdies for your mobile app business
Works both on Mac and Windows
No installation needed. Ready to use.
User friendly and sleek design.
Different revenue models matching the latest industry standards
Innovative reporting system
Financial Statements
On Sheet Instructions
Compatible with Excel 2007 and later versions