Excel Formulas Training Kit – Full Package
Unique Excel Test worksheet for training Excel skills. Stop watching videos. Learn VLOOKUP, IF and many more excel formulas by doing.
(One-time Payment | Instant Download)
Payments are processed by our partner company Paddle.com.
You will receive a download link immediately after purchase.
TEMPLATE DETAILS
Works on: Windows / Mac
Requirements: Min. Excel 2010
Bonus: Free Lifetime Updates with your purchase.
You should be using Excel for business and personal purposes, aren't you? Actually, the question should be "Do you benefit from all Excel features?"
The major feature that Excel provides us is Excel Formulas & Functions. Do not ever forget that if you start repeating the same action in Excel, there should be an Excel formula designed to solve your specific issue.
We've prepared Excel Formulas Full Training Kit for the ones who want to equip themselves fully with Excel Formulas and Functions.
 Check the VIDEO below to see Someka Formulas Trainer (Full Version) in action: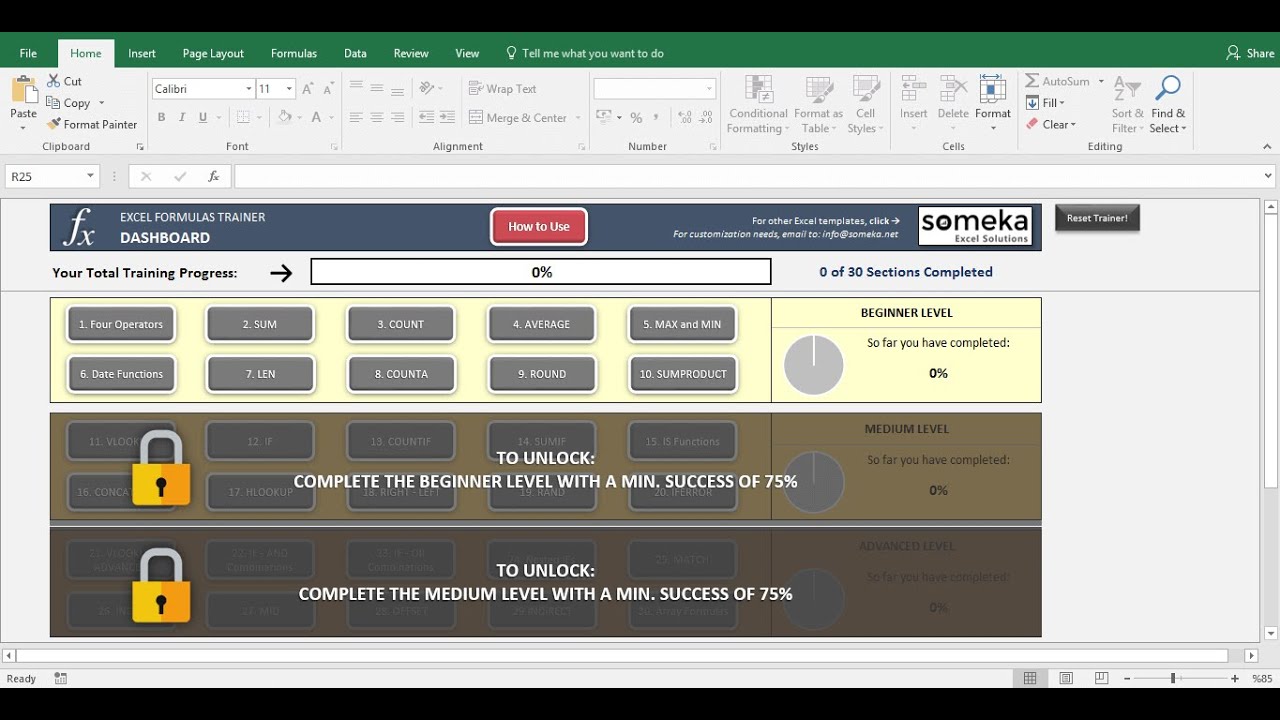 In order to give you an idea about our Excel formulas training kits, we're offering a
Trial Version for FREE!
Full training kit consists of both Beginner Level, Medium Level and Advanced Level Kits. 30 sections and around 100 questions involved within the kit:
Full Module – Covered Excel Functions
| | | |
| --- | --- | --- |
| 1. Basic Math Operators | 11. VLOOKUP Function | 21. Advanced VLOOKUP Function |
| 2. SUM Function | 12. IF Function | 22. IF – AND Combinations |
| 3. COUNT Function | 13. COUNTIF Function | 23. IF – OR Combinations |
| 4. AVERAGE Function | 14. SUMIF Function | 24. Nested IFs |
| 5. MAX and MIN Functions | 15. IS Functions | 25. MATCH Function |
| 6. Date Functions | 16. CONCATENATE Function | 26. INDEX Function |
| 7. LEN Function | 17. HLOOKUP Function | 27. MID and SEARCH Function |
| 8. COUNTA Function | 18. RIGHT and LEFT Functions | 28. OFFSET Function |
| 9 ROUND Function | 19. RAND Function | 29. INDIRECT Function |
| 10. SUMPRODUCT Function | 20. IFERROR Function | 30. ARRAY Formulas |
TRAIN YOURSELF & PRACTICE YOURSELF!
Clear instructions and web links are included so that the user is able to learn the functions by himself/herself which he/she doesn't know already.
Questions are to the point and quite well prepared in terms of functionality. Tested so many times with professional users.
Multi language formulas supported.
Excel Formulas Training Features:
Unique product for testing and training purposes 30 sections with 100 questions
Nice design and easy to use navigation
Nice dashboard with progress meters
Multi language formulas supported
Clear on sheet instructions (with turn on/off function)
Full Print Ready
Includes web links for detailed explanation for all functions
Works on both Windows and Mac
Compatible with Excel 2010 and later
No installation needed. Ready to use.
---
For individual packages, check:
Excel Formulas Trainer – Beginner Level Module
Excel Formulas Trainer – Medium Level Module