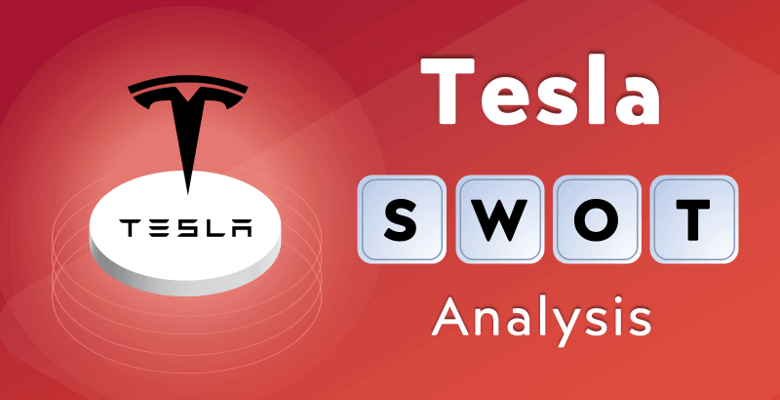 Tesla SWOT Analysis – Strategic Analysis of Tesla Motors
Updated on March 21, 2022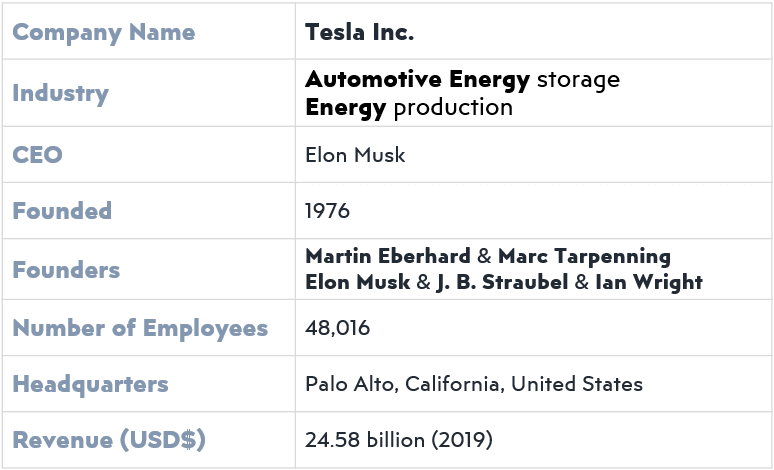 Tesla, Inc. is an American, innovative automotive and energy solutions-based company founded in 2003 which declares its mission as: "To accelerate the world's transition to sustainable energy" and vision as " Creating the most compelling car company by driving the world's transition to electric vehicles."
The company was formerly called Tesla Motors, Inc. but then changed to Tesla, Inc. as the company started working on products on a broader number of fields of energy generation.
Today, the company has services on motor vehicles, auto service, financial services, energy storage, solar panels, lifestyle products, and retail merchandise through the agency of its subsidiary companies called SolarCity, Tesla Grohmann Automation, Maxwell Technologies, DeepScale, Hibar Systems.

This blog post will help you understanding Tesla Motor's strengths and weaknesses, and for identifying market opportunities for business growth and the threats they may face.
Strengths
1- Top Employer Company
One of the most important points that Tesla is good at is its employment rate. The company has been featured in Forbes as one of the best employers in 2019.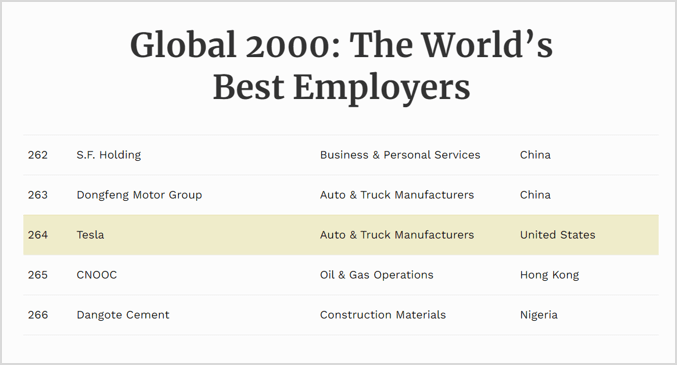 As Tesla adopted an innovative and diversified culture, it is known to be an ideal company for young employees to invest their talent and energy on.
Download Forbes Global 2000 Info List in Excel!
2- Leading Automotive Company
In 2019, Tesla has reached 367.386 deliveries which are more than the sum of the number of deliveries in the previous 2 years.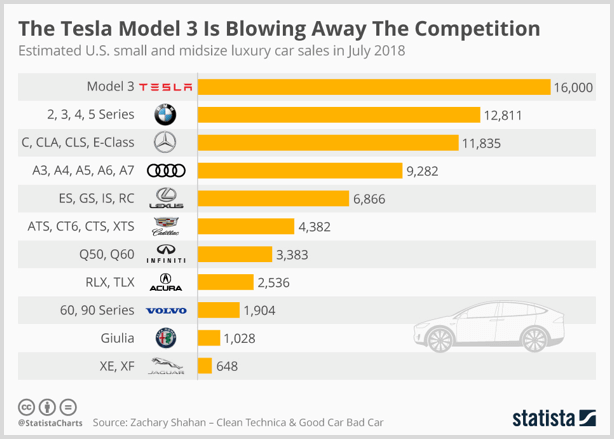 The extraordinarily rapid increase in sales has been attributed to the company's unrivalled advancement in luxury and innovation. As of June 2020, Tesla became the world's most valuable automotive company leaving Toyota behind.
3- Innovation
Tesla is known to be one of the most innovative companies in the market as it keeps investing more in research and development.
In 2018, Tesla invested $1.8 billion on developing new and advanced technologies leaving most of its competing companies behind.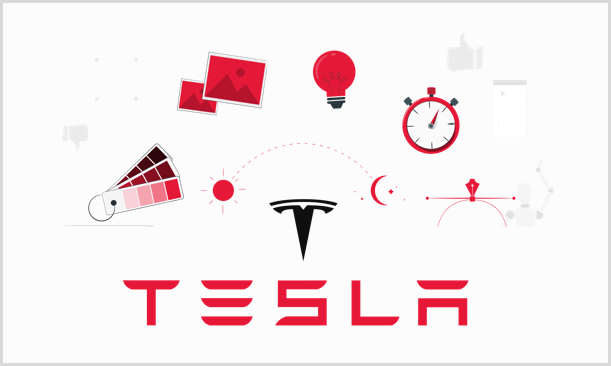 That is why, the consumers who are highly interested in the future of the electric car technologies have high expectations from the company, which increases its popularity and financial gains.
4- Brand Equity
As the company's aim is not only manufacturing cars but also creating the perfect driving experience, Tesla highly focuses on increasing the quality of the user experience and product quality. As the satisfaction of customers increases, the company gets a stronger brand image which is one of the most important factors that provide an increase in sales.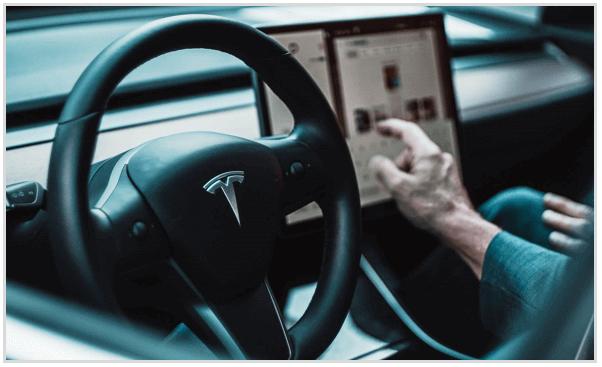 In addition, when the company was founded in 2003 to manufacture electric cars, it did not have any competition in that space. So, Tesla easily became the first brand to come to mind all around the world when talking about electric cars, which also added to the brand equity.
Weaknesses
1- Manufacturing Complications
Even if Tesla became to compete with the world's biggest automobile companies in such a short while, its manufacturing force is considerably weak compared to others. The company has only one plant which is located in California that only allows the production of a limited number of cars.

It caused delays in the distribution of the previous models and continues to be one of the most important problems of the company as it is not able to meet high production volumes.
2- Limited Presence
Even if Tesla's sales increase rapidly every year, the core of its market remains to be the US. In 2018, the US accounted for 70% of its revenues as it generated $14.9 billion.
The company also has a considerable presence in China, yet still little compared to the US, as it generated 1.8 billion dollars in 2018.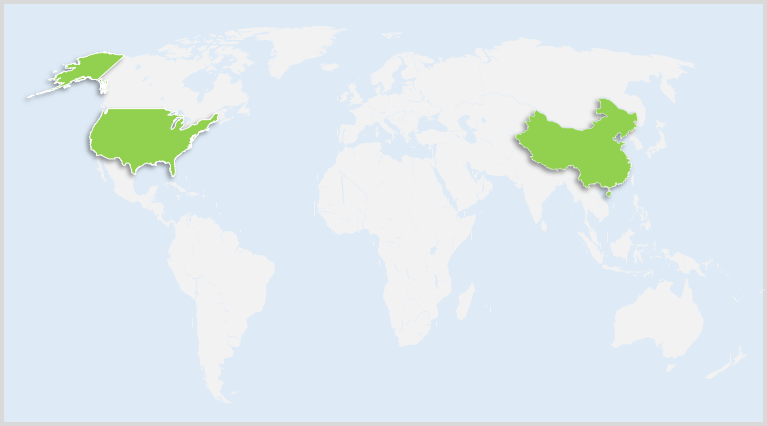 Download World Heat Map Generator Template in Excel!
As the company's competitors have strong chains of distribution all around the world, Tesla's weakness in the countries other than the US and China hinders its growth and expansion.
3- Small Target Group
Tesla has maintained a premium car company image and produced premium products for the niche market. A significant reason that makes accelerating growth difficult for the company is having a small target group because of the high prices of the products.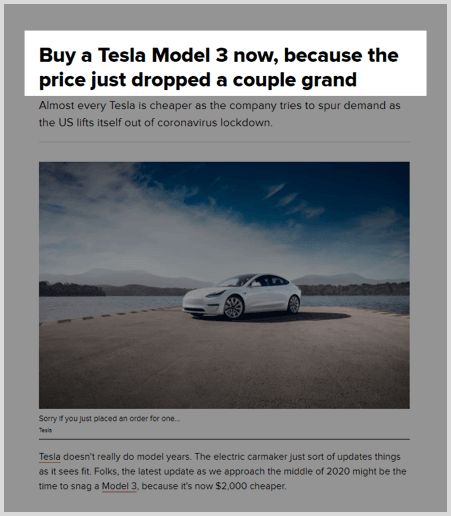 Even if Tesla has grown its customer base with Model 3 that is cheaper compared to other models, it still speaks to a small segment of people.
4- Making No Profits in View
Because of its high operational costs and limited production capacity, Tesla has been burning cash, without making a profit. In 2016, the company was $2.5 billion in debt.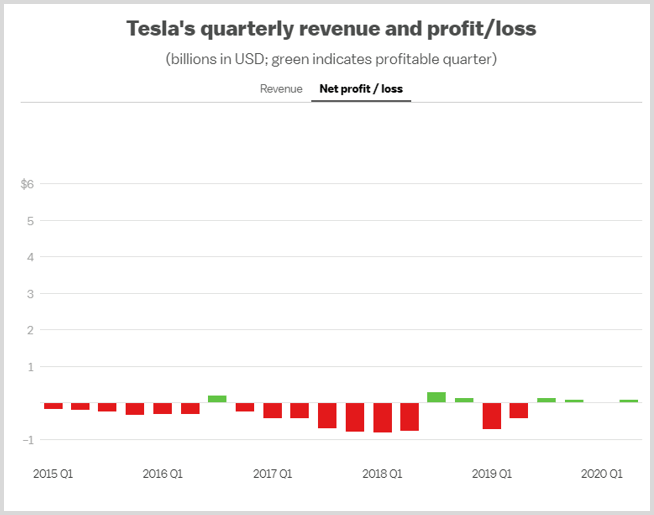 The company's failure to stop losing money affects investors' opinions on the company and the company's share values in a negative way.
Opportunities
1- Global Sales Expansion
US and China are the two of the world's largest automotive markets and they generate most of Tesla sales. However, while the US generates 70% of Tesla sales alone, China generated $1.8 billion in 2018, and it was still less than 10% of the wholesales.
Asian markets are the world's fastest-growing markets and if the company focuses more on Asian markets, especially China and India have the capacity to increase the company's sales on a large scale and become a leading market for Tesla.
 Downloadable Bonus: If you would like to present your US Sales Data in a visual Dashboard check this US Sales Report Template in Excel and track sales performance of your team!

2- Sustainability Trends
As people got more conscious about the importance of changing from fossil fuels to sustainable energy, the demand for sustainable products has grown rapidly.
Tesla is one of the few pioneer companies in the field of products that rely on sustainable energy and electric cars. That's why the demand for its products and its potential grows day by day.
3- Autonomous Driving Technology 
The automotive industry has evolved rapidly lately and keeps on evolving. Tesla is one of the most innovative companies and it keeps on adding new features to consumers' driving experience with every model they manufacture.
Autonomous driving technology is the feature that the whole world has been waiting for and Tesla's autopilot technology is known to be one of the most successful ones in terms of safety and convenience.
Such technology is very significant that it could be called a reform in the automotive market. That is why Tesla holds great capacity for the future of automobiles.
Threats
1- Extensive Competition
Even though Tesla is known to the pioneer in the electric car field, it`s rivals, which are in the sector for hundreds of years also kept up with the electric car technology quickly. In addition, their relatively more affordable prices might attract Tesla's consumers in the future.
Even if Tesla seems to be the only company that produces high-end cars, other companies might start producing cars for the same segment of consumers, which would put Tesla in a very contentious competition.

2- Product Deficits
Tesla claims to sell products with high standards and premium quality. However, the company had to face multiple lawsuits that arouse from flaws in manufacture and design which could cause major safety deficits.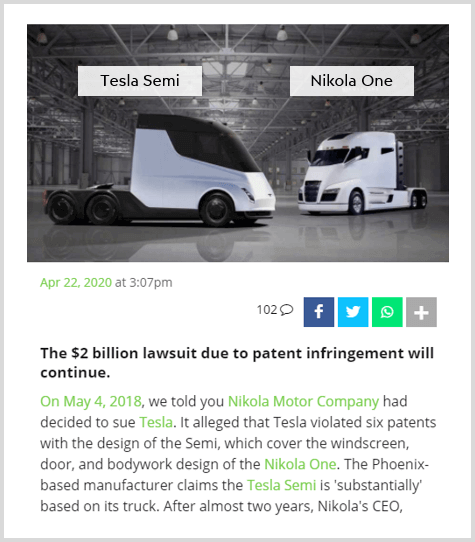 As these problems resound all around the world, Tesla might lose customer trust and the brand image might be harmed permanently.
3- Lack of Regulations for Self-Driving
While Tesla is highly focused on autopilot technology, there are no proper regulations for self-driving cars in any country, including the US.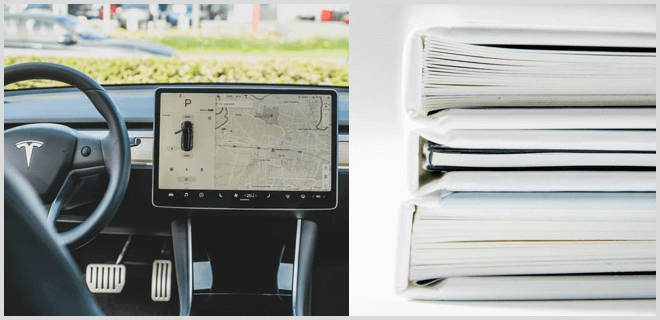 This legal complexity threatens Tesla's future while it also causes consumers to give up on buying a Tesla.
4- Elon Musk
Elon Musk is the CEO of Tesla, Inc. since 2008 and he stands as the sole representative of the company. Although he is an important factor in the fame Tesla has today as the world considers him as a genius visionary leader, he also outrages the brand image because of his erratic behaviour.
His behaviours quite often are not aligned with societal expectations and any scandal that he is included indirectly decreases the company's market value.
Final Words
As you can see, the Tesla SWOT analysis above examines a company in terms of its strengths, weaknesses, opportunities, and threats. A SWOT analysis can also be used to examine a technic, a process, or an individual in terms of stated attributes.
You can use our SWOT Analysis Excel Template in order to form your own analysis in the easiest way!
Recommended Readings: