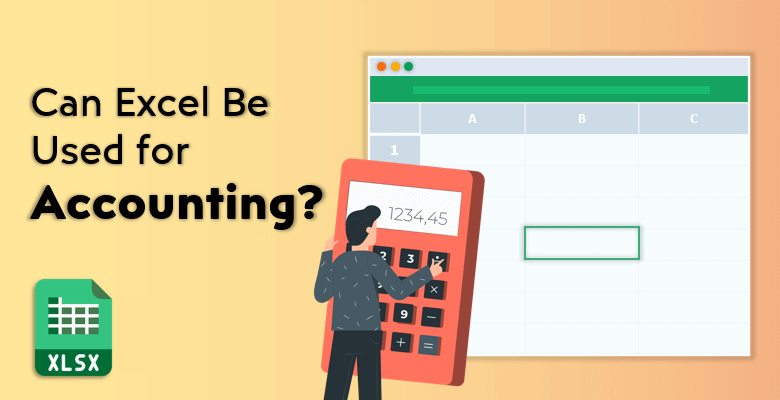 Can Excel be Used for Accounting?
Updated on September 22, 2022
The dynamic technology sector and the constantly and tirelessly changing world forces everyone to use the necessary tools for success. And in accounting, the tool that would get you to success is Microsoft Excel.
Microsoft Excel becomes every accountant's best friend if it is used to the fullest of its potential.
Every financial professional and expert has been using Microsoft Excel since the software's creation. Before Microsoft Excel, accounting departments and analysts in those departments would spend hours upon hours calculating every account and financial statement. This was done either manually (that means with pen and paper and a calculator) or with one of the first computers in the market. But now, it will only take you a couple of minutes to calculate heavy algorithms, process large amounts of data and create spreadsheets.

Apart from the accounting departments, nearly every office uses Excel. Marketing, human resources, general management; today, nearly every computer in any office has Microsoft Excel opened on their monitor. Even if you do not work in an office or even if you do not work at all, you have used Microsoft Excel at a time in your life. But if you work in an accounting firm or in a financial department at a big company, you have definitely used and continue to use Microsoft Excel daily.
Why Excel is Important for Accounting?
In any accounting position, the tools you would be using the most are graphs, charts and spreadsheets. And more than half of the companies in the USA and Canada use Microsoft Excel for their accounting endeavors. Specifically, in budgeting and planning, 54% of small-sized, medium-sized and large companies in the United States use Microsoft Excel. And this spectrum goes from new start-ups with a yearly revenue less than 25 million dollars to giant conglomerates in their fields with an annual revenue of 5 billion dollars or more. This percentage goes up to 56% in Canada, Microsoft Excel leading other tools in budgeting and planning. (Robert Half, 2019).
Now, if you are wondering why the majority of North America chooses to use Microsoft Excel in their accounting departments, let's look at some of the benefits Excel provides:
Simple yet detailed formatting
Microsoft Excel makes the process of handling lots of data in regards to financial reports an easy task. It accomplishes this by presenting a simple design and easy-to-learn and 'hard-to-forget' functionalities. And yet, it still manages to be very detailed and has a variety of different types of charts, graphs and templates. You can also download and start using third party templates for accounting and finance as well which you can look at them at the end of this blog post.
Data organization
It is completely up to you how you present your data. Through charts, graphs and tables, you can enter your data and leave it up to Excel to process it. You can link and compare related data regarding the financial information you put in your spreadsheets. Also, you can always track how the financial data of the company has changed throughout the years and see the contrast on different datasets in your company or compare it to other companies' datasets.
Quantitative analysis
Financial analysts chose to use Microsoft Excel for its useful functions in regards to financial risk management and investment tracking as well. Basically, almost any action related to financial consequences can be done in Excel.
Market domination
As it was documented in the Robert Half report, more than half of the offices located in North America use Microsoft Excel. It is not a monopoly in the spreadsheet software market, Excel still has its competitors. However, these percentages exhibit that even if this is a race, Microsoft Excel is winning and dominating this market. Because it is everywhere! Most of the financial analyses are conducted by experts and employees in accounting and finance departments of different firms are done in Excel. Accountants, consultants and managers are all doing the same action and completing the same process. They extract data from their systems in order to create spreadsheets, charts and graphs in Microsoft Excel.
No learning curve
If you start even as an intern in an accounting department or a firm, even before you start working there, you would be at least familiar with Microsoft Excel. Today, in an ever-developing world, Excel with other Microsoft Office applications is taught in schools and notably used in universities. Even if you have never opened the Excel program in your life (which is an exception), you would still get the gist of it and complete basic actions in a couple of minutes. Because it is much easier to learn, use and familiar compared to other spreadsheet tools and software.
Cheaper and extensive
No matter if you use a Windows or a Mac device, you would be paying the same amount to get the Excel program with the Microsoft 365 package. Also, in contrast with its competitors, it is much cheaper. However, a cheaper spreadsheet tool does not mean it is less detailed and less functional than the more expansive ones. On the contrary, Microsoft Excel is one of the cheapest and also, one of the most (perhaps the most) comprehensive spreadsheet software out in the market.
VBA and macros
With its programming language VBA (Visual Basic for Applications), Excel also provides a type of automated actions. The right 'macro' will create its own conclusions, calculations and results with only the click of a button. With the use of macros, you can make the data entry or create datasets processes automated as well.
Which Functions or Formulas Accounts Use the Most?
Excel has almost 400 functions. Accountants or people in accounting use most of these while creating charts and graphs or entering and processing their financial data. However, some of them are crucial and perhaps are used the most by people in financial departments. These are:
What-if analysis
This function helps to estimate and forecast the financial results of a potential change. By adjusting and changing the data you put in, you can test out new results and outcomes. Think of it as the 'trial and error' feature of Microsoft Excel. It is mostly used in tracking cash flow, salaries, revenues and of course, losses. This management tool lets you see what the outcome can be if you change a factor in the formula you put in. If you want to utilize this feature in Excel, you only need to go to the Data menu above in the toolbar.
Pivot charts and tables
Pivot tables and charts is an interactive tool that helps to summarize the large amount of data you entered in Excel. Big companies can have a huge collection of raw and unprocessed data and it would take a lot of time for you to sort, categorize and use to create charts. And also, new information will always keep coming! That is why by inserting pivot charts or pivot tables, you can easily gather up the results and summaries of large quantities of complicated financial data. However, this feature is not available in Mac versions of the Excel program.
Forecast sheets
Forecast sheets utilizes past data trends and past general financial data to predict new ones. The financial information you put in would be processed and compared to past trends and data in order to create a visual representation of what might come next. These sheets can show you how your company can be impacted in the future with upcoming data trends. And it accomplishes this action by processing past reports and comparing your data to them.
IF, SUM and LOOKUP
Similar to the what-if analysis, the IF statements functionality is one of the most used and most useful ones in accounting. If you have an 'if' question in regards to what you are doing financially, you can get your answers and options when you put the required data in Microsoft Excel. It also works with calculations as well.
Before Excel was created, accountants and financial experts would dwell on calculators. They would calculate everything one by one and it would take them a very long time to add and solve everything. After that, they would also deal with writing them on pieces of paper with a pen or use very slow computing devices to handle their data. However, with the SUM function in Microsoft Excel, by highlighting all the data you want to add up and selecting the SUM function, everything would be done only in a second. It saves you time and energy which you can give those to other tasks you need to accomplish instead.
Do you often use the 'Find' tool in any of your programs? Yes? Now, think of a function that can find related data to your selected information. LOOKUP function accomplished that in Microsoft Excel. It has two different selections with HLOOKUP and VLOOKUP. Horizontal and vertical LOOKUP manages to find exact or partial matches even in a complex collection of processed data.
Free Microsoft Excel Templates for Accounting and Finance
Someka provides numerous free Excel templates for you to achieve what you want to achieve in accounting and finance. They are specifically designed for finance experts, accountants and professionals in the field.
Payroll Calculator
This free Excel template offers small, medium and large business owners or managers to track the salaries and paychecks of their employees. If you are wondering how you can use a payroll calculator without calculating tax fees, additions and deductions in it, wonder no more! Because this Payroll Calculator has a separate section for only calculating taxes. You can even adjust the tax regulations depending on your country and the rest will be calculated by the template itself. And it does not matter how many employees you have; the Payroll Calculator Excel template supports as many as your company has. Also, the different reporting options like the pivot charts and tables which were mentioned in the previous chapter as one of the most used functions in Microsoft Excel.
Balance Sheet Template
If you want to create financial balance sheets in regards to your department or company, Someka offers a free Balance Sheet Excel Template for you to do that. Its professional design yet easy to use features will help show people in accounting and finance trends, find problems in their accounts or financial reports and forecast future developments or losses. As with every Someka template, it works on both Windows and Mac devices. It also features a detailed dashboard filled with charts in order to calculate financial ratios. These ratios include current, debt and debt to equity ratio. It also shows the working capital amount for these financial charts.
Profit and Loss Statement Template
This free template consists of two main sections: The profit and loss dashboard and the database. The profit and loss dashboard exhibits your company's yearly profit, annual loss and revenue statements, total spending and an income chart for the business. This must-have template for accounting and finance experts also has a dashboard for you to fill in the income data. You can enter and calculate the income, additional expenses and tax related to your business or company. It also can be used as a financial statement template with its functions and it is always ready for you to print.

Cash Flow Statement Template
Cash Flow Statement Template helps you to see your future and potential cash flow. It offers you crucial insight for your company's profitability for future periods. It also evaluates your company's financial health while providing a dashboard with detailed charts and graphs. By compiling and entering the operating, investing and financing cash transactions, you would see what situation your business or company can be in the future. You would think it would be expensive with its professional design and comprehensive functions; however, as with each Excel template from Someka in this list, it is free!
Invoice Templates
If you want to create invoices for your customers, Someka offers you a variety of free Excel templates. With the Invoice Template, create your simple and direct invoices. It also includes tax rate and a discount section with payment and fees.
Or if you want to track your invoices, Someka has the Invoice Tracker for you. Its design specifically adjusted for small businesses provides dates, customer names, amounts, taxes and discounts in order to easily track your different invoices. Also, it offers you a comparison between the monthly average payment and the performance.
The other invoice template you can use is the Proforma Invoice Template. This free proforma invoice document has five different sections for you to create and send your proforma invoices. It has two databases with a customer and a product database. It also has a section only for payment details. The invoice selection offers you a simple invoice template in order to quickly complete and send invoices. And also, a detailed invoice section for taking the time and detailly entering all the details for your customer.