Marketing ROI Calculator Excel Template
Digital marketing ROI calculator in Excel. Analyze social media campaign metrics. Printable dashboard and charts. Ready for use with on sheet guidance.
TEMPLATE DESCRIPTION
Are you working in the Digital Marketing world? To be able to get success in digital marketing campaigns, you have to manage all of the points effectively. That's why, our Marketing ROI Calculator template in Excel will help you to organize and work with the essential metrics of many major marketing channels.

You will find plenty of ready-to-use calculations based on input data in this Marketing Campaign Rate of Return calculator. The template contains 7 specific sheets, each related to different social media and marketing channels.
There are also empty spaces left just for you below in case the basic calculations are not meeting your requirements. In addition, there is a simple template not customized for any specific channel and a summary dashboard that takes into account all the channels.
Excel Marketing ROI Calculator Main Features:
Dashboard:
There is a table where you will be able to see the calculations of ROI (rate of return), Total Cost, Click Number, and CPC (cost per click) for the selected channel. It helps you to compare the main marketing cost and their ROI.
Once you select the channel name from the dropdown button, the calculations will appear automatically. The total number of channels you have is 8, and the last one is completely left for you to define your own campaign channel.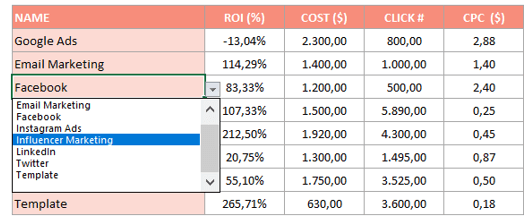 Probably you will not use all the channels in this Marketing ROI Calculator template. That is why, in the comparison table you can choose from the dropdown list only the channels that you want to see.
Additionally, all of the graphs on the dashboard have been prepared to show the results better to you. In that way, making comments and comparisons will be easier for you with the overall analysis.

Marketing Channels:

Our main sections are Google Ads, Facebook, Email Marketing, Instagram, Influencer, LinkedIn, and Twitter Metrics. Additionally, a basic template with marketing metrics that you can use according to your needs. All the metrics sections will be similar but not the same in this ROI Calculator Excel Template.
At almost every calculated value you can see a small cloud appearing when you select the cell. This is because every channel has its specifics and calculations are not always exactly the same.

Many of the metrics, not just the calculation have specific information appearing when you select the specific cell. Also, on the right, you can see a partially empty space with additional information.
You will mainly see appearing information in case of some guidance. Some of the input values are necessary for later output that is why we wanted to make sure you know which cells are mandatory and which aren't.

Besides all our work, we also left some free spaces for you in this Excel spreadsheet. You may have some additional metrics that our Marketing ROI Calculator template does not contain. In that case, we suggest inputting them as a new metric in the empty row and making your own output calculation.
For example, you want to use the followers' number instead of the impressions number for the click-through ratio or any other calculation. Just make it yourself in the empty row below.
Some of the sections depending on the marketing channel may have the option to input one out of two metrics, for example, the number of conversions and conversion rate. In that case, you will be asked to use just one of them the other will be calculated accordingly.

Marketing ROI Calculator Excel Template Features Summary:
Calculates the Rate of Return of your Marketing Campaigns
Full Print Ready
Informational notes included
No installation needed. Ready to use.
Works both on Mac and Windows
Does not include VBA code or Macros
Compatible with Excel 2013 and later versions
FREQUENTLY ASKED QUESTIONS