Histogram Maker Excel Template
Excel spreadsheet for histogram diagrams. Create bar graphs in seconds. Printable dynamic charts with data split options. No installation needed.
TEMPLATE DESCRIPTION
Histogram Maker Excel template is a simple tool that will help you to create a histogram without exploring unnecessary additional build-in settings of charts. All the information and input you need to make is already out and clear in the worksheet.
Particularly, in this Excel Histogram Maker tool, you need to do just some simple steps to create your custom histogram chart.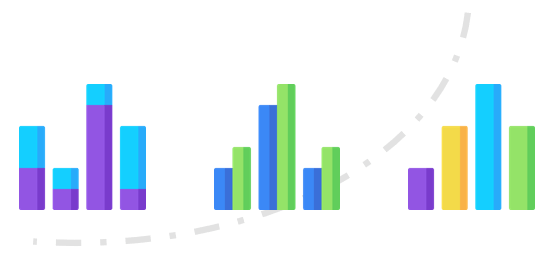 Excel Histogram Maker Features:
Data Source Section:
Firstly, you can input all of the data inside the Input Data table on the Histogram Maker template.
Secondly, once you enter the data, there is a How to Split Data section that you are able to select your histogram type. Furthermore, there are two different types of selection to split your data in the Excel Histogram Maker; either the size of a single batch of data (so the number of batches will be calculated automatically)or the number of those batches (so the size will be calculated automatically).

You can specify the number of bins and bin with manually from the how-to split data section on this histogram maker in Excel. After you input the necessary cells and made the selections, the histogram chart changes dynamically.
For the last step, you can enter the title of the histogram from your chart title part. Once you change the title and click the enter button, the title of the histogram chart will be updated automatically.
Chart Section:
In this section, you will see just the original Histogram Chart. After you made all the selections on the data source sheet, you will get a clear histogram chart according to the options that you specified.
So with this Excel Histogram Chart Maker, you can also print only the chart as well easily. Additionally, you can this histogram chart on your projects and presentations by copy and paste.
Just try it out make some trials and you will see how simple that is.
Histogram Maker Excel Template Features Summary:
Making Histogram charts in Excel
Full Print Ready
Informational notes included
No installation needed. Ready to use.
Works both on Mac and Windows
Compatible with Excel 2007 and later versions
FREQUENTLY ASKED QUESTIONS