Excel Box and Whisker Plot Maker
Automatic box and whisker template. Create box plot diagrams with one-click. Dynamic chart and quartiles with different color options. All in Excel.
TEMPLATE DESCRIPTION
The Excel Box and Whisker Plot Maker is used for showing the data sets. In addition, you can see the median, 1st and 3rd quartile, min, and max values inside your data.
That's to say, you can use this type of chart for analyzing the data set and this chart works for finding if there are any unlogical data or calculations inside the inputs.
Box and Whisker Plots in Excel are also used a lot for statistical research and experiments.

This Box and Whisker Chart Plot Maker template in Excel helps you to generate this type of chart easily and fast. All you need to do is, fill one of the data input sections according to the data number you have. Moreover, if you have enormous data, you should input it into the Full Data Input section. Otherwise, it would be better to use the Shorten Data Input section.
Box and Whisker Plot Maker Features:
Chart Section:
In general, you can see the original box and whisker plot according to your data in this section.
Firstly, you can select the Data source as Full Data or Shorten Data. Once you select your data source, the chart will update automatically.
Furthermore, you can also change the chart title manually from the chart sheet. Notable, there is also an opportunity to change the color of the upper and lower box from the leaved cells. After you changed the color of the boxes, please do not forget to click the Refresh button to update the chart.
Important to realize, each box and its whiskers are created out of a separate batch of input data. So, those data are calculated in a specific way and based on that we get the result visualized as box and two whiskers. We use this box and whisker plot mostly to compare the distribution of values within some time.
Full Data Input Section:
In this section, there is a quiet space for entering your data series.  If the data amount is not enough to create a box and whisker plot, you will see and warning on the top of the Series Name. The template will specify the max, min values, quartiles, and median values of the data set you entered.
Short Data Input Section:
Finally, you can enter shorten data in this section. You already know the min value, 1st, and 3rd quartile, median, and max value of the data series. So, demonstrating the box and whisker plot shows all the important value points of the data set.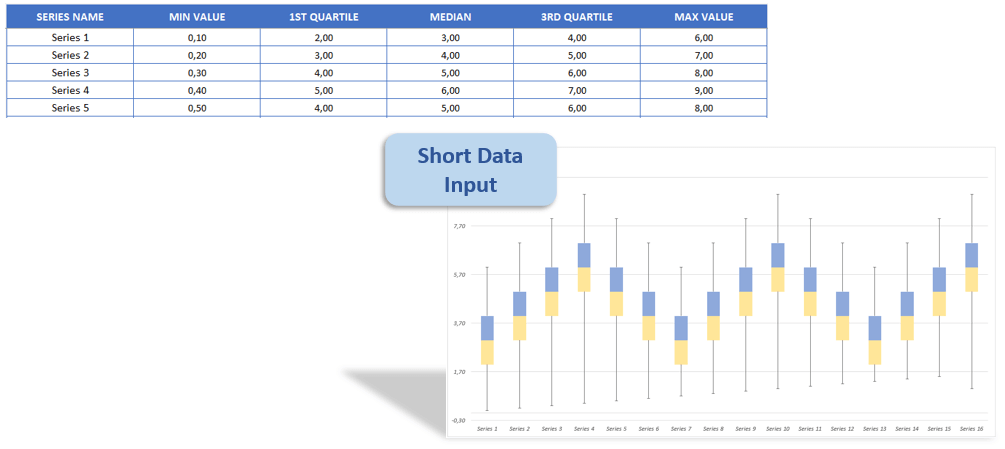 Box and Whisker Plot Maker Features Summary:
Create Box and Whisker Plot in Excel
Full Print Ready
Informational notes included
No installation needed. Ready to use.
Works both on Mac and Windows
Compatible with Excel 2010 and later versions
FREQUENTLY ASKED QUESTIONS