Automatic Family Tree Maker Excel Template
Unique Excel template to create your Family Tree from your data with a button click! Photo upload feature. Fully printable. Works on Mac & Windows.
TEMPLATE DESCRIPTION
Family Tree Maker by Someka is an automatic Excel template which helps you visualize your familial relations easily. Thanks to this tool, you will see your roots clearly and get a snapshot of multiple generations; as a whole family. Furthermore, this Excel template helps you to create your family tree in an easy way, with 1 click only.

Basically, just input the members and create your tree. You can include the connections such as spouse or parent. Optionally, add extra information od ex-spouse per person. Simply, to make use of the additional features, you can use the control panel to customize your chart too!
Automatic Family Tree Maker Excel Template Features
Dashboard
In just 3 basic steps, you will be able to create your family tree:
1. Fill out the data input table,also please follow the below order:
Person Column: First add all the people in your family that you want to see in the family tree. (After you input all the names go to the next steps)
Spouse Column: Select all the spouse and/or ex-spouse connections to existing family members (from dropdowns).
Parent Column: Select all the parent connections to existing family members (from dropdowns).
To make things easier for yourself, please do not use duplicate names. Otherwise, it will be challenging to differentiate people in the selection menu. If there are people with the same name, put a little indicator like dots, commas, numbers to differentiate.
Optional data areas: Information & Ex-Spouse
2. Define settings and insert photos from the control panel (optional)
3. Click the "Create Family Tree" button and your genealogy tree is ready within a few minutes
Note: After creating the chart each of the elements can be moved, reshaped, or deleted.
Family Tree Maker Control Panel
Messages
Finish inputting all your data before you check the messages. Until all data is in the table you can see some temporary messages because of unfinished input.

Settings
Here you may find the basic settings and advanced settings to customize your family tree. You may input these cells to change them, when possible, you can you the dropdown to select a predefined option.
Below are the basic settings options: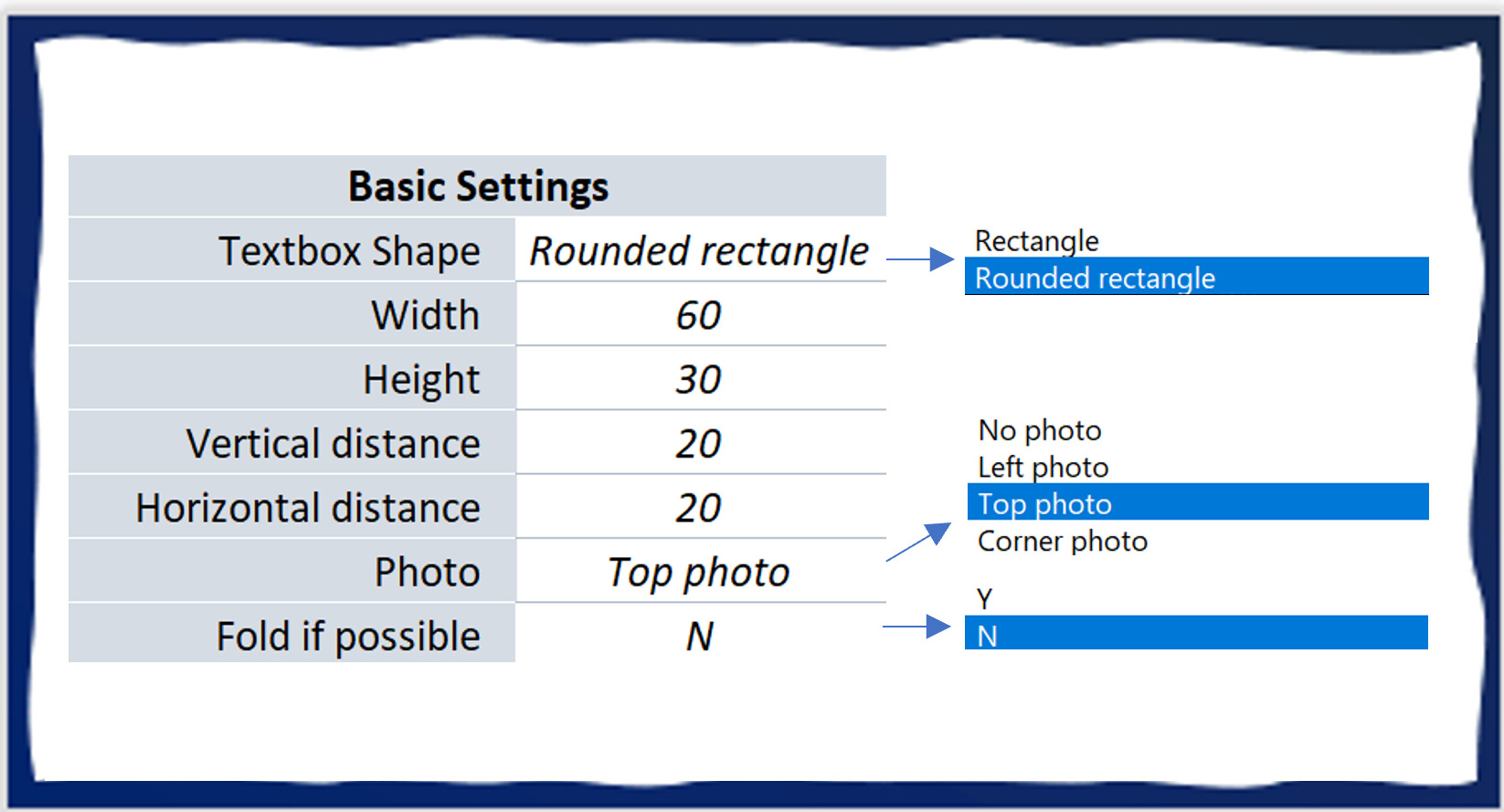 The fold option will be helpful if your family tree is very wide. If you decide to fold the chart in all the possible cases, siblings will be drawn one under another. This way the final tree will be more compact.
After you complete the basic settings options, you may move on to the advanced settings options: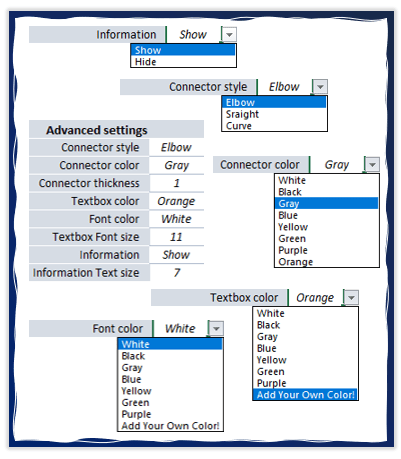 On the other hand, the information column is optional. In settings, you can select to show or hide information according to your needs. In addition, you can change connector colors and choose different types of connectors from the dropdowns.
Automatic Family Tree Maker Color Options
In addition, the colors of the family tree template are fully customizable. You can format cells and change the colors that will be used later. But, just change the color name and cell fill color.
Export Button
Above all, you can export your family tree into 3 formats: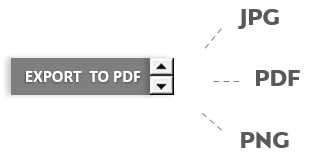 Moreover, the new version of this template gives you a lot of cool features:
Add Photos; you can add, delete or also update the photo with a new one.
Export both the input data table and the chart into one of 3 formats: PDF, PNG, or JPG.
Change the photo layout, colors, font and text box size, colors, distances, and many, many more.
Add and actually see on the chart, your spouse, cousins, and their close relatives.
Build the tree in both directions; from the root to the crown of the tree and the opposite: from the crown to the roots.
Finally, if any of the calculated spots won't suit you, you can always move the elements and place them according to your preferences.

Automatic Family Tree Maker Excel Template Features Summary:
Works both on Mac and Windows
Unique product for auto-generation of family tree chart in Excel
No installation needed, ready to use
Photo upload feature
Extra info also may be added optionally
Clear on sheet instructions (with turn on/off function)
Easy to use and nice design
Customizable box (shape) design and colors
Export to PDF, PNG, JPEG feature
Shapes editable in PPT
Print-ready
Compatible with Excel 2010 and later versions
FREQUENTLY ASKED QUESTIONS
Family Tree Maker Product FAQ
Is there any limit to the number of generations?
Nope.
There is no limitation for the number of generations in our template.
However, we recommend you to add up to 500 people. More than this may result some performance issues on your end depending on the Excel version that you are currently using.
What if I have re-married (e.g. death/divorce), is it possible to show this?
It is possible to show multiple marriages as we have Information and Ex-Spouse columns that you can easily add information to. You may add one current and one ex-spouse.
I have created my family tree using your software, but when I came to print it, it is completely unreadable.
As for displaying more than 100 people, it would be extremely impractical and difficult to render what you want. That's why it would be better to print out 40-50 members of your family at once.
If you want to change the font size and distances between the family members to fit better, you can use the Settings in the Control Panel.