Excel spreadsheet to calculate GPA for students. Preset and custom grading systems with printable transcript. Simple, flexible and nice template.
TEMPLATE DESCRIPTION
GPA stands for Grade Point Average, and it is a method of calculating the average marks or grades of a student. This Excel GPA Calculator is will help students to calculate their GPA according to their grading systems.
In fact, the GPA methods may differ from one country to another, or even from one state to another (in the USA). Nevertheless, this template has a custom option in addition to many preset grading systems.
Excel GPA Calculator Excel Template Features:
This tool covers all four cases in order to give you maximum flexibility. For the 0 to 4 system, you can choose between single-letter marks and double-letter marks. Although the points are the same, the marking system might confuse you from one institution to another. For the 0 to 100 system, you can choose ranges of points to convert them into a 0 to 4 GPA.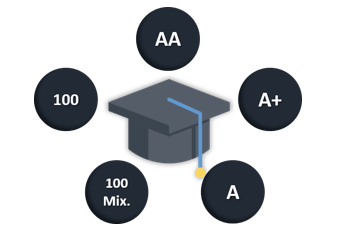 The 40 to 100 system only calculates the marks, and then you need to consult specialized institutions to convert your scores (in case you plan to get your degrees approved in a country/state with a different system).
In summary, the Excel GPA Calculator includes 3 parts, with each of them serving a specific purpose.
Dashboard & Semesters
This section is for the entire 10-semester period. You can track your performance trend with charts and important metrics. Besides, it is designed to give you a minimalist yet meaningful view of your school stats. Here you will see your final GPA, total credits, and total points. Also, you may track all your semesters on this sheet.

You will also find the performance trend chart that shows the trend of your GPA during semesters.
Moreover, the semester part is where you add all your courses, grades, and credits. This is sort of where you keep records of all marks you have taken. Although you can also use it to forecast your weighted GPA if you insert grades in semesters you haven't attended yet.

Settings
In order to make things easier for you, we have automated the settings and made them selectable with a drop-down menu. So you can choose the A+ grading system, the A system, the AA system, the 100 Mix system, the 100 system, the 7-Point system, or the custom system for your GPA Calculator Excel sheet.
In addition, please note that this is the first step to efficiently using our template. You may choose your GPA system here. It will affect the other sheets.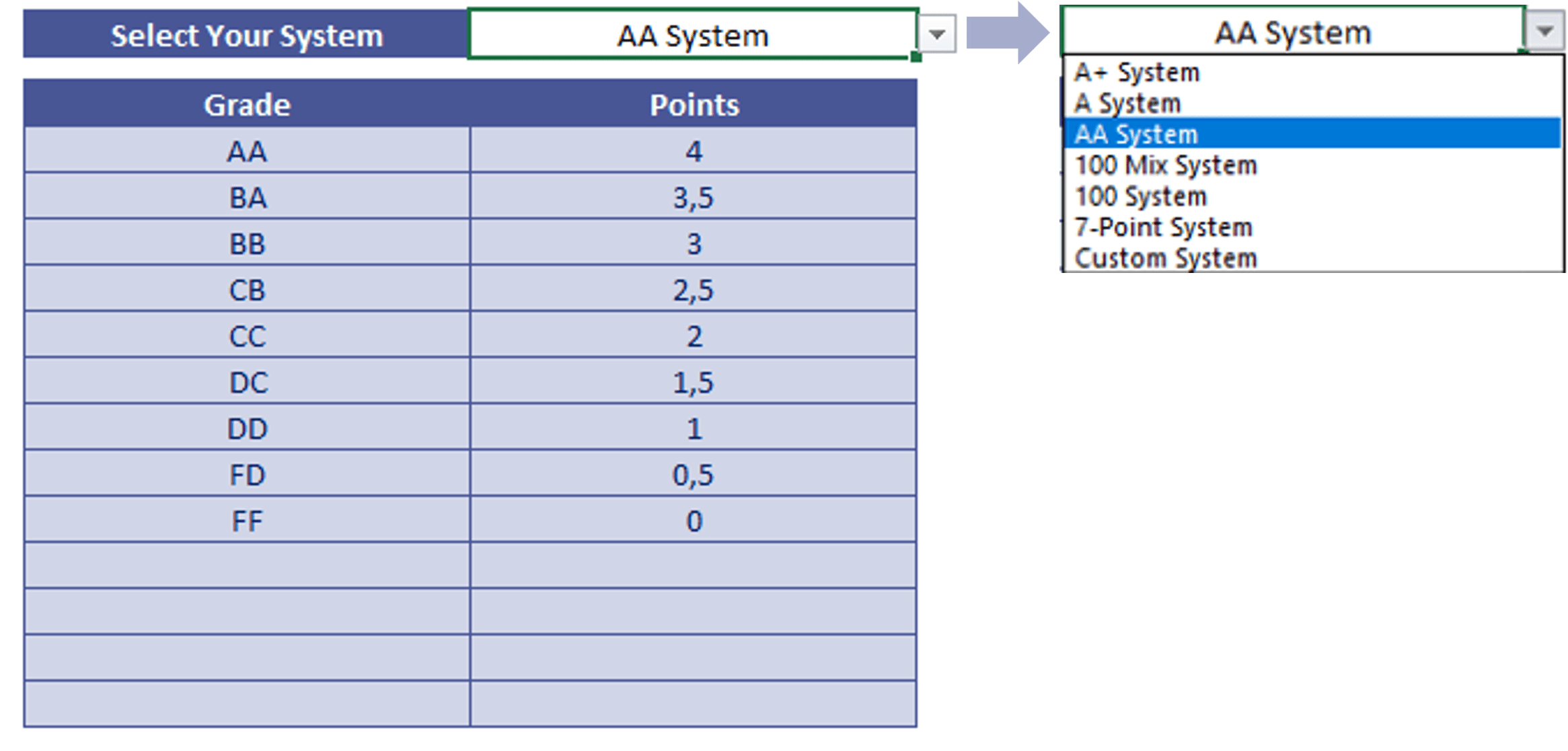 Quick Calculator
Excel GPA Calculator gives you two quick options: 1. Course-Based Calculator, 2. Simple Calculator.
For Course-Based Calculator: You can write your courses, and then fill in the credits and your grades. The GPA will be calculated automatically. Please note that the grades in the dropdown menu are connected to the GPA system you've chosen on the settings.
For Simple Calculator: Just write the total credit hours attempted and points earned, and you will have your GPA calculation.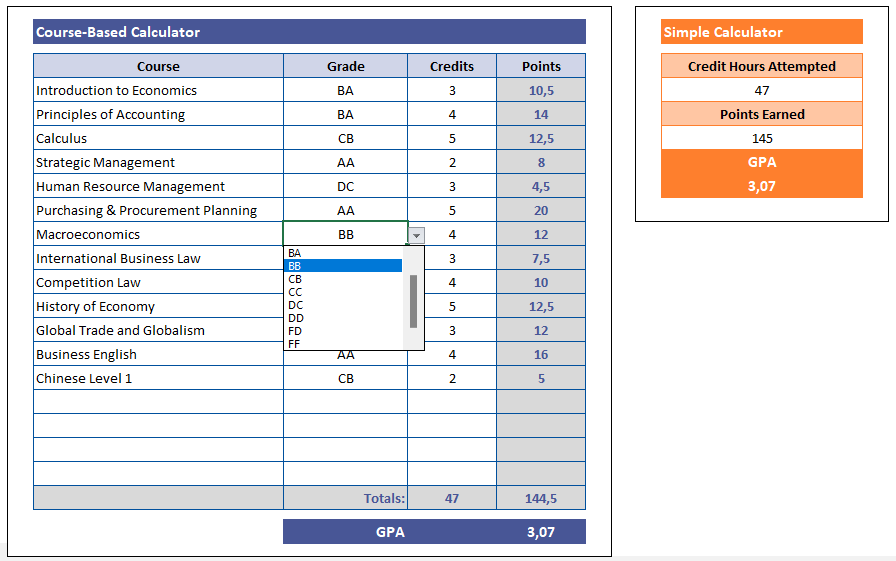 GPA Calculator Features Summary:
Dashboard to see Semester GPA Trends
Custom GPA systems in addition to preset ones
Simple Grade Calculator for each semester
Transcript contains courses taken
Informational notes included
No installation needed, ready-to-use
Works both on Mac and Windows
Compatible with Excel 2010 and later versions
Does not include any VBA code or macros
FREQUENTLY ASKED QUESTIONS