Treemap Chart Maker to visualize hierarchical data and display the data distribution within the hierarchy. Flexible, simple, and multi-optional chart maker in Excel!
TEMPLATE DESCRIPTION
A Treemap chart is a simple tool for visualizing layered data in the form of rectangles. This tree diagram maker shows how data is spread across multiple segments and subsegments in Excel.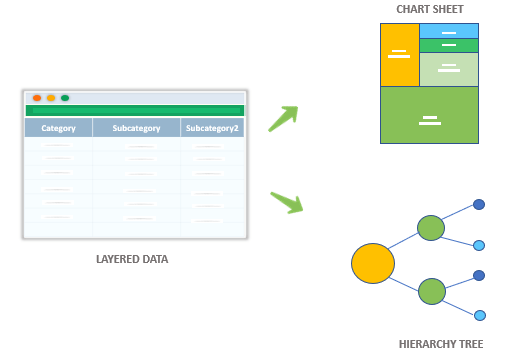 Each item is represented by a rectangular shape, while each sub-branch is displayed by a smaller one. So larger rectangles with different colors show the top categories in the data set.
Treemap Chart Maker Features
Treemap generator allows you to display your hierarchical data with a clear visualization. It has two main input options: 1) Basic, 2) Advanced. Each of these generates two visual outputs, which are "treemap" and "hierarchy tree".
Both sections will let you input up to 500 different items. Also, you can easily navigate between these sections just by clicking the related button.

1) Basic Treemap Input
This basic option is suitable when your data does not contain many layers of sub-categories. It consists of a list of items, as well as a chart preview. This section allows only for 2 layers of input categories.
2) Advanced Treemap Input
This option gives you the opportunity to create a treemap with multiple levels. It has additional 4 columns, where you can have your data split into many levels of sub-categories.
This section has 5 sub-category options, but you can ignore some of them while creating your treemap. So you don't need to remove data if you just want to see the output without a specific column. Just ignore it from the dropdown menu on the top menu.

Furthermore, there are Hide or Show options for the total values, where you can select whether to show the values or just hide them.
Visual Outputs
You will have a chart sheet and hierarchy tree output for each of the basic and advanced treemap options.
This section will display your treemap chart. You can customize the treemap diagram with different colors or styles. After selecting the chart, just go to the chart design tab to make any change you want. Besides changing the visual design, you can also change the title, or resize the chart.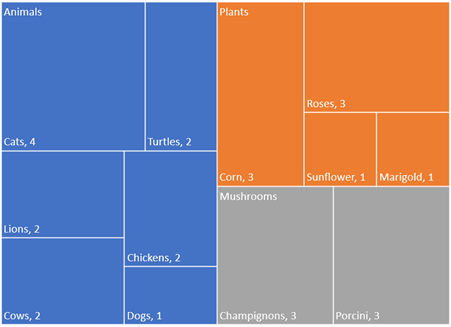 This section displays your data in tree form. This tree is the link between the input data and the treemap chart. You can see here all your categories and sub-categories sorted and grouped way.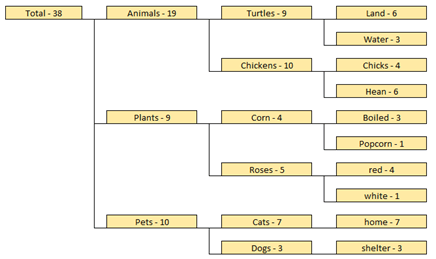 Note: All sheets have a dynamic print area so no matter how much data you have, the print area will be set according to it. However, if you resize the charts, you can print the whole chart by selecting the chart.
Treemap Chart Maker Features Summary:
Visualize Hierarchical Data
Display data distribution within the hierarchy
Fully customizable and ready to print
Informational notes included
No installation needed, ready-to-use
Works both on Mac and Windows
Compatible with Excel 2010 and later versions
Does not include any VBA code or macros
FREQUENTLY ASKED QUESTIONS