Excel Lottery Spreadsheet
Lottery Simulator Template in Excel. Create & play your own lotto. Preset & custom lottery options. No installation needed. Works on Mac & Windows.
TEMPLATE DESCRIPTION
This Excel Lottery Spreadsheet will help you to bet on some of your favorite lottery games. In brief, a lotto simulator will draw random numbers for you. This tool works as a quick pick for any game of your choice. After you decide which game you want to play, click a single button to run the dummy generator.
Firstly, if you are feeling lucky about the numbers and don't want to lose, you can save them in a database. Moreover, you will be able to add a lottery you want to play by yourself. Above all, It's easy and allows you to add up to 50 different types of lotteries.

Excel Lottery Spreadsheet Features:
Draw your Numbers Section: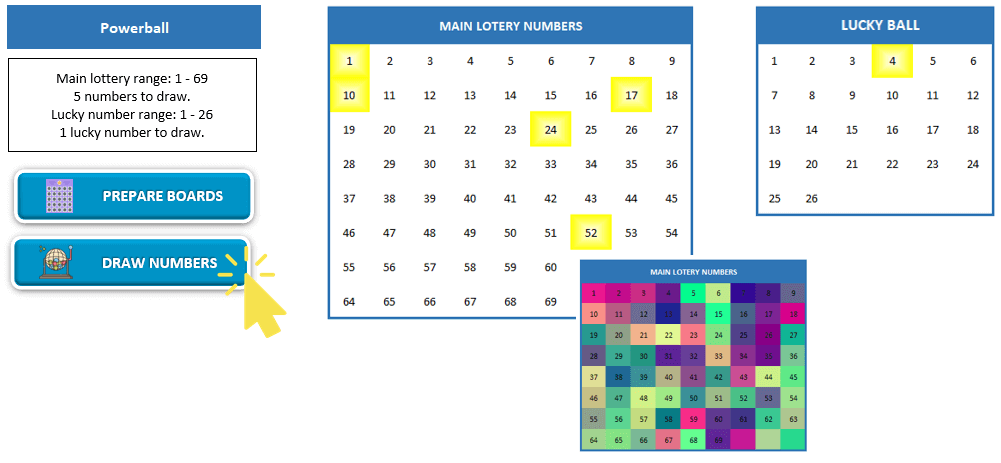 To begin your game in Excel lotter spreadsheet, choose a Lottery from the dropdown list. Then, you will also see the description below of that game.
Afterwards, click the prepare boards button to update the board before you draw the numbers.
Lastly, draw numbers by clicking the related button. You will get drawn numbers that are highlighted on the boards, and below boards, the same numbers are presented in a more ordered way.

In case you haven't found the game that you want to play on the lottery Excel spreadsheet, you can add your own by clicking Add a New Game button and fulfilling all the necessary information. Remember the maximum range of the lottery game board is 100 and the maximum numbers to be drawn is 10.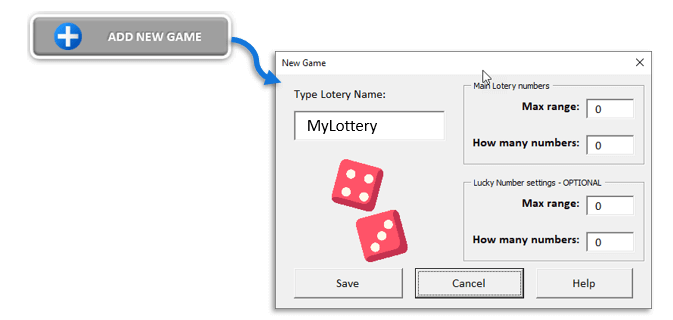 Saved Numbers Section:
In the save numbers selection of the lottery spreadsheet, you can track all the previous numbers that you already have drawn.  All the data; like the name of the lottery, drawn numbers, and also the date of being saved here. You can additionally write yourself extra comments in each row.

Lottery Spreadsheet Features Summary:
Free Lottery Simulator in Excel
Full Print Ready
Informational notes included
No installation needed. Ready to use.
Works both on Mac and Windows
Compatible with Excel 2007 and later versions
FREQUENTLY ASKED QUESTIONS