5 Whys Google Sheets Template
5 Whys analysis tool in Google Sheets. Deep dive into root causes of your problems. Sleek design dashboard with access from all devices.
TEMPLATE DESCRIPTION
Do you want to find the root causes of your business problems and present this in a nice-looking diagram to your team? Then this 5 Whys Google Sheets Template is just for you!
This template is a simple brainstorming tool that helps in the identification of a problem's root causes. Starting with a problem, you ask "Why?" until you narrow it down to one key issue on which you can concentrate your efforts and attention.
Why to use 5 Whys Google Sheets Template?
The 5 Whys strategy is a simple and effective method for getting to the bottom of a problem. It can be used for troubleshooting, problem-solving, and quality-improvement projects. Begin with a problem and inquire as to why it is occurring. Check that your answer is accurate, and then ask the question again.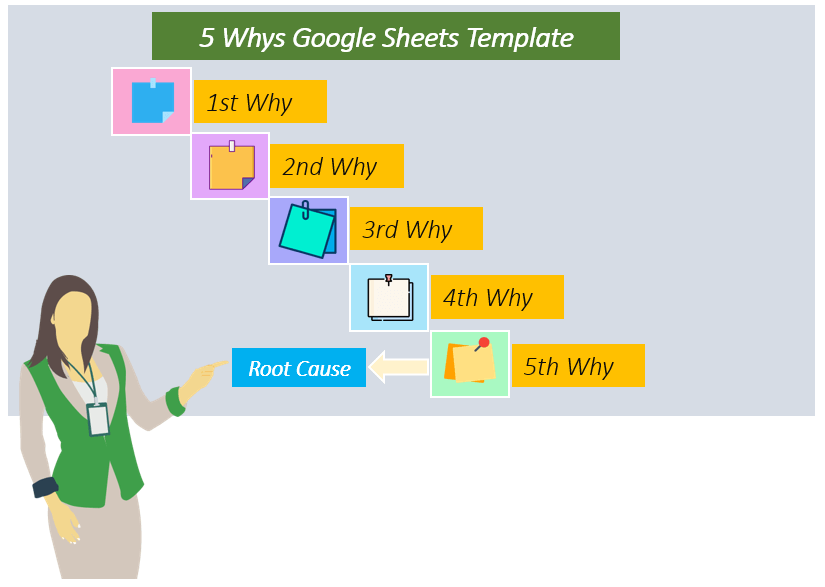 Why to use an online 5 Whys template instead of a paper session?
Because a 5 Whys session is essentially a brainstorming session, it is essential to use a whiteboard and sticky notes. Using an online spreadsheet to map out the process allows people to better visualize what happened. Multiple stakeholders can collaborate on this template, adding ideas on digital sticky notes.
The Main Advantages of the 5 Whys Google Sheets Template:
To begin, team members can easily understand the Google Sheets template since it is simple and doesn't require a lot of technical knowledge.
Second, it assists teams in understanding the relationship between various root causes of a problem.
Finally, using this template will be beneficial when dealing with human factors issues.
The 5 Whys Google Sheets Template sections:
Dashboard section
Problem section
Above all, let's go over the main sections of this 5 Whys Google Sheets template in greater detail:
1. Dashboard Section:
The dashboard, in fact, displays an overview of each problem set. By using the drop-down list on the graphs, Google Sheets can analyze problems separately based on actions.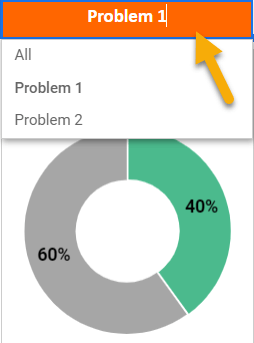 The table displays the problems, root causes, solutions, number of actions taken, and status of each problem set. After that, track the average progress of each problem using the charts and bars on the right side of the dashboard.
Note: You can also track the progress of all problems at once. Any changes you make to each problem set will be automatically reflected in the charts.
2. Problem section
Firstly, the analysis begins with entering the problem into the Google Sheets template. Then, there is a drop-down list next to the location of the problem that allows you to select the status of the problem.

To clarify, as a method for identifying the root cause, a list of steps is generated according to their performance. In general, the last written reason is considered a root cause and is highlighted in blue.

Furthermore, you can see each action for the solution on the lower part of the page: the assigned responsible person, the start/due date, and the progress level. In addition, in the upper right corner of the 5 whys Google Sheets template, you can change the status of the problem.

Meanwhile, all you need is an internet connection and a Google account to get started. And everything will be in sync!
5 Whys Google Sheets Template Features Summary:
Quick root cause analysis
Professional-looking dashboard for presentations
Informational notes included
No installation needed, ready to use
Works on any operating system
Suitable for any device including mobile, tablet, desktop
FREQUENTLY ASKED QUESTIONS