IP to Country Converter Excel Template. Bulk IP address converter. No installation needed. Paste your IP list and get location info in seconds.
TEMPLATE DESCRIPTION
Most networks on the internet, use a unique identifier for a computer known as your IP address. It's a string of numbers that identify computers from one another to communicate through the internet. Especially, if you have an e-commerce website, these IP addresses may help you to indicate where your website visitors come from. Therefore, you can easily analyze the bulk of the traffic in one specific geographical region. The IP to Country Converter in Excel is specially built for looking up a list of IP address locations, no matter if it's V4 or the complex format of V6.
By using this excel template you don't need to go online and put a lot of effort to find the country for one IP at a time. You can use the IP to Country tool and look up the country for a huge list with only one button click.
Main Features of the Template
The tool is very simple to use. In IP List column you can just fill in the list of IPs to look up and when it's ready, click the "Process" button on your ip to country converter.

The IPs should be in the standard format as per examples below:
V4 – 1.2.3.4 (4 sets of numbers separated by dots)
V6 – 12ab:34bc:56de:1a11:b123:ec2c:6732:bc11 (8 sets of alphanumeric characters separated by colon)
If you want to clear the list and enter a new set of IPs, just click the "Clear List" button. And start fresh with a new lookup.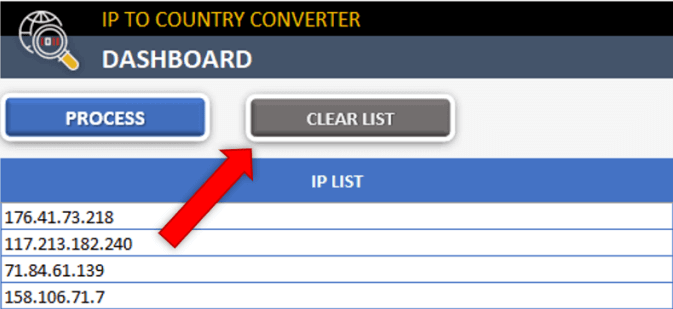 Furthermore, it has its own database included so you don't need to have a fast internet connection. You can even be offline and you will get accurate results for IP address locations all over the world. The database contains almost 200K ranges of IPs, which will cover all your requests.
IP To Country Converter Features Summary:
Simple to Use IP Address to Location Converter
No online connection needed.
Database of various IP Ranges
Quick Results with one click
Works on both Windows and Mac
Compatible with Excel 2007 and later versions
FREQUENTLY ASKED QUESTIONS