7 Types of Organizational Chart Structures
Updated on April 21, 2022
Organizational charts or org charts are the diagrams that show the structures of employment of organizations. These charts provide a clear and straightforward declaration of the workflow in an organization according to the positions and functions of the employees and the links between them.
These charts may be formed in many ways. However, you must consider the needs of the organization while opting since every type of chart has its pros and cons.
Here are the 7 most important organizational structure types and the easiest way to build one using Excel.
Types of Organizational Structures:
Hierarchical Structure
Hierarchical organizational structure is the most preferred one among other models. It shows the chain of command from the top to the bottom, in which the top represents the member with the supreme authority while the bottom represents the low-level employees.
In this type of structure, every employee has a supervisor.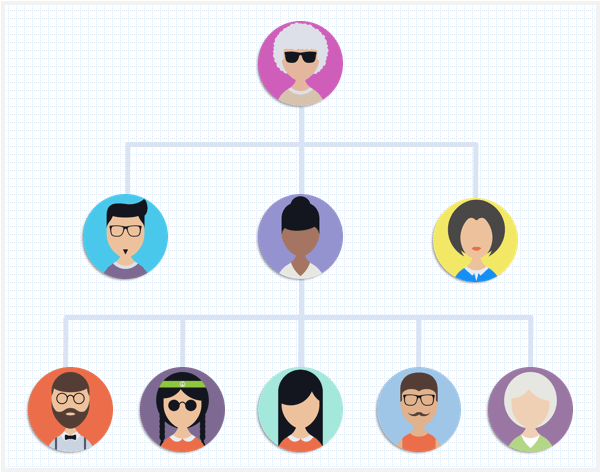 Pros
It shows who is authorized for particular decisions and tasks very precisely.
It shows the career path gradually going through the top, which motivates the employees to climb the corporate ladder.
Instructions go from top to bottom directly, provides a clear communication.
Cons
In such a structure, increased bureaucracy may slow the decision making down.
It can make the low-level employees feel less responsible for the well being of the company since they all have supervisors above them.

Horizontal/ Flat Organizational Structure
Horizontal or flat organizational structure is suitable for organizations that have the least number of levels of hierarchy. They usually have no middle management, and the executives are directly in touch with the staff.
It is mostly used by start-ups and small businesses and probably cannot be used any more once the company starts to grow.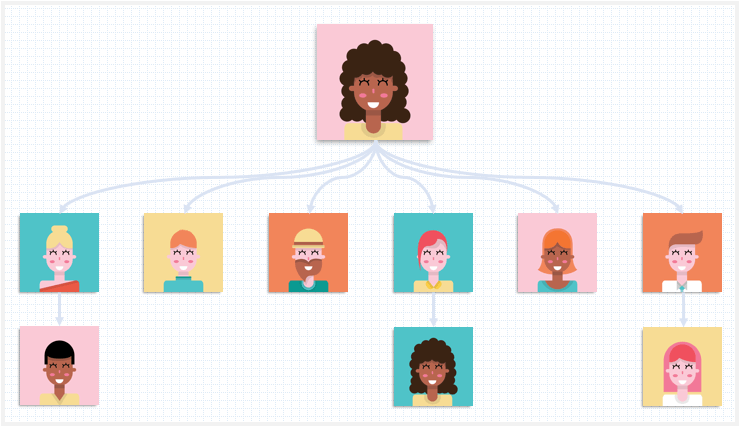 Pros
Since the executives and employees are closer, the horizontal structure provides a faster decision-making process and ensures the engagement of every employee.
Gives employees more responsibility.
Cons
The employees will not have certain positions in which they could specialize.
Employees will not have specific supervisors to report to.
It is hard for larger companies to adapt such a structure.
 If you are a owner of small business and looking for quick solutions to make your processes smoother, you may want to check our project and productivity related templates!

Matrix Organizational Structure
While matrix organizational charts show the hierarchy between the positions, it also shows the cross-functional temporary or permanent teams set up for different projects managed by multiple supervisors.
The team members end up having more than one manager which forms multiple chains of command. This situation is depicted by a grid or matrix-shaped structure.
Pros
Matrix structure allows the employees to be grouped according to their specialties and to be picked up easily in accordance with the requirements of the projects.
As employees participate in different groups, they could have the chance to improve their abilities in different areas of work.
Cons
As some projects could be temporary, matrix charts need to be updated constantly.
Having more than one manager could cause confusion.
Functional Organizational Structure
Functional organizational structure resembles the traditional hierarchical structure. However in a functional structure, the organization is divided into smaller departments that work for particular fields of operation.
So each one of them has managers who are responsible for reporting about their department to the executives who are in a higher position.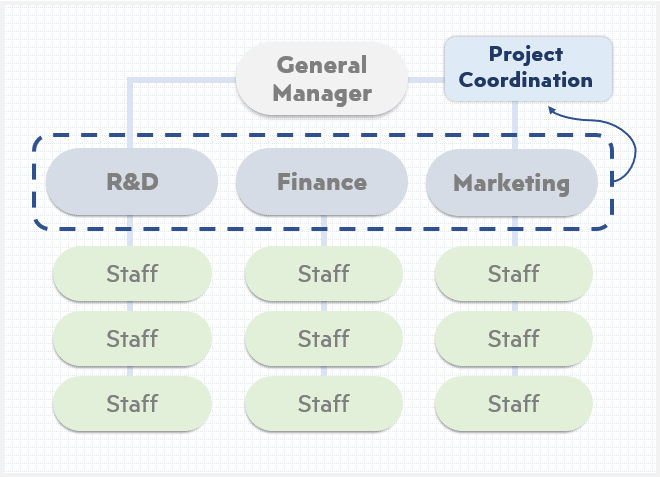 Pros
This kind of structure allows employee groups to put all their effort into the area they work for and professionalize in that area.
Employees have fixed responsibilities and tasks.
Cons
It can cause a lack of communication between the departments.
The self-centered mentality of a department may cause the failure of the others.
The bureaucratic structure may cause slow decision-making.
Keep in mind that, a project coordination has many critical parts like budget, scheduling and effectiveness. That's why it is also important to measure the key performance metrics of their team to achieve success in each project. Get your template that has three categories containin 15 most common KPIs for project management.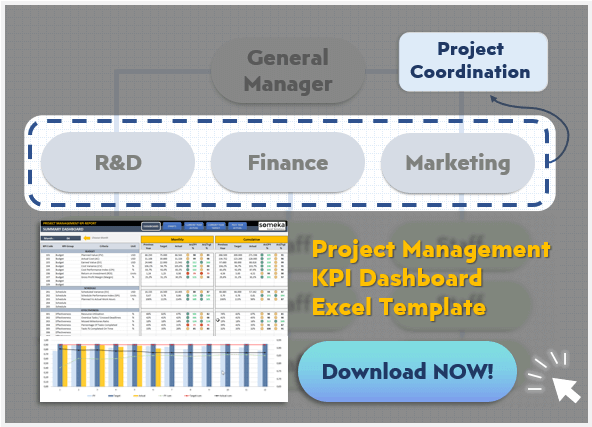 Divisional Organizational Structure
Divisional organizational structure is mostly used by larger companies. In this structure, each organizational function forms a division and they work autonomously with their own resources.
Divisions could be formed as market-based, product-based, or geography-based according to the needs of the company.
Pros
The autonomy of the divisions provides a more flexible working area.
Ensures less risk for the company in case of a failure of one division.
Cons
It can cause a communication gap within the company.
It causes greater tax obligations since every division is operated as a separate company.
Team-Based Organizational Structure
Team-based structure is a relatively new structure that opposes the traditional hierarchical structure and it slowly rises all around the world.
In such a structure, employees come together and form groups in order to fulfill their tasks that serve a common goal.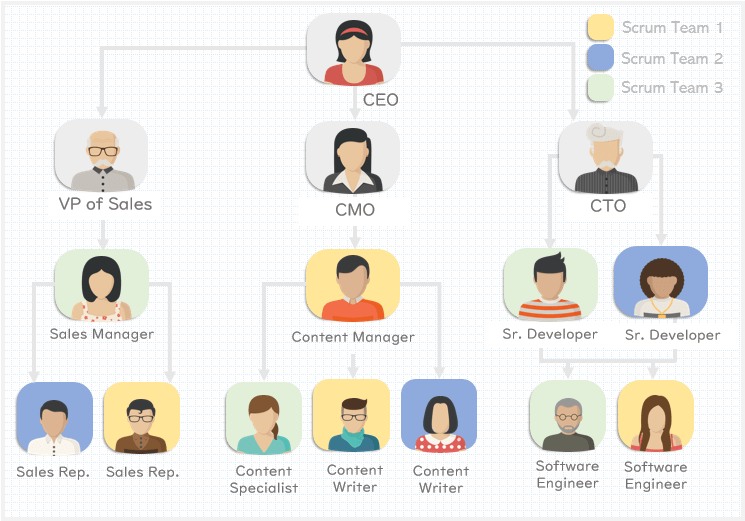 Pros
The elimination of some statuses assures faster processes of problem-solving and decision making.
Working in teams provides higher productivity and performance.
Cons
Such a lateral structure does not let employees set a specific career path going through the top which could be discouraging.
The leadership must be very effective since there are fewer managers.
Network-Based Organizational Structure
Network-based organizational structure is a contemporary way of configuration. It allows a central organization to work with various types of external organizations for its needs.
The communication between the organizations relies on mutual reliance and interest rather than hierarchy.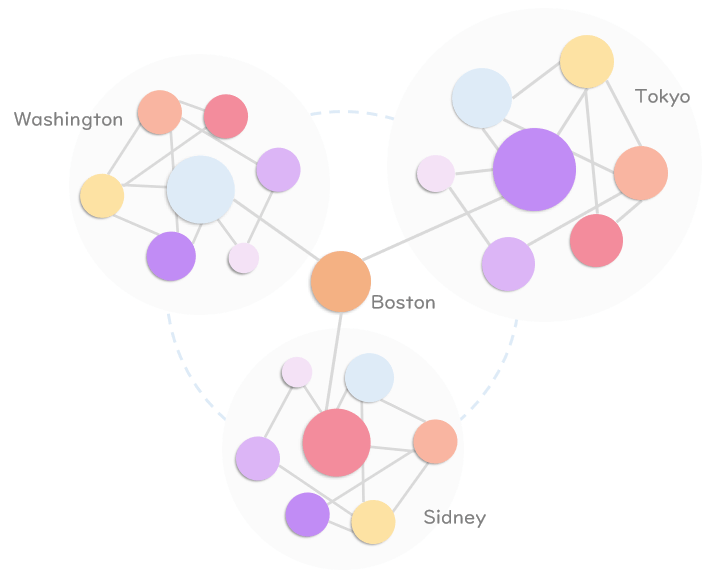 Pros
This structure gives employees pretty much equal responsibility and power which could embolden them.
It also provides a flexible and independent working area.
Cons
The complicated structure might cause confusion and errors.
A higher number of supervisors.
The network-based structure relies on digital communication which can cause delays and problems.
How to Create an Organizational Chart?
Decide Your Organization's Chart Type:
At the most basic level, you might be looking for something that you can easily see overall reporting process. But beyond that, there are a lot of options to consider and decide which suits best you.
That's why the first thing to do before building an organizational chart is viewing all types of organizational structures and deciding the chart type according to the structure of the organization.
Prepare Your Draft
Drawing a draft of the chart will be useful to determine the outline. You can define the functions and relationships of employees from top to bottom of an organization in any structure you want.
Choose the Best Organization Chart Software:
Many employees in a company need to show organizational charts in their presentations. It helps employees figure out who to report if any problems occur and clarify roles and responsibilities.
That's why depending on the chart size of your organization, there are some free/premium options to to keep your org chart in one convenient place.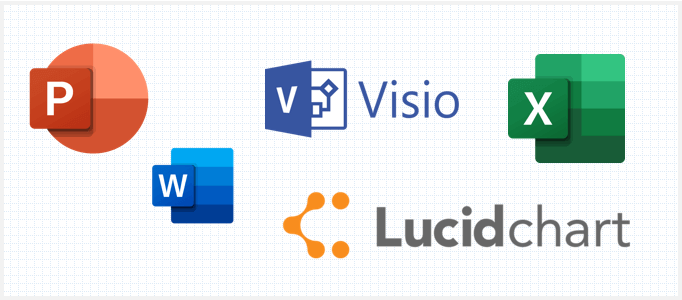 PowerPoint / Word:
Even if it takes time to adjust the shapes, many people are still using Microsoft PowerPoint & Word. It uses the SmartArt tool to create organizational chart design easy by getting started with a quick pre-made template: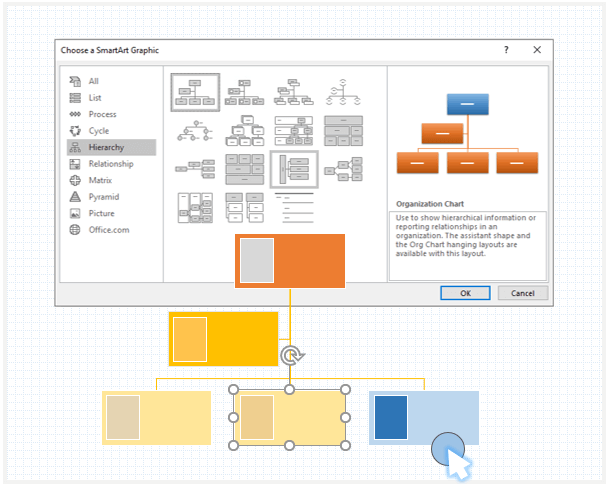 Open PowerPoint or Word
Click on Insert, then SmartArt
Choose Hierarchy and select the graphic/look that best fits you
Type in the names of each person (as well as other data you want to include).
Customize it to match your needs (font, color, background, etc.)
Visio:
Microsoft Visio is one of the cloud based drawing software for drawing plans and structural charts. The platform enables to create flowcharts, org charts and diagrams with a pre-made templates.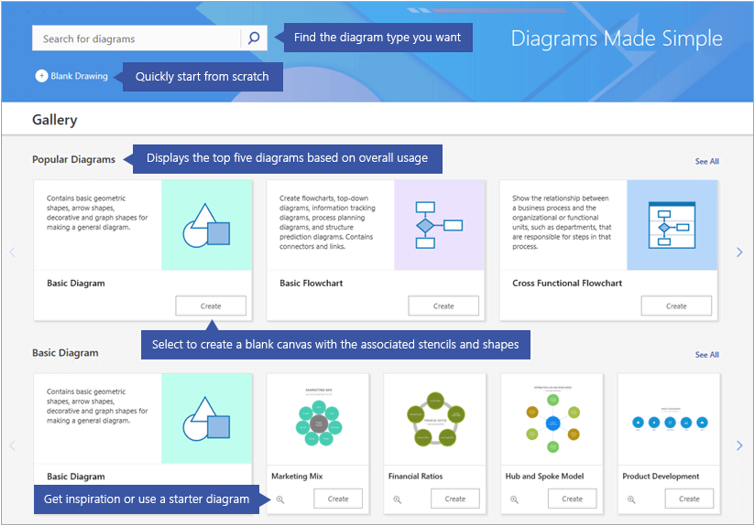 Everything is drag & drop so it offers the flexibility which you can even customize connectors, shapes, arrows, font size, etc.
Pros and Cons:
+ Built-in templates.
+ Ability to work offline
+ Process mapping
+ Flow charts / Network diagrams
– Not available for Mac/Linux users
– Limited Shapes Library
It also offers different editions like Standard, professional and Pro with improved functions per each edition.
LucidChart:
Lucid chart is online diagramming tool that supports real-time collaborative editing and creates workflow diagrams, process workflows and more.
It makes easy to map out the flowchart as well as the process for your company.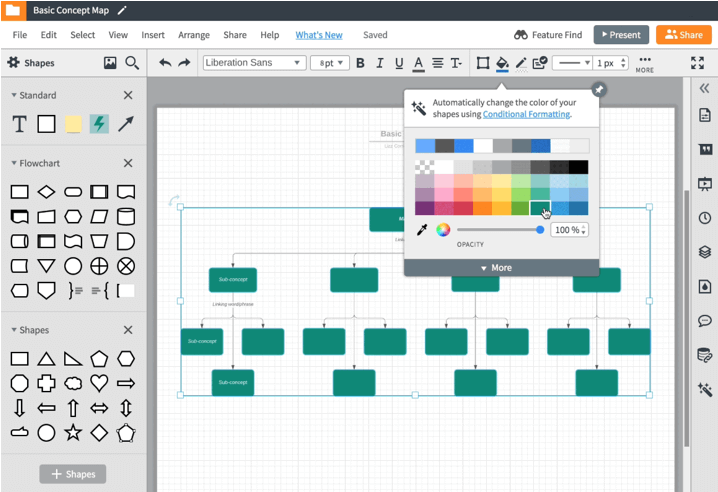 Pros and Cons
+ Collaboration.
+ Flexible design.
+ Drag & Drop
+ Data Import / Export
– Automatic Layout
– Photo Management
– Limited Design Capabilities
It also offers different monthly packages like Basic, Pro, Team and Enterprise with advanced features.
Excel:
The easiest way to build an organizational chart is offered by Excel for certain reasons. Excel is a tool that is widely used, which eliminates the learning process of another tool. Because it only requires basic computer using abilities.
Excel is affordable for everybody, which is not the case for most of the other tools.
It offers the fastest method and minimizes the loss of time. And it is even better when you are familiar with some Excel tricks and tips!
It is compatible for both Windows and Mac users.
This Organization Chart Maker which is created in Excel will only take a few minutes to create a chart of your own. You are able to form a chart just by keying in, without any redundant processes.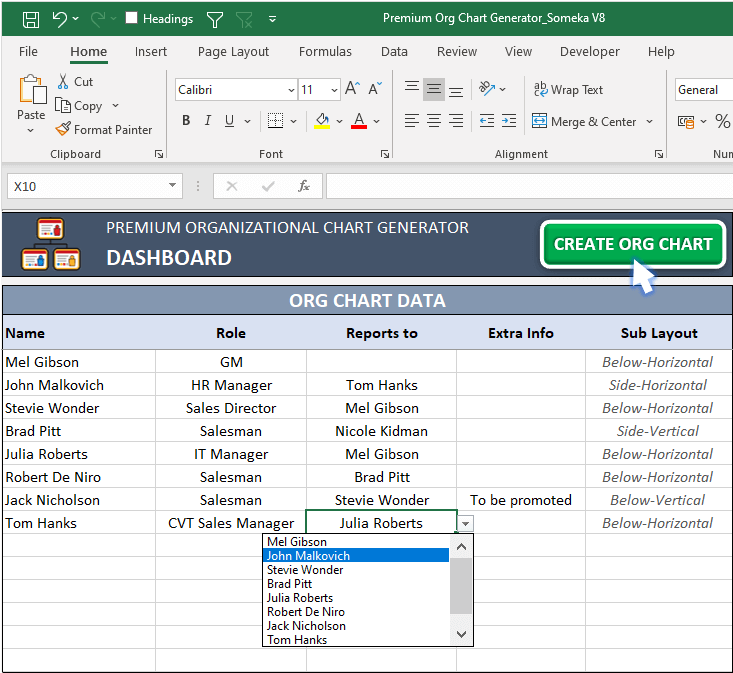 The only data you should enter are the names and the roles of the employees and who they report to, and your chart will be ready. It is also has an extra information layer, you may add any information.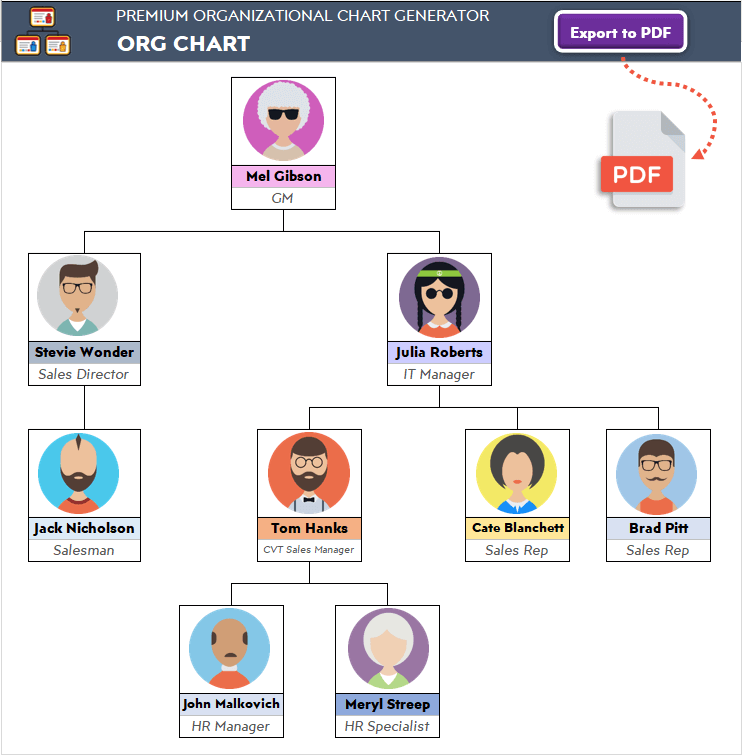 The beauty of using Excel, you can update the data constantly and form a new chart. You can easily view your new version immediately after you update your data and change it anytime you need to. Besides that, you can save your chart as a pdf file and use it on any digital platform seamlessly.
You may add photographs of your employees and customize your box format in one place without needing to do it one by one.
Finally, Excel lets you customize every feature of the aspect of your chart. There are tremendous selections you may make concerning the aspect of your charts (the shapes, colors, text fonts etc.) and view the changes immediately.
FINAL WORDS
Every organization has a different structure but one of them that we mentioned above might suit best for your business. We've just looked and compiled the most common types of organizational structures which is used many years by many organizations.
To learn more about Organization Chart Excel Template and create your own chart in a few minutes, check out Automatic Org Chart Maker – Premium Version.