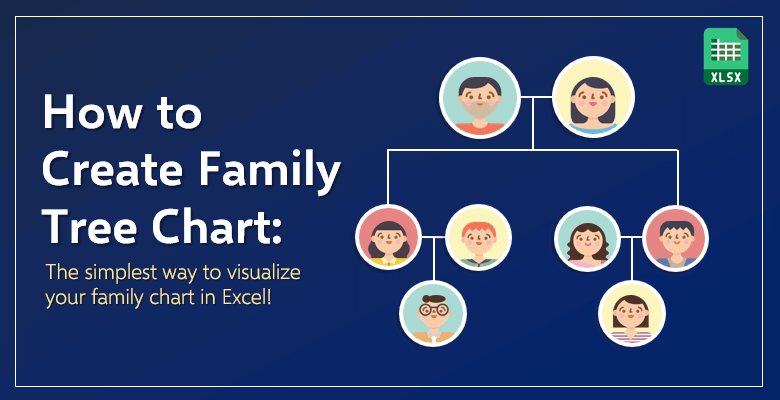 How to Create a Family Chart – The Simplest Way to Visualize Your Family Tree!
Updated on April 21, 2022
---
---
Everyone is interested in getting to know about their families. We wonder where we come from, we are curious about who our ancestors are and what our family history and lineage is.
The best way to visually represent your family is to create a family tree.
This article is basically about what a family tree is and what you need to start to create one. You'll also learn about how you can create it without the challenge of dealing with pen and paper, but by using our unique Excel tool Family Tree Maker.
What Is A Family Tree? 
A family tree is a genealogy history of a person that you can put upon a screen or a piece of paper. It is usually presented in a conventional tree structure to ease the tracing of the family member relations to each other: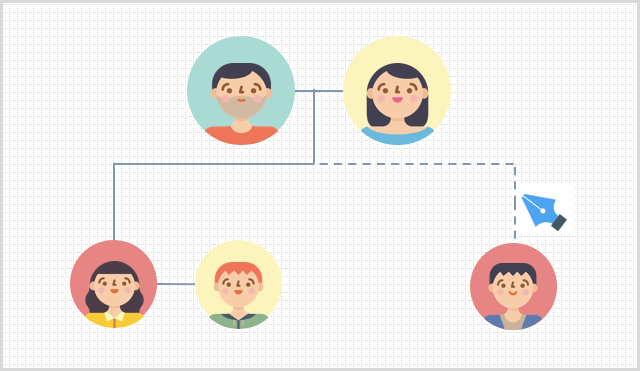 Generally, one individual or a couple is put at the top of the family tree, functioning as the root of the tree.
From the root, you can draw lines which represent the relation to the other family members. An individual can be represented with a box or as we like to call it a leaf of the tree.
On that leaf, you can write information such as dates of births, marriages or deaths.
Finally, you can provide other related information. For example, partner or spouse's names, occupation or relation to the individual serving as the root.
Often, a single generation can be assembled into the same level to avoid confusion. Then, it becomes much easier to clearly see each generation in line since the later generations can be physically put on the lower levels of the tree.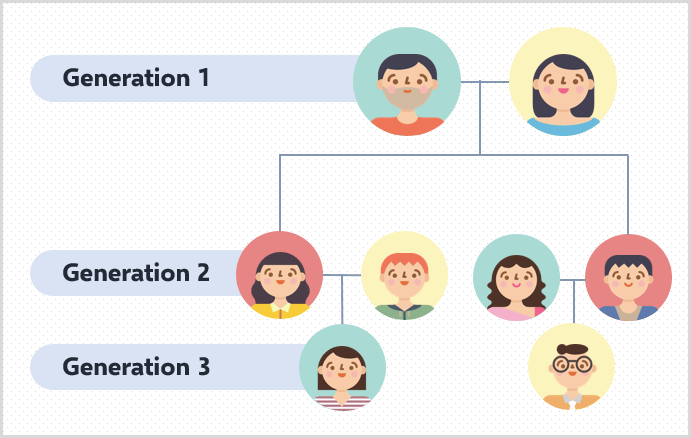 However, keep in mind, in nature, trees grow from the ground up; but on paper or on a screen, family trees can go from the top to the bottom or horizontally from left to right.
Why do we think it is important?
Understandably, the reason for this meticulous and elaborate work to create a family tree can be put into question. However, recording all the information about your family, the places of your origin and the events which helped to form your chart can satisfy your curiosity.
The insight you discover can help you gathering information and creating with your children, while you learn about your family.
It can be helpful to teach them about their ancestors as well, perhaps by telling funny stories about your family members.
Creating a family tree can be a fun activity for the whole family!
How to Prepare Before You Create Your Family Tree?
The chart can be basic or detailed as you wish. For example, a basic family tree can include generations up to your grandparents. However, a detailed one can consist of uncles, aunts, cousins, great-great-grandparents, etc.
Plan your Family Tree:
The decision of how far back you want to go or how many branches or leaves you choose to add to your tree is yours. It is completely up to you to who to include or what information or detail you want to incorporate.
Will you print it or will you only keep it digitally?
Who are you willing to share your family tree or will you share with anyone at all?
The answers to these questions should not include or in some cases not reveal any information you don't want to get out regarding your family.
If you know who you are going to show your family tree, avoid sharing your family's deep and perhaps embarrassing secrets you come across and showcase your lineage accordingly.
Recommended Reading: 7 Types of Organization Chart Structures
Collect Information:
You can just spare some time and write the details and the information about your family members in general. This research process can take time.
You may need to contact some family members or other individuals to gather the details of your family history.
You may need to first find documents in regards to your family. After locating the required documents, you may need to collect and process the information on those documents.
Download: Family Age Calculator
Photos!
In addition to the written details you want to include, if you want to add photos or pictures on your family tree, you need to find those as well.
You can look at your old family albums or ask for from your family members.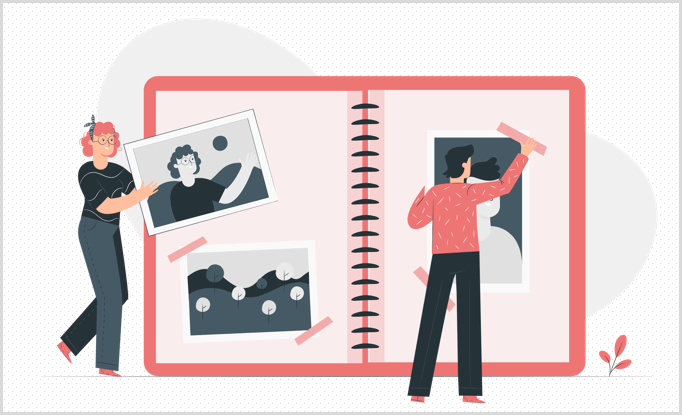 If you want to follow a different approach, you can go to libraries or public archives for further information such as dates or names related to your family history.

At the same time, keep in mind that not all the information you encounter may be accurate.
The more you go back in time, the less correct, specific or authentic can be the records you look through.
Outline your Family Tree Chart:
You found the information you want to include. You gathered all the photos you want to add to your tree; now, it is time to outline your chart.
By creating a draft, you can see how your family tree looks visually. You can choose the shapes of your leaves and trace your lines.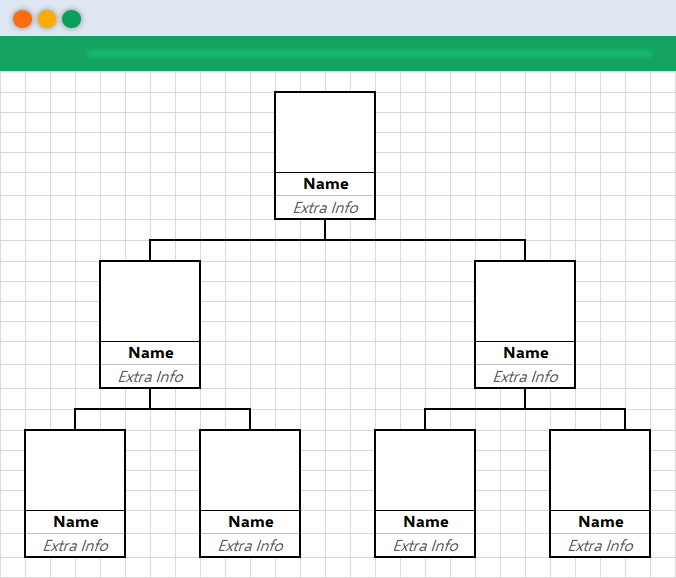 It is fine if you want to draw on a piece of paper or create your chart digitally on a computer one step at a time.
Not an Excel expert? No problem! Check our easy-to-understand Excel chart makers to create family charts, gantt charts, flow charts and more!

Creating Your Family Chart:
If you choose to create the main structure with only pen and paper, you can absolutely do that way. However, there are some advantages and disadvantages to the 'pen & paper' method:
The first and perhaps the biggest problem you would face is that you would have to do everything by hand. You need to cut the pieces of paper, write all the names and the information, cut and paste all the photos you have, etc.
It is too much work with all the post-it notes and messy stacks of paper.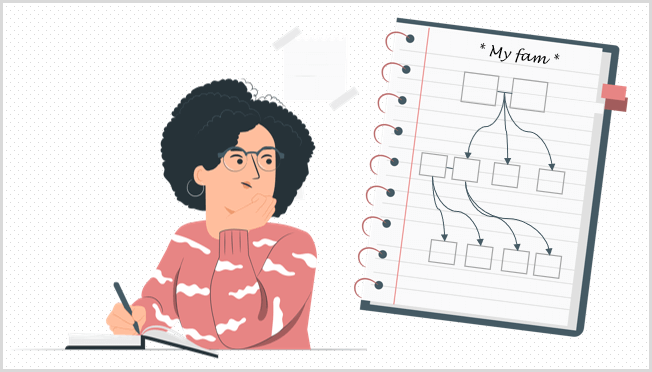 On the other hand, you may be one of the people who prefer the physical way and enjoy touching and playing around with pen and paper for your projects. Then, the pen & paper method might satisfy your needs.
However, keep in mind that you can print out your digital family tree chart as well.
Microsoft Word:
It is easier and much less time consuming to create your chart on a computer or even on your phone. One of the programs you can use is Microsoft Word.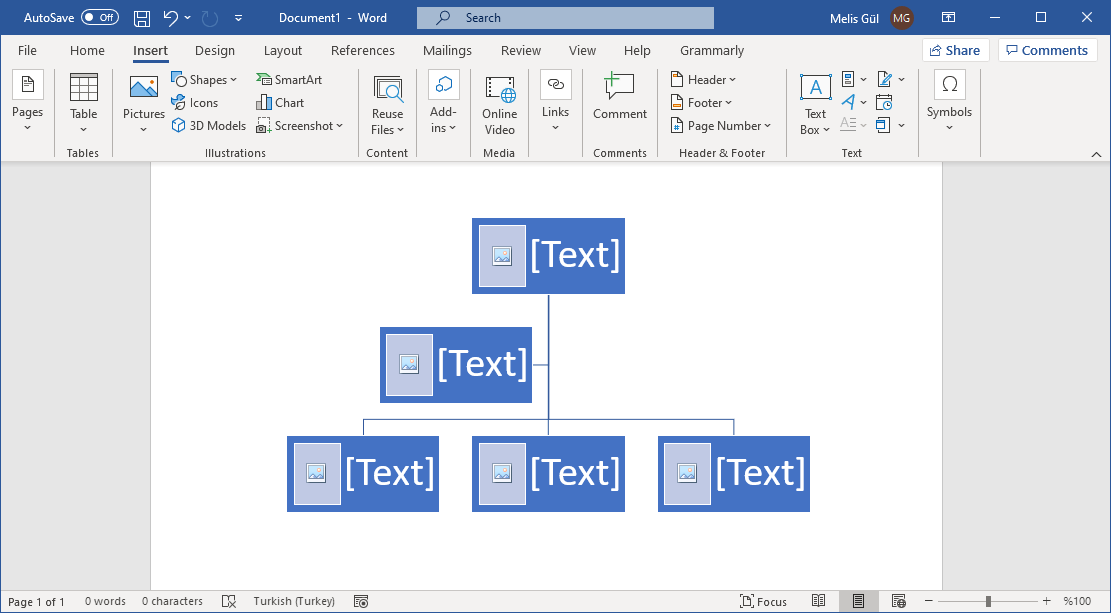 The advantage of Microsoft Word is that it is very simple and basic, thus, it can be learned quickly. But the software is sometimes too basic for a family tree and it can limit your workflow. In addition to the simplistic look of the interface, adding, adjusting and dragging a photo in Microsoft Word can quickly turn into a nightmare.
Ancestry:
The other software you can use to create your family tree digitally is Ancestry. Your advantage would be that it is very detailed and the tasks you can do sometimes surpasses your goals.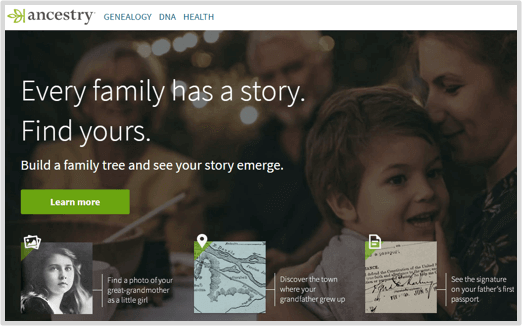 This can be also quickly turned into a disadvantage as well, because of the fact that Ancestry can sometimes be too complicated and hard to learn only to create a family tree.
Additionally, it can bring a lot of unnecessary clutter with itself such as the necessity to sign up with the subscription method to make you pay monthly for the service.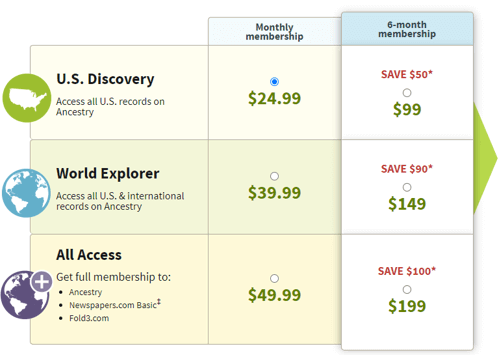 Why Choose Excel?
The best choice to create your own family tree chart would be Microsoft Excel with the Someka Family Tree Maker Template.
First of all, we are all familiar with Excel. We all used it for various reasons, therefore, it becomes much easier to edit on it. There will be no long and time-consuming learning curve for Excel. If you already have Excel installed, you are ready to use the Family Tree Maker, too.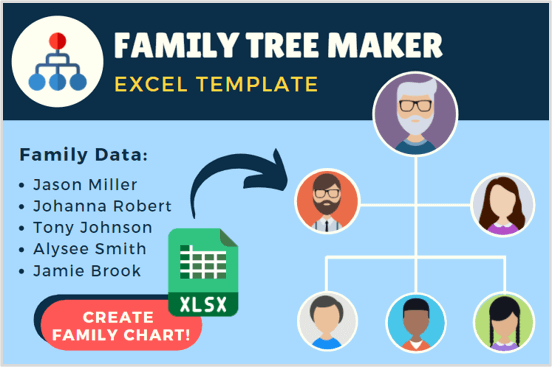 With its easy to operate and neat design, it is a practical and unique tool and unlike some other tools, you can use this design with both Mac and PC devices.
Speaking of other tools, most of them are only online tools that you can use it solely in your browser. They are very limited by making you create your comprehensive chart with only the most basic 'drag and drop' method.
Even this basic method becomes a mess. Because the software does not allow you other options and forces you to do everything its limited interface.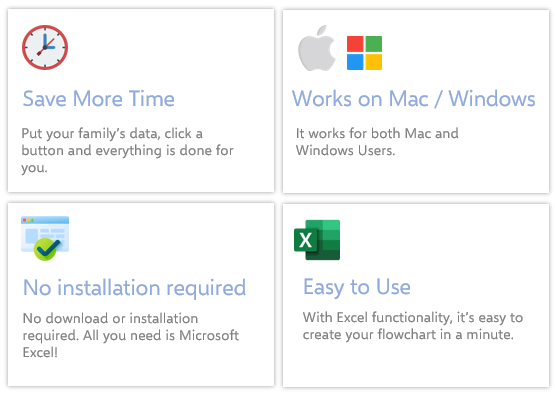 Family Tree Maker Excel Template
In the Family Tree Maker tool, the only action you need to do is to put your data in. That's it. After you put your family's data, you just click a button and everything is done for you.
There is no 'tracing lines together', no 'dragging and adjusting an image' and no 'necessary payment only to export your family tree as a PDF file'. No need to learn the hard shortcuts of problematic software.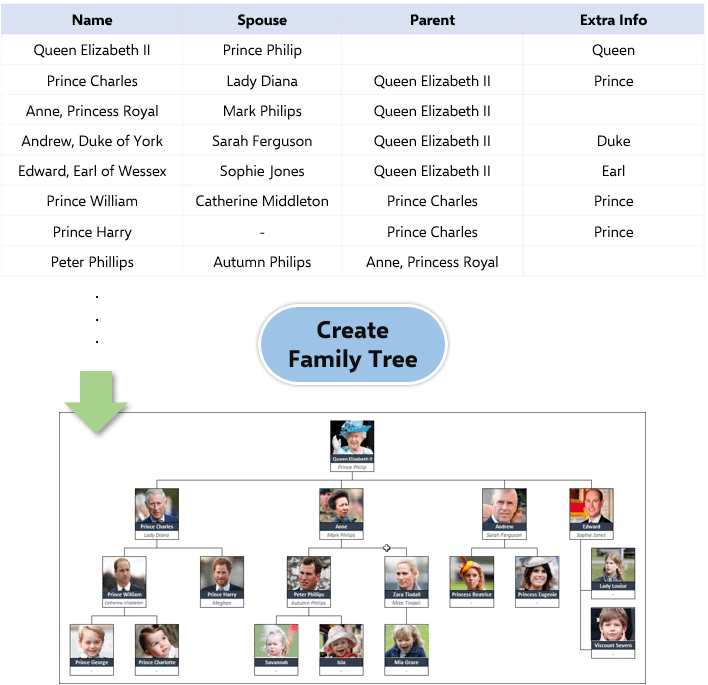 For example, you uploaded a family member's image and they did not like it. You have to open your project file and do it all over again, only to change a single image on a big and detailed chart… right?
Wrong.
This might be a time-consuming process in all the other tools. But with this efficient tool, you can always customize and update your information. And again, with only the click of a button, your whole chart will be updated instantly! You can change the shapes of the boxes (leaves on the chart), the color of your design and the layout of the chart itself.
If you would like to print your chart out or share it with the family members, you can do it easily with our 'export to PDF feature' built into the tool.
From start to end, this Excel tool is very much affordable and so much cheaper compared to other tools, templates and software packages you find on the web!
FINAL WORDS:
By creating your own family tree chart in Excel you can easily put your family history on a screen. Of course, it is not an easy task to achieve but that's why we wanted to create a ready-to-use tool. You only need to enter your data and let the program do all of the work for you.
Gather up your family's history, download Family Maker Tree Template. It shows your family members who your ancestors are, where and how far back your lineage leads to and what your family is all about!