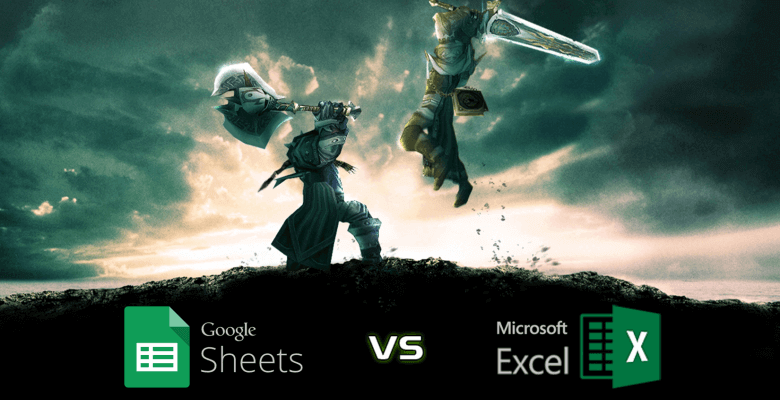 Google Sheets vs. Microsoft Excel: Which One to Choose?
Updated on August 12, 2022
Google Sheets has evolved, the company has endeavoured to update their charts and improve the data crunching. Has it done enough to surpass Excel, the King of Spreadsheets? In this post we've compiled all the differents between Google Sheets and Microsoft Excel!
Google Sheets
It's free!
You can collaborate with anyone live, as though you were sitting next to each other. With a single file share to a group you have the ability to comment in real time, as well as editing.
It's Google, which means Sheets can import date from any other Google services, as well as the internet. There's a cell function called GOOGLETRANSLATE which allows you to translate the cell's contents, there's even a GOOGLEFINANCE function which will grab current information from Google Finance, or historical information. To grab directly from the world wide web, use functions such as IMPORTFEED and IMPORTDATA.
A magical revision history that you access just by clicking on file… that shows you every time changes have been made to the spreadsheet, when they were made and who made them. Meanwhile, Excel requires multiple file versions to keep a record.
There's a list of Google spreadsheet functions here, as well as some keyboard shortcuts.
This course covers fundamentals of Google Drive and Apps (Drive, Docs, Slides, Sheets, Forms, Drawings) which you can also learn all the Basic Controls, Add-ons, Charts, Pivot tables and much more great feature of Google Sheets!
Bonus: If you want to learn how to convert Google Sheets to Excel format and check this step by step guide.

Microsoft Excel
Excel was designed to crunch data and lots of it, so it has the edge over Sheets when it comes to that. Sheets will slow down when it tries to process thousands upon thousands of rows of data, but Excel was made for it.
The tasks involved repetitive formulas is removed by the ability to automate, not to mention hacks like the ability to create your own auto fill lists.
Sheets has evolved, but if your entire day revolves around crunching numbers then you need Excel, because of its advanced functionality. You will likely need to build data models, analyse statistics, and create complex macros, too.
There is a formula for pretty much everything, whether it be statistical, mathematical, or financial. Just a quick glance of this function list, arranged by category, should give you everything you're looking for. To make life simpler, check out the keyboard shortcuts.
It is highly versatile, just look at the amazing art that has been created using Excel.
Microsoft Excel – Basic & Advanced is another particularly helpful course of where you can find tutorials categorized according to key functions for learning Excel.
Bonus: If you are a developer, you can use python for excel to write fully featured Excel Add-Ins! 

Comparison of Google Sheets vs Excel in 13 Criterias
Let's summarize everything in a Google Sheets vs Excel Comparison Table:
CRITERIA

GOOGLE SHEETS

EXCEL

Pricing
5/5


It is free! (up to certain storage)

2/5


Simply: Not free!

Collaboration
5/5


Simultaneous file editing with your colleagues or friends

2/5


Simultaneous editing is not possible. Microsoft is trying to improve OneDrive for collaboration purposes.

Cross Device Usability
5/5


Create a file from your laptop, open it on your tablet, check it later on your mobile.

2/5


Even though Excel apps exist for mobile devices, it is mainly for desktop usage.

Version Control
4/5


History is automatically recorded

1/5


You have to do it on your own.

VBA / Apps Script
3/5


Apps script is not bad

4/5


VBA is powerful

Raw Processing Power
2/5


GS is week when it comes to raw data processing

4/5


This is where Excel shines.

Chart Formatting
2/5


Charts in GS? Haven't seen any good.

4/5


Quite good

Pivot Tables
3/5


Available

5/5


An essential tool especially for power users

Data Analysis
1/5


Data analysis with GS? Not a good idea.

4/5


Maybe not as strong as R, but does the job pretty well

Templates
2/5


Very limited

4/5


Lot's of ready-to-use templates are being built for Excel

Speed
2/5


It is in your browser after all

4/5


Does the job pretty well up to a few hundred thousand records

Presentations
2/5


It is compatible with Google Slides, but the problem is: Slides is not being used a lot.

4/5


Business world depends on powerpoint and Excel has a strong compatibility (still not perfect though)

Data Security
3/5


Not bad but needs stronger encryption

3/5


Excel files are not great for keeping sensitive information. (And no! Password lock is a piece of cake for a hacker)
The choice is entirely yours, if you crunch lots of data then it would be difficult to look beyond Excel, but if your spreadsheet needs are rather modest there is no reason not to give Sheets a shot, especially when it's free.