Stock and Inventory Tracker Google Sheets Template
In and Out Stock Template in Google Sheets. Easily plan, manage and track your inventory with dynamic charts and graphs. Accessible on all devices.
TEMPLATE DESCRIPTION
Are you struggling to track your incoming and outgoing stocks for all your products with different SKUs? Then, this Stock Inventory Google Sheets Template will make inventory management easier for you, and you do not have to learn any extra software!
First of all, with this Google Sheets Template, managing each product or category for a specific period of time is now so simple.
Let's see how it works.
Above all, this Stock Inventory Google Sheets Template allows you to keep track of your sold products and inventory in order to develop a better business strategy. You only need to enter your category and product list (to be able to select them later). You then received orders and sales orders for the relevant sections.
Stock Inventory Google Sheets Template Main Features:
Firstly, the characteristics of each product, such as the inventory quantity (after all purchases and sales), cost of inventory quantity, cost of goods sold, profit, and total revenue, can help you manage your inventory much better once you have entered your data.

Items List:
This is the section of the template where you enter the data for each column. So, for the Category and Product columns, you can select the appropriate option from the drop-down menu in the Settings section.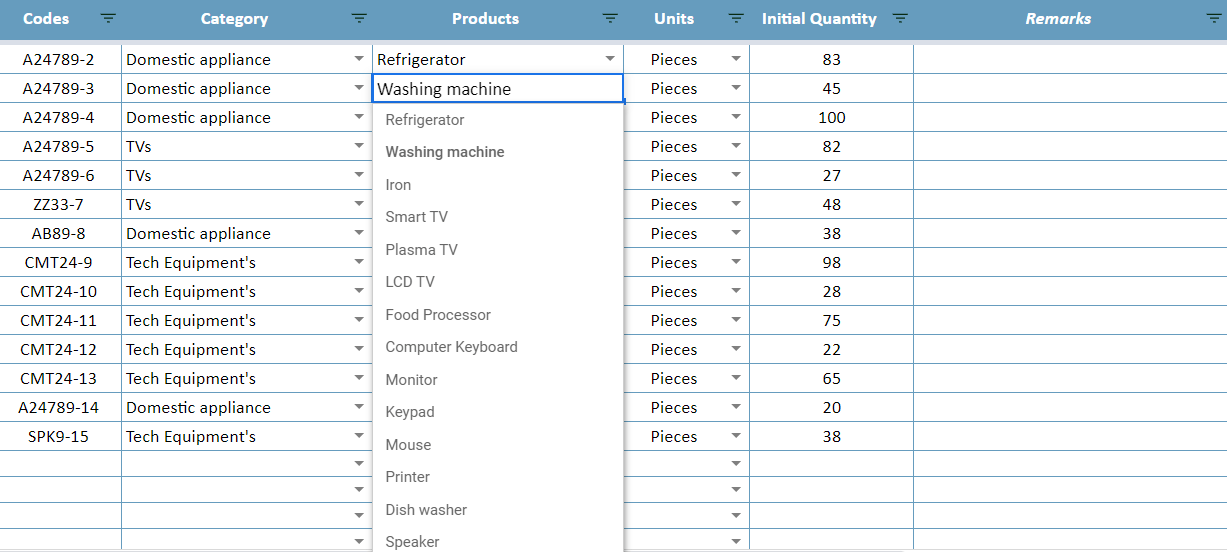 The Initial Quantity represents the amount of stock that you already have.
The Remarks Section functions as an extra notes column.
Received Products and Sales:
The Date, Codes, Quantity, and Unit Price tabs, in particular, are similar to the Items List tab. You do not need to manually enter the Category, Products, and Units columns. Because we have created them in the stock inventory Google Sheets template.
Furthermore, in the stock and inventory tracker, you can select any code that you previously entered in the Items List in the Codes column.
Info: You can also see the Total Paid for each code in received products section.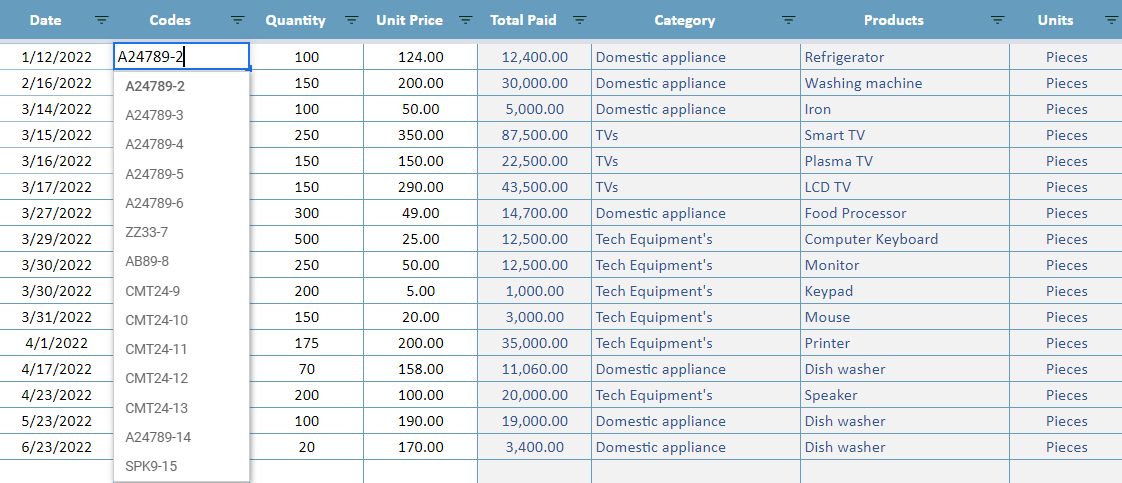 To be clear, planning your route and maximizing your sales and purchases will be made easier if you have complete control over your inventory.
Meanwhile, all you need is an internet connection and a Google account to get started. And everything will be in sync!
Stock Inventory Google Sheets Template Features Summary:
Google Sheets Inventory Tracker
Inventory Status Dashboard

Complete inventory tracker

Informational notes included

Automated charts and bars
No installation needed, ready to use
Works on any operating system
Suitable for any device including mobile, tablet, desktop
FREQUENTLY ASKED QUESTIONS