Easy to use Monthly Budget Template with expense details, dashboard and summary charts. This is fully printable and free to download.
TEMPLATE DESCRIPTION
All of us need to make a budget every month unless your father is Warren Buffet or so. You should know where your money is going each month. Because making a budget plan will help you to have a strong financial situation. And to do so, having a pre-made Excel budget worksheet is a good idea. You can use this Monthly Budget Worksheet for personal financial planning.
Monthly Budget Worksheet Features:
The template is consists of 3 main sections:
Dashboard
Income
Expenses
Before starting Dashboard, enter your expenses and income items for a month.
Income:
You will type in the date you take the money income, description of item and the actual value. Once you do that the template will automatically Total Income for you.
Expenses
In Expense table, there are lots of expenditure categories which you can modify it according to your own special needs. Press (+) sign to get additional rows so that you can write the sub-expenses of each and then get the Total Expenses at the end.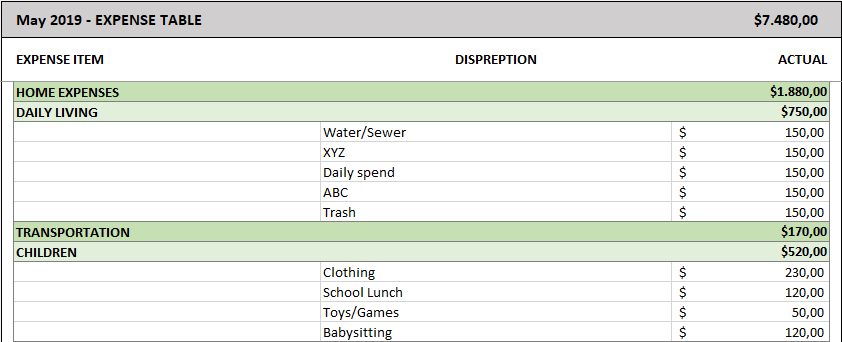 Dashboard
Finally in Dashboard section, monthly budget worksheet will show your status. You will be able to see the balance and expense distribution in this nice dashboard. It also includes cool summary charts and easy navigation.
Features Summary:
Ready-to-Use Excel Budget Worksheet for free
Separate Income and Expenses section
Lots of Expense Types. You won't miss anything.
Easy to use and nice design
Cool dashboard with summary charts and distribution
Easy navigation
No installation needed, all in Excel
No VBA, No Macros
Full Print Ready
Works on both Windows and Mac
Compatible with Excel 2007 and later
FREQUENTLY ASKED QUESTIONS