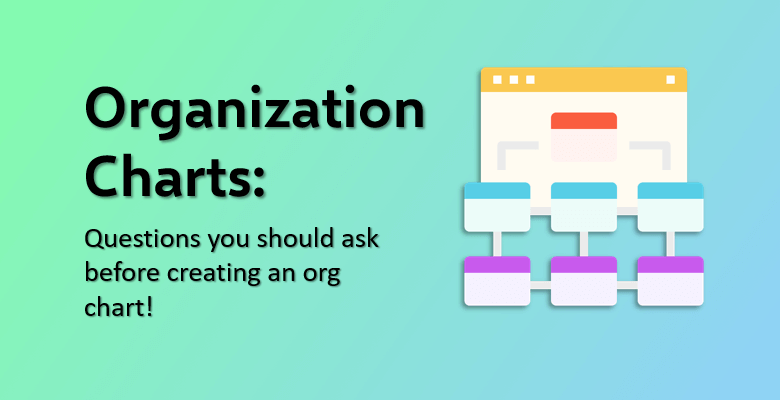 Questions You Should Ask Before Creating Org Chart for your Company!
When the term of "organizational structure" is thought, an imaginary chart appears on minds, with boss at the top and employees below. However, organizational structure in a company might include more than who is giving orders to whom. All the relations and connections among individuals in an organization should be drawn to make that clear. Some real charts exist to make this type of structures concrete.
Org charts are mostly used by companies to depict their internal structure, but they also can be applied into any organizational structure such as a project or a business unit.
These charts may come in different shapes and types which can address to different needs. There are seven types of organizational structures: hierarchical, horizontal/flat, matrix, functional, team-based and network-based.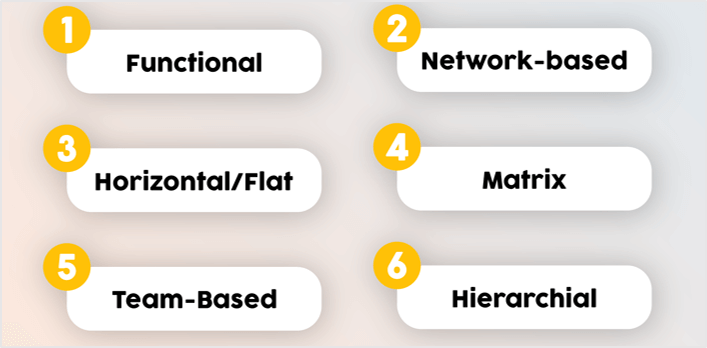 Let's look at the most common questions about organizational charts.
How Do You Structure an Organizational Chart?
Organizational charts can be structured in different ways depending on the purpose of use. It should be structured in the right way based on the company features, since an organizational chart is a factor that affects overall performance.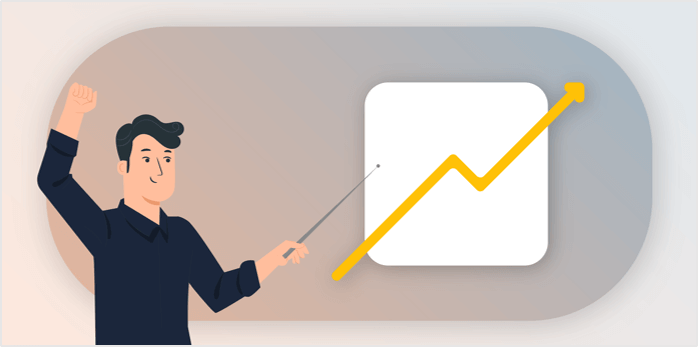 While deciding your organizational chart structure, you need to consider your company's needs. Internal structure within the company should be clearly understood in the first place, and positions should be well-defined. Then, it is easier to choose which type of organizational structure you will use.
You should consider the key elements listed below.
Chain of command: is an official authority hierarchy that dictates who is in charge of whom. Each employee reports to a single manager instead of to several ones. Thus, inefficiencies would be eliminated.
Span of control: defines how many employees each manager is responsible for within the company. It can vary for different businesses. The size of the workforce or how the company is divided into departments may affect span of control.
Centralization: is the type of work design where C-level managers make all the decisions and employees follow them. In a decentralized system on the other hand, all levels of management could give input on goals and objectives.
Work specialization: gives employees the description of their duties. This element ensures that employees have specific duties expected to perform based on their experience and skills.
Departmentalization: is about how the organizational structure groups the company's functions, offices and teams. It doesn't have to be on department level, the business could be divided into groups based on product lines or customer needs.
Formalization: refers to the company's procedures, culture aspects, rules, guideline; and how they are adopted by the company.
What Should an Organizational Chart Look Like?
A typical organizational chart looks like a pyramid and represents the hierarchical order from top to the bottom. C-level executives are located at the top, middle management is below and staff-level employees follow to the bottom. However, this is not the only way how your org chart looks like. What matters is to choose the right structure to meet your needs and expectations as an organization. Once you decide which type of organizational chart fits your needs best, you can start prepare your draft.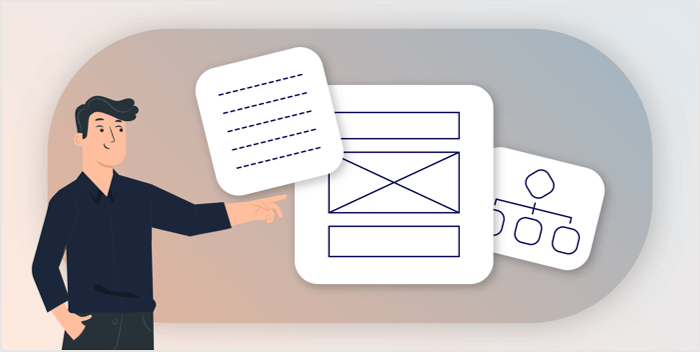 Here are some tips for you to create your org chart properly.
Fit the chart on a single page. Don't size it too large, provide your audience a clear view and put all the people with the same title into one box and save space.

Create boxes of the same size to have a decent appearance, also arrange the spaces equally.

Use side bar to show assistants. It highlights the assistant's role, and helps people know who to contact if they want to reach the manager. While entering info in the box, place the job title first, then the name of the person. Because what defines organizational structure is positions.

You can have your org chart easily by using the right tool. There are good programs and templates for creating your chart automatically by importing employee data.
What Microsoft Office Program is Best For Organizational Charts?
Organizational charts could be created on popular software options. Microsoft Office programs are commonly used for creating org charts and they give you the opportunity to revise those charts anytime. Some unique org chart tools exist being specifically used for Microsoft Office programs and these tools have different usages than each other.
SmartArt Graphics as an org chart tool apply to PowerPoint, Word or Excel; you use it by inserting into the Microsoft Office document that you work on.
Visio on the other hand, is a platform by itself that is sold separately. Besides, there are ready-to-use org chart templates that you can find online. These templates are perfect for users who don't have much time to create a template and format it.
PowerPoint:
PowerPoint is mostly known as a presentation tool, but it can offer you a lot when you need to create charts. It is a visually practical office program that you can develop your organizational chart in a few clicks. All you need to do is to use the SmartArt tool and design your org chart according to your data.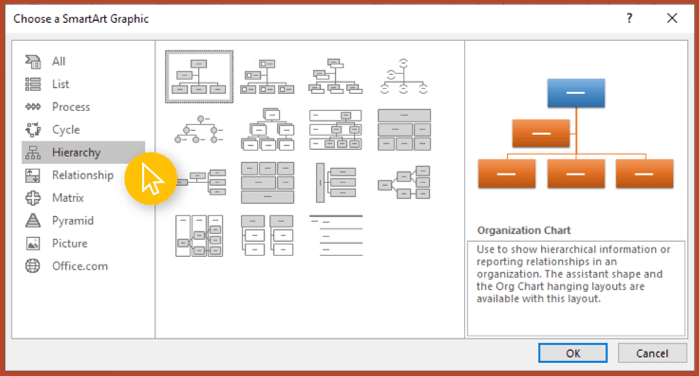 Go to the Insert tab in an open PowerPoint document and click SmartArt, then you choose hierarchy group and chart template, then add shapes or texts. SmartArt allows you to make customizations, such as colors or background, with its Tools Design tab. You can make arrangements later and re-organize your chart once you have created the structure.
Word:
Word and PowerPoint are functionally quite similar when used for this purpose. Even though organizational chart may not be the first thing coming to your mind when you think of these two Office programs; Word as well is used to create org charts. SmartArt, again is our key player here. You can follow the same instructions as in PowerPoint.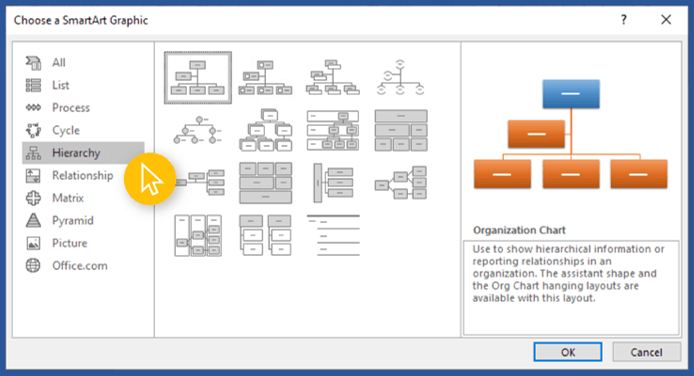 Click SmartArt in the insert tab, choose your hierarchy group and template. If you want to adjust colors, fonts or sizes; use SmartArt Tools Design and Format tabs. You can have your org chart easily in a single Word document. Click, insert, navigate and create!
Visio:
Visio is a visual cloud based tool for diagramming that allows to draw various charts including organizational charts. It works for small or large org charts up to 1000 shapes. With its drag-and-drop function, users can quickly adjust their items in the chart and make customizations.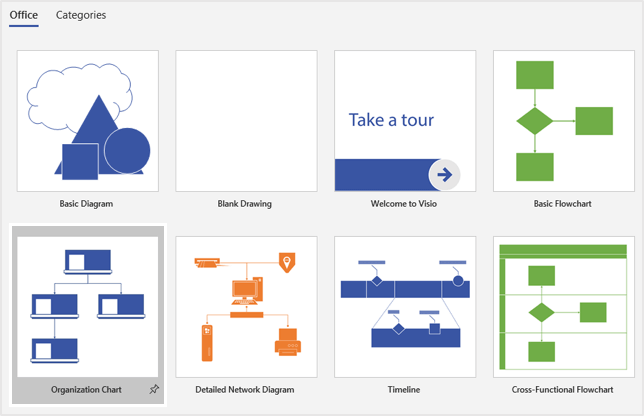 To use Visio, you start with selecting the best template that fits the diagram you want to create. You can even import your own. Then you add shapes/texts and dragging all the items in your chart according to your desire. Visio could also connect with data in existing Excel files or Active Directories.
Excel:
All Microsoft Office programs have similar functions and features for creating org charts, but Excel is an easier and more practical option with its ease of use. Excel has SmartArt tool just like PowerPoint and Word have. You can either use SmartArt or prefer to use ready templates and save yourself some time.
Ready templates could be highly beneficial for those who want to draw up their org chart in the shortest way possible. Excel can smoothly work with ready templates which provide many simplicities. You basically download the template and start using. A ready template saves the user from the effort of creating every item on by one. Instead of placing shapes and boxes from scratch, you only need to enter your data; your chart will be ready in a few minutes.
Excel is more advantageous rather than other Office programs for many reasons.
Excel is more affordable than any other org chart tools in the market.
It minimizes the time working on the chart, because it requires only basic computer skills.
Besides being fast and functional; Excel is known by many, which makes it more user-friendly.
It works with both Mac and Windows.
It allows user to update their data anytime and provides customization such as size and colors.
Excel has an excellent price/performance ratio. Create your org chart with Excel, and you will be satisfied with the result.
How Do I Make an Organizational Chart in Excel?
Excel is here to help you for developing your org chart as its best. Since Excel is a quite familiar tool, you don't have to learn complicated details about its usage. You don't have to install anything either, just open an Excel document and start. What you need is a well-created Excel template and your data. A ready-to-use Excel template helps you to turn your employee list into a nice chart. Regardless of whichever type of organization you are involved in, or whatever your position is; you will find this tool very useful.
Automatic Organizational Chart Maker is designed to prepare an organization chart with photos. It has a clear interface and unique features. In the dashboard; you can find columns on the left side and control panel while on the right side. Columns include name, role, reports to, extra info and sub layout where you can enter your org chart data. In control panel, you can insert photos and change the settings like the chart type or the box format.
You can have your org chart by following only three steps:
Input your employee data and select "sub layout". If you prefer, you can add extra info.
Insert photo from your computer for who you want to upload photo for.
Click the Create Org Chart button and display your chart.
Automatic Organization Chart Maker Features:
Names and Roles columns are for filling employee names and roles. Reports To refers to the person who will be reported and this column has a dynamic dropdown. Extra Info column is optional and you can either show it or not by selecting from control panel. Sub Layout defines how will the sub employees will be placed in the chart.
One of the best sides of this template is that it allows you to make customization. In control panel, you can manage all the settings. You can change the colors, photo sizes or chart boxes. You can modify the design of your output as you wish.
Once you have created your org chart, you can always go back and make some changes to re-create your chart. All edits only take minutes so you don't have to worry about changing something after you made the chart. Go back, make changes or additions then revise all over again. Don't forget to click the "create button" again after you made any changes.
In case there might be some problems occurred, you see the "Error Messages" in the control panel, so you can fix the issue.
Once you are done with editing, the org chart can easily be exported to PDF and saved wherever you prefer. With this chart maker, you can update your existing data anytime you want; or you can clear all your info and start creating a brand new chart. There are also settings to customize your org chart according to your needs. After converting to an image, you can make further modifications with photo editor tools.
This tool is user-friendly in all terms; it is cheaper than any other org chart tools and it provides practical features that saves users time. If you have an employee list in your hand and you don't know how to convert it into a chart, here is Automatic Organizational Chart Maker.
FINAL WORDS
Organizational charts are crucial. They help employees to understand their role and responsibilities in the organization, how they are located in the hierarchical structure and how they are related to others in the workflow. Having a clear organizational chart leads companies to manage their tasks more effectively while working with each other. It gives a generic information about who works in which department and allows them to know who to contact when needed. Therefore, organizational chart is an essential element that affects work performance positively.