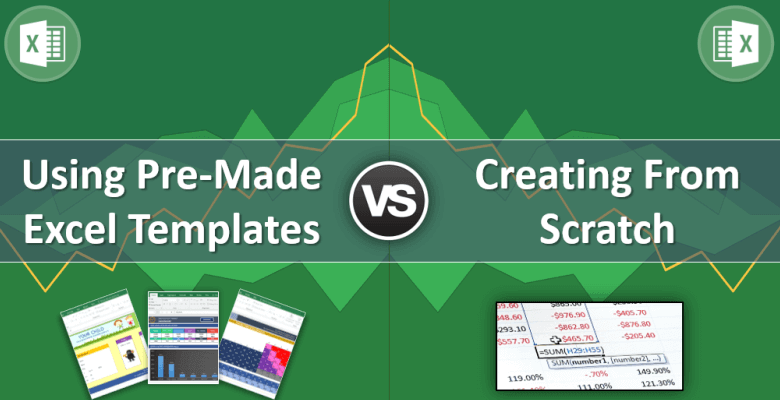 Using Pre-Made Excel Templates VS. Creating From Scratch: Which is Better?
Updated on October 26, 2020
I have seen this question many times around the web:
"Should I use premade excel templates for my needs or create my study from scratch?"
As this is a good question we will touch a bit to the details today.
In order to be able to choose the way to follow, there are lots of factors to be considered like skills, time, flexibility needed, price, sensitivity to errors and so on. Let's look each of these quickly:
1. Excel Skills: How comfortable are you with Excel?
This is one of the most prior questions to be answered. If you are an excel expert, know how to use most formulas, conditional logic, arrays, charts, pivot tables, even VBA, then most probably you will prefer to go from scratch. However, if you just know how to use Excel but don't have any idea what an array formula is, then you may consider using templates.
2. Time: Do you have enough time to go from scratch?
Even you are quite comfortable with excel, you may still consider using premade templates just to save time for your other priorities. From my past experiences, I have seen many times that most of the people have similar needs. Then why to re-invent the wheel?
3. Flexibility: Is it important for you to be able to change many areas of your file?
Templates are prepared considering the "general" needs and standards. And most of them, especially free ones, just provided as-is. If the template provides you only one currency rate to be used, you will stick to it or customize it. Or change colors, change layout, change the table logic etc. it all depends on how many changes you will need. Some premium templates offer you several options to be changed, but still you will be limited.
4. Meeting the needs: How specific your request is?
As mentioned, most of the needs are similar. However, you may need something very specific for your case. If you are a small business owner and looking for a sales report template, the chances are good that you will find a template which fits your needs. However, if you need a specific calculator to measure your profits based on each meter of cable you sell, then you will get your hands dirty or get it developed "for you".
5. Pricing: Do you want to spend on it?
Templates are used in many areas nowadays. For example if you use WordPress, you will consider buying a premium template from Envato market (or any other) because most of the free templates lack customizability, have bad design and contain errors. But pricing issue is tricky. Personally, I always ask myself: "Will it be worth my efforts if I do it myself"
6. Errors: How sensitive are you to the errors?
Most of the premium templates are being revised and updated regularly according to the users' comments. If you do it yourself, be prepared to spend time on error debugging. Besides error issue, you may always forget to consider some parameters whereas templates cover most of the things you may forget to include.
We have prepared a summary table for this comparison:

Conclusion
From my personal perspective, even if you have the necessary excel skills to create your own studies, using a good premade templates as a start can save you lots of time and effort. Then you can customize it according to your own needs (or have it customized to experts). Just take a look at the free templates of your provider and if you like the quality you can try the premium ones.