Easy-to-use color code finder in Excel! Just select the color and see RGB and HEX code automatically. Also create your own pallette!
TEMPLATE DESCRIPTION
This Color Palette Generator allows you to find random colors in a range between white and black in a whole possible excel RGB scale. You can narrow that range to get a more subtle palette. This tool is also helpful for you to find some color sets for your blog or for your presentation. By clicking one button inside the color palette generator you can easily find lots of harmonized colors. There is also a section for checking your color settings and checking the RGB and HEX number of a random color you specified.

Color Palette Generator Functions:
Randomize the Colors: You can generate colors for 4 main selections: text, background, border, and, sheet tab color. After you click the buttons, you will automatically see the RGB and HEX numbers of the generated random color.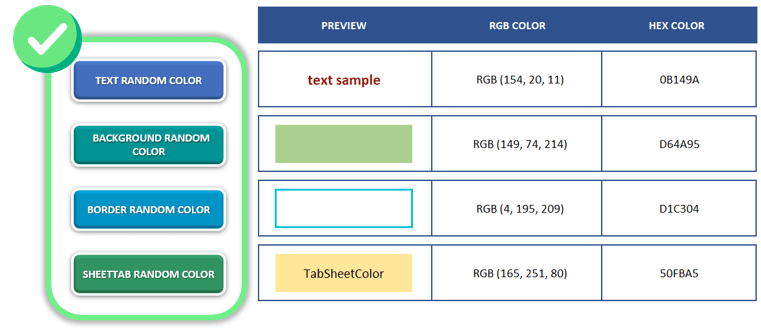 By clicking the What color is that? button, you will be able to test the color have you chosen or copied from another workbook and learn the RGB and HEX numbers of them. In that way, you don't have to suffer from to find the exact code of the color.
Create a Palette of Colors: The second section generates almost any possible color. As a default, the generator draws 100 colors from the whole palette available in an Excel RGB scale. That roughly gives us a pool of over 16.000 colors. The result you will get by clicking on the randomize button. But that is not all, assuming you want to choose some colors for your project you can narrow them down easily simply by changing the range of the colors.
There are two selections on the number of colors, once 100 colors are too much for your purpose you can display the colors in a simpler way by selecting the 10 colors option. Moreover, you can specify the color direction as horizontal or vertical via the dropdown button. Additionally, the clear button will not only clear the palette but also bring back the range of colors to the maximum.
Features Summary:
Generate colors in Excel
No installation needed. Ready to use
Informational Notes included
Works both on Mac and Windows
Compatible with Excel 2010 and later versions
Does not include any VBA macros
FREQUENTLY ASKED QUESTIONS