Automatic Organizational Chart Generator – Basic Version
Create org chart in Excel easily. Organizational Chart Maker is a great tool for business people who don't want to waste time on graphic stuff.
(One-time Payment | Instant Download)
Payments are processed by our partner company Paddle.com.
You will receive a download link immediately after purchase.
TEMPLATE DETAILS
Works on: Windows / Mac
Requirements: Min. Excel 2007
Bonus: Free Lifetime Updates with your purchase.
For all types and scales of organizations, it is indispensable to illustrate the reporting lines. Especially, at growing small and medium scale organizations having max. 40 employees, keeping organizational schemes up to date may become a puzzling situation. Because, in case of each organizational change, you have to deal with boxes, connections, levels and so on. We have built this Excel Organizational Chart Maker to ease this process.
Basically, it works like this:
Someka Automatic Organizational Chart Maker – Basic Version provides generating an organizational chart for small organizations in JUST 2 STEPS:
STEP: Put employees, their roles and who reports to whom in Excel
STEP: Click the button
YOUR ORG CHART IS READY!
 Check the VIDEO below to see how Someka Org Chart Generator (Basic Version) works: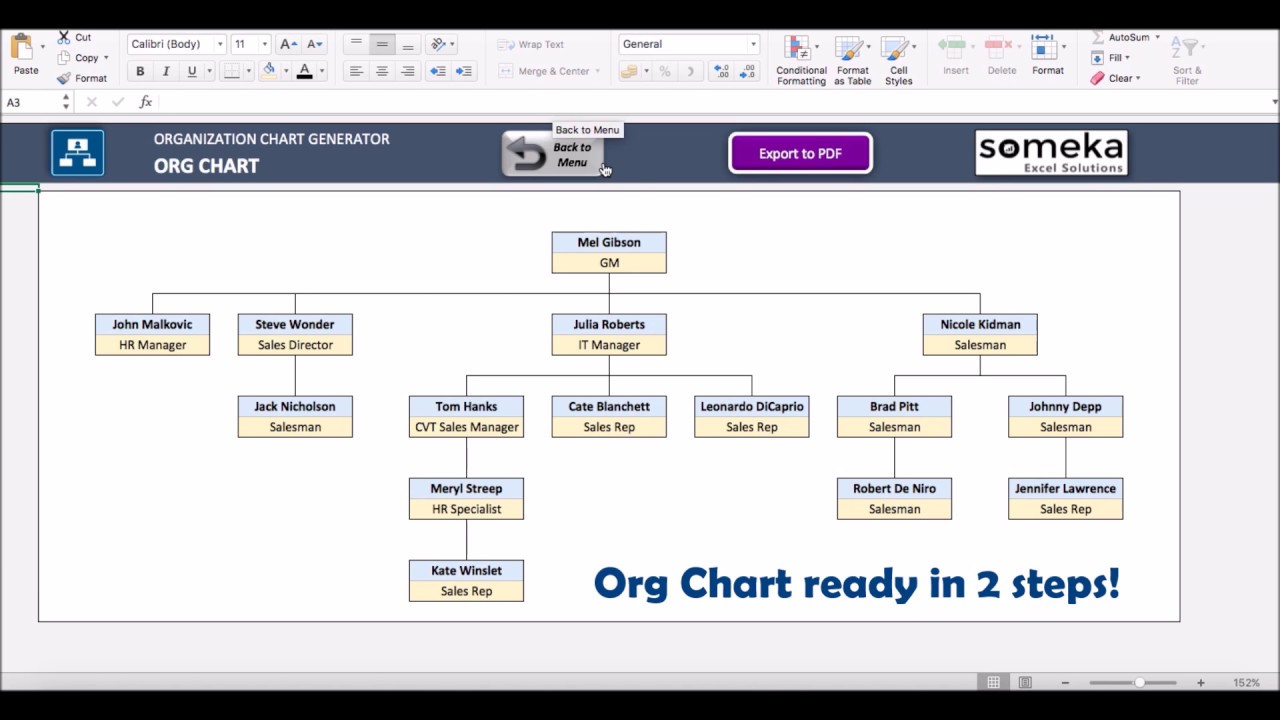 WHAT DOES AUTOMATIC ORGANIZATION CHART GENERATOR OFFER?
1. You Save Money
Someka Auto Org Chart Generator is a cheaper option compared to the other organization chart generator tools.
2. You Save Time
This tool provides you to keep your reporting line data and prepare your organization chart, both in Excel. No need to deal with data transfer..
3. It's User Friendly
If you don't like the order and layout, just edit your employee table and re-create the chart again. You can also change the box colors. Moreover, Someka Auto Org Chart Generator warns you about possible errors like illogical reporting lines.
Automatic Organizational Chart Generator – Basic Version Features:
Unique product for auto generation of org charts in excel

Recommended for small organizations which have 30 – 40 employees max (For larger organizations, please check: Someka Auto Org Chart – Advanced Version)
Clear on sheet instructions (with turn on/off function)
Works on both Windows and Mac
Compatible with Excel 2007 and later versions.
No installation needed. Ready to use.
Includes VBA code and macros (don't forget to enable macros after you get it)
Easy to use and nice design
Box design can be changeable
Export to PDF feature
Print Ready
Someka Organizational Chart Generators Comparison
Links to Versions: